Ashes 2015 Third Test preview: Bouncers are on the menu, Mitchell Starc warns England
Australia will carry on from Johnson's brutal Lord's barrage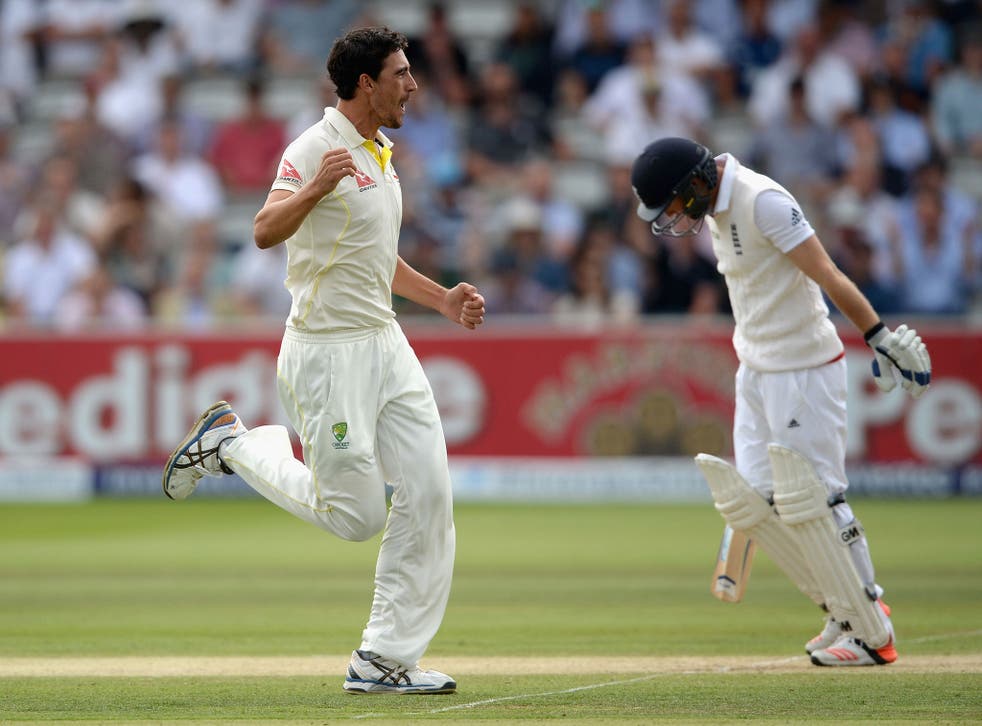 In the nicest possible way, one of the Mitchell gang has warned England to prepare for a bouncer assault. It was neither unexpected nor discourteous and, indeed, the slightly nonchalant way in which it was delivered made it the more chilling.
Mitchell Starc, henchman in chief to Mitchell Johnson, the leader of the bunch which has now been joined by Mitchell Marsh, mused gently on the last rites at Lord's when Johnson was at his most brutal. England were already plummeting to humiliating defeat but Johnson was fast and hostile on the last afternoon.
"The way Mitch bowled at the end was nice to watch as a team-mate on the field," said Starc. "So hopefully there is a bit of pace in this deck. We will soon find out."
The suggestion is that the pitch for the third Investec Test starting here on Wednesday will have an English feel to it, which means that it should favour seam bowling. But if it has more pace than those at Cardiff and Lord's for the opening two matches of this Ashes campaign, the tourists' speed merchants will be pawing at the ground.
England simply have to take the gamble in the hope that they might prevail in a low-scoring contest to take a 2-1 lead in the series. They cannot afford to go behind after being so roundly hammered last week.
Starc said: "I am sure we will be following suit from what Mitch dished up at Lord's. It is great to see a few of the guys jumping about and we got a few wickets that way.
"We have got extra pace on our side. Hopefully, there is a bit of pace in this wicket and it is a bit harder than the other ones we have played on. The short stuff will definitely be on the menu."
Ashes Second Test in pictures

Show all 39
Johnson remains the man from whom England have most to fear, if only because of the mercurial nature of his talent. He still has the disconcerting ability to bowl innocuously in one session and then like a demon in the next. With Starc also capable of speeds above 90mph, England's batsmen can expect to be given the hurry-up and the changed batting order featuring the returning Jonny Bairstow merely fuels Australia's hunger.
"It will shake things up," Starc said. "Jonny Bairstow has been in form in county cricket so we will have a talk about him in our meeting tonight and the change in the England order. Any time you have got the opposition changing line-ups you are in a good spot."
England seem to be hanging on to the belief they have a recent history of coming back well from heavy defeats. Or at least that was the gospel according to Joe Root yesterday, although three times this year they have capitulated in the match immediately after winning to lead a Test series. It was last summer when they came back, against India. But if selective memory helps them then so be it.
Root, the side's vice-captain, is one of those involved in the reshuffled pack, moving up to four behind Ian Bell, who has been promoted to three, and in front of Bairstow who comes in at five. Professing to be unfussed by this, there really is no point in him or England pretending Johnson does not continue to be dangerous.
"He comes at a different angle and has got a lower arm than a lot of the guys," said Root at Edgbaston. "It's hard to emulate in practice, so whenever you have a chance to face him you knuckle down and work as hard on it as possible when you can. It's wrong to single one man out. You look at Cardiff and he only got two expensive wickets, so it's about putting him under pressure."
There have been occasions before when England have made Johnson work hard for his wickets, though the opening innings at Cardiff was the first since Brisbane in 2010-11, when he did not strike in the whole match, that he has gone wicketless in an Ashes innings.
The trouble with drawing attention to his barren return in Wales is that it tends to return the focus quickly to England's attack. Australia's four-man seam attack (with Marsh taking over from Shane Watson after the first Test) has taken 30 wickets so far, England's quartet has 18.
Most concerning is Jimmy Anderson, who has taken three wickets in two matches at 71 runs each. He has been neutered by lifeless pitches, which is why England must encourage him now.
Australia may be vulnerable in English conditions where the ball does a little through the air and off the seam, enough to scrutinise the methods of men accustomed to hitting cleanly through the line, perhaps men such as David Warner and Steve Smith.
Australia still have to resolve their one selection dilemma. Chris Rogers, who was hit on the helmet by a ball at Lord's and retired hurt with dizziness in the second innings, had a full net yesterday. But, given the nature of the injury, the selectors will be tempted to replace him with Shaun Marsh.
Join our new commenting forum
Join thought-provoking conversations, follow other Independent readers and see their replies