Ben Stokes: Moeen Ali insists there is no point travelling to Australia if England do not believe they can win the Ashes
Vice-captain and talisman Stokes is all but certain to miss the tour after he was suspended indefinitely by the ECB following his arrest in Bristol this week
Chris Stocks
Saturday 30 September 2017 18:11 Comments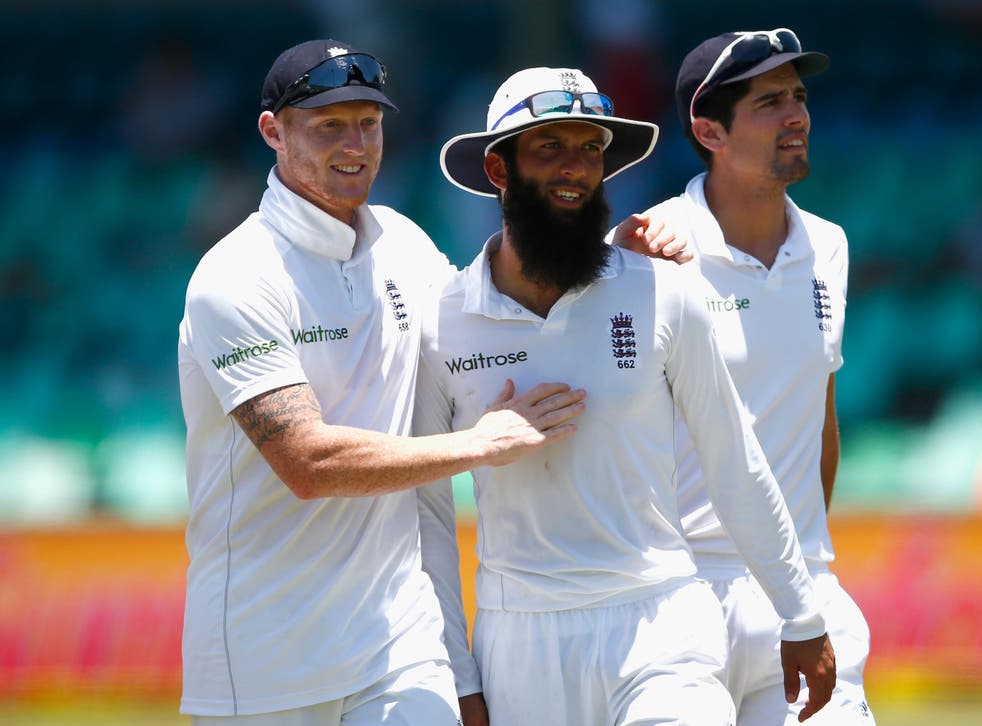 Moeen Ali insists there is no point in England even flying out to Australia if they don't believe they can still win this winter's Ashes series without Ben Stokes.
Stokes, his country's Test vice-captain and the world's premier all-rounder, is all but certain to miss the tour after he was suspended indefinitely by the England & Wales Cricket Board this week just a day after being named in the Ashes squad.
It follows the late-night incident in Bristol following England's third one-day international against West Indies last Sunday that saw Stokes arrested on suspicion of causing actual bodily harm before being released under police investigation.
Both Stokes and Alex Hales, also suspended by the ECB until further notice but not part of the Ashes squad, are set to be re-interviewed by police in the coming days after the emergence of a video earlier this week that appears to show both players involved in a brawl in the early hours of Monday morning.
The incident and ensuing fall-out has rocked England's preparations for the Ashes. With just 54 days until the first Test in Brisbane and Stokes and Hales banned while subject to what is understood will be a protracted ECB disciplinary investigation, England's management are already planning to be without their talisman in Australia.
But asked if he thought the Ashes could still be won without Stokes, Moeen insisted: "Yes, otherwise I feel there's no point in going out there. If he's not there then we're going to have to play well without him so I definitely feel we can still win.
Ben Stokes included in England Ashes squad despite arrest
"I think we all know how good a cricketer he is and what he can bring to the table. He's one of the main players we have and it would be great to have him out there but we'll see what happens."
Even without Stokes in Australia, England will have an all-rounder in Moeen who has enjoyed a golden summer. The 30-year-old ended the South Africa Tests as only the second Englishman behind Ian Botham to take at least 25 wickets and score 250 runs in a single series. He was then named man of the series in the ODIs against West Indies that concluded in Southampton on Friday evening following two match-winning contributions with the bat, including a 53-ball century in Bristol that was the second-fastest in 50-over cricket for England.
Overall, Moeen has not only taken 30 Test wickets at 21.30 this summer but scored 644 runs in all formats at an average of 51.78.
It means he will travel to Australia at the end of next month in buoyant mood.
"I genuinely can't wait," he said. "I'm very, very excited. It's something when you're a young player you're thinking you'd love to be on that tour. I never ever thought I would be on a tour like this and to be going, I'm very fortunate. Hopefully I can go out there and perform in the Ashes.
England Ashes squad

Show all 17
"With the confidence I've got throughout the year, I feel that I can just go out and play the way I do. I've just enjoyed every minute of this summer and it's been great for my own development."
In the probable absence of Stokes, Moeen is likely to be asked to move up the batting order from his current position of No8.
It's a challenge he would relish.
"I'd love to bat wherever," said Moeen. "The higher up the better, I'd be very comfortable. Number eight, I'm kind of used to at the moment but if I get told to bat seven I feel capable of doing well there. Hopefully I can show that I can go out there and play well against their bowlers. It's about going out there and hopefully winning the series and coming home with the little urn."
With Moeen having shown vulnerability against short-pitched bowling in the past, Australia's quartet of fast bowlers are likely to feed him with a relentless barrage of bouncers.
That prospect does not faze him though.
"It's something I've been working on and I'm looking forward to it," said Moeen. "Hopefully they'll get tired doing it. But you get chances to score all the time with the short stuff and I'm going to work hard on that. I am very excited about it.
"I played in Australia in the [2015] World Cup and it was white-ball but the wickets are really good out there.
"I feel when you get in it's a good place to bat. The ball doesn't swing as much and hopefully whatever number I come in, I can express myself.
"I'm going to have to change a couple of things about the way I play but in terms of mindset I'll just go and do what I normally do. The good thing is I've played against them before and I don't want to speak too early or too confident but I'll make sure I'm ready for it."
Register for free to continue reading
Registration is a free and easy way to support our truly independent journalism
By registering, you will also enjoy limited access to Premium articles, exclusive newsletters, commenting, and virtual events with our leading journalists
Already have an account? sign in
Join our new commenting forum
Join thought-provoking conversations, follow other Independent readers and see their replies