Bucolic Ian Blackwell back in the middle
Seventeen-stone spinner made England Test debut in same match as Alastair Cook but was branded a 'one-Test blunder'. Now back as an umpire, he tells Richard Edwards it's more demanding than playing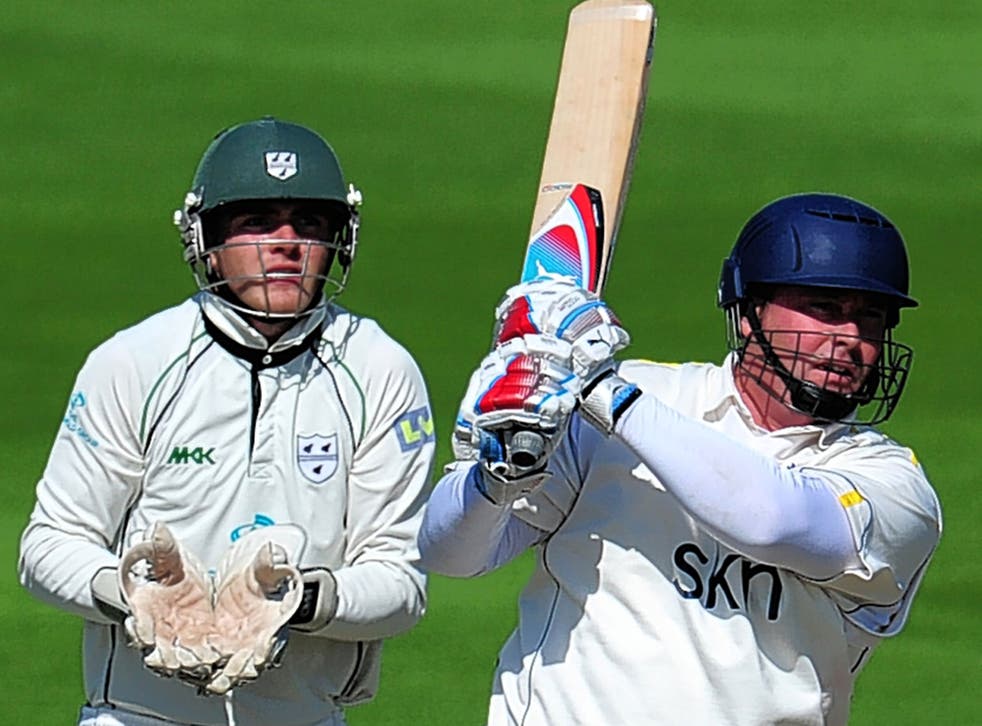 It is an incongruous photograph by modern standards. Then-England captain Andrew Flintoff is congratulating three players who are about to make their Test debut in a match against India: Alastair Cook, Monty Panesar and a hulking figure weighing seventeen and a half stone who appeared to represent cricket from a bygone age.
It was March 2006 when Cook – fresh from a flight from the Caribbean where he was enjoying the relative anonymity of an England A tour – arrived in Nagpur and announced his arrival on the international stage with a 60 and 104 in his first two Test innings against India.
He has gone on to play 109 Tests since, while the errant Panesar has 50 caps to his name. But for the third debutant in that photograph, Ian Blackwell, this was as good as it got. The left-arm spinner and powerful middle-order batsman, then at Somerset, scored four runs and bowled 19 wicketless overs as England drew the opening match of the series. He would never play a Test again.
After a solid county career, Blackwell, 36, will now be swapping the whites for the white coat and will be umpiring in the County Championship this summer.
But does he think a man of his substance would get a chance in Test cricket today? "Would I now be seen as too big to get picked? Quite possibly," Blackwell tells The Independent.
"It's a sport where, you look back at the Botham days, people weren't as physically fit as they are now. Yet you've got match-winners that could have been alienated. Freddie Flintoff went through a rough patch with his fitness and issues over off-field antics, but cricket's a very individual game, you can't have 11 mannequins going out on to the cricket field – if you did it would be a very sad state of affairs.
"If guys are a little bit misshapen or not as aesthetically fit, then you could be turning down someone like Muttiah Muralitharan. There has to be a balance, as long as the player tries to do his bit. You just don't want 11 guys all looking the same, weighing 80 kilos and doing 14 or 15 in the bleep test. It's a balancing act."
Hanging up his spikes and donning the umpire's coat has not allowed Blackwell to give up on the gym – in fact, he is now a more frequent visitor as he vies one day to join the International Cricket Council's elite panel of umpires, a third of whom are English, with Richard Kettleborough winning Umpire of the Year in 2014.
"You only have to look at umpires who have come through in the last few years – Martin Saggers, Michael Gough, Richard Kettleborough, Alex Wharf," says Blackwell. "The umpires are getting younger, they're getting fitter."
Since retiring from playing in March 2013 – his left-arm spin brought him almost 400 first-class wickets, while he could smash the ball prodigious distances – he has been learning his new trade at Minor County level and Second XI games and will now double his workload as he moves up to county level.
"They're long days," Blackwell says. "People say 'all you do is stand around all day' but I can't stress how hard that actually is. Physically and mentally you're drained at the end of each day. You switch on and off, a bit like when you're batting and fielding but it is a prolonged period of concentration because you're the man in charge every ball.
"In all honesty I've probably been to the gym more now that I've finished playing than I ever did when I was playing.
"I think the job is now elevated above the oldest guy in the club just putting a white coat on. I think the ECB has done a great job in making it a desirable way to earn a living. I would much rather do that and stay involved in cricket than do anything else."
Wisden cruelly described Blackwell, known as "The Blacksmith" during his playing days for his rudimentary style, as a "one-Test blunder" after his solitary England cap, but the Chesterfield-born all-rounder also earned 34 one-day caps for his country during a four-year international career that included two appearances at the 2003 World Cup in South Africa.
That England campaign ended, somewhat predictably, in disappointment and Blackwell has his own ideas on the direction the side should now take under new captain Eoin Morgan ahead of this year's World Cup.
"The ECB has tried to get it right, we've had various coaches and various theories but I think sometimes we're a bit, not behind the eight ball, but tend to pick players who aren't specialists," he says.
"If I had the chance of picking the team I would pick one-day specialists pretty much throughout, although we do have players who can adapt.
"[Selecting a side] can be a difficult task, and maybe we're behind with the amount of one-day cricket that we do play – certainly the tinkering of the formats in our country doesn't help things.
"The time when I made my ODI debut, there were quite a few guys who were 30-plus but cricket nowadays is a no-fear sport. The guys who have come in – the Ben Stokes, the James Taylors and Joe Roots – have shown they just need that opportunity.
"Critics say that they're not ready or not experienced enough but these guys need to be given the chance."
It is Cook's seemingly fear-ridden batting of late that has seen him dropped from the World Cup captaincy but did Blackwell see signs of a 100-Test career when they made their debuts together? "He's a class act," Blackwell says. "He was always going to do well in my eyes. He was a great character to have around, quiet, but with a wicked sense of humour."
But Blackwell also reveals that the illness that kept Cook out of the final Test of that India series back in 2006 caused the current England Test captain to wonder whether his career was going to be over before it began.
"I remember him sitting in the changing room absolutely devastated because he thought he had missed his chance," says Blackwell. "He had been brought in and he thought he was only going to play the odd Test. He has proved himself wrong. "
In the county game, Blackwell was always a plunderer rather than a blunderer. This was, after all, a man who once smashed 247 runs from 156 balls for Somerset against his former county Derbyshire – the fastest first-class double century scored by an Englishman. All of which means his return to the county ranks – albeit in a white coat – will be welcomed this summer.
Join our new commenting forum
Join thought-provoking conversations, follow other Independent readers and see their replies