Chris Cairns walks free but with reputation 'scorched'
Former Kiwi captain cleared of perjury yet says there are no winners in trial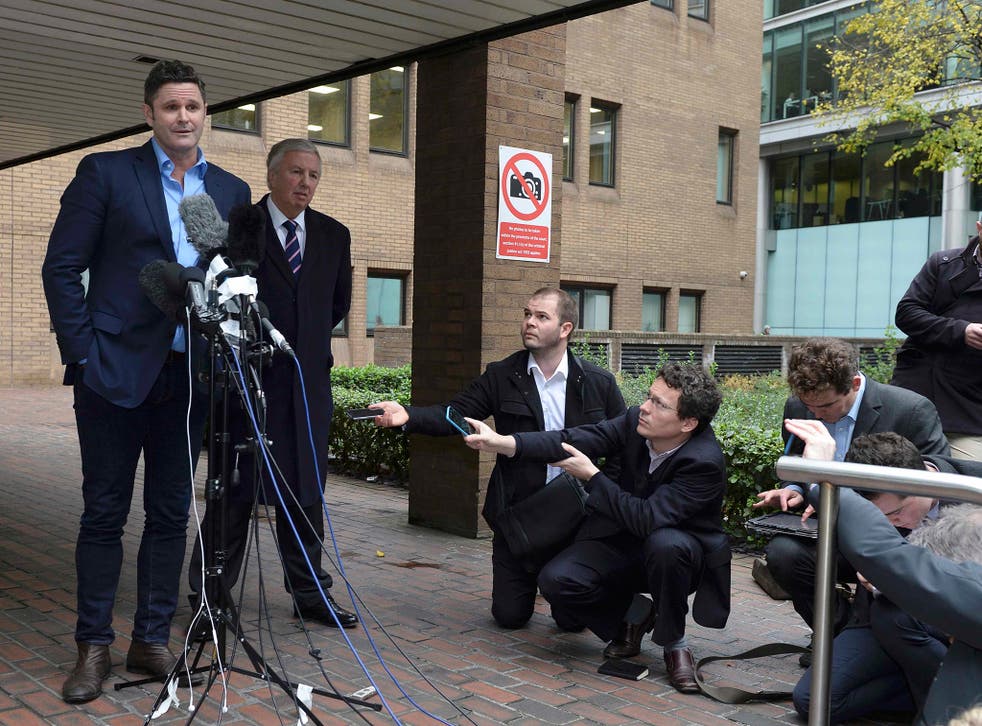 Within minutes of walking free from court yesterday, the former New Zealand cricket star Chris Cairns declared that his reputation was scorched. Standing on the steps of Southwark Crown Court in London, where he had been found not guilty of two charges which related to match-fixing, Cairns reflected emotionally on a train of events which began in 2010.
"It's been hell for the last five or so years, and in particular the last couple of years," he said. "I think I've been through the mill and come out the other side and I'm just a very happy man."
But the instant elation he felt was tempered after the conclusion of a trial which had just entered its ninth week. Cairns was cleared of two charges, perjury and perverting the course of justice. His former legal adviser, Andrew Fitch-Holland, was cleared of perverting the course of justice.
"It's not a victory as such because in a case like this, I really don't think there are any winners," he said. "It's been hell for everybody involved. I think reputationally I'm completely scorched, burned completely, but it hasn't stopped me and it won't stop me." His solicitor, standing by his side, intervened to remind Cairns and the audience that he had been cleared.
Cairns was a wonderful cricketer who illuminated many of the 62 Test matches in which he played as a hard-hitting, rumbustious batsman and troublesome seam bowler. He followed his father, Lance, as an international cricketer and it was to him that his thoughts turned.
"For my dad, back in New Zealand, he's a cricket man through and through," he said. "I don't know what cricket holds for me, I'm just happy for my father and my mother that they can hold their heads high in New Zealand."
The exoneration by a majority verdict of the jury came after a little more than 10 hours of deliberation. But it may not necessarily be quite the end of a murky legal episode for cricket.
The charges he faced at this trial stemmed from the day in 2010 when Lalit Modi, then still commissioner of the Indian Premier League, posted a tweet saying that Cairns had been removed from the IPL auction list because of his past role in match-fixing.
Cairns issued a writ for libel and after a trial in which he said under oath that he had "never, ever cheated at cricket" he was awarded £90,000 damages against Modi, who was also left facing legal fees of more than £1m. But last year there was to be a further twist when testimony given to the ICC's anti-corruption unit by the self-confessed match-fixer Lou Vincent was leaked.
This heavily implicated Cairns during his time playing in the now defunct Indian Cricket League. Eventually, the Crown Prosecution Service accused Cairns of lying during the libel trial. He was also charged with perverting the course of justice by seeking to induce Vincent to offer false evidence to the original libel trial. Fitch-Holland was also enjoined in that charge.
Nine prosecution witnesses were called including the former Australia captain Ricky Ponting. But the major evidence was given by three people, Vincent, Vincent's former wife, Eleanor Riley, and Brendon McCullum, a former friend and team-mate of Cairns and the current captain of New Zealand.
In his summing up to the jury, the judge, Mr Justice Sweeney, said that the evidence of at least two of the three had to be accepted as true if it was to convict Cairns of perjury. It followed that if he was not guilty of that he should be cleared of perverting the course of justice.
Cairns, who faced an almost certain prison sentence if convicted on the perjury charge and brought suitcases to court, appeared not to pick up the jury's decision. Only when he saw Fitch-Holland break into a smile did he respond.
Outside court, he thanked his lawyers and in an interview with Sky Sports later in the day he said he had been subject to a robust legal process which was unequivocal. Again he said it was a hellish experience he had no wish to repeat and paid tribute to the advocacy of his barrister, Orlando Pownall QC.
It was Mr Pownall who resonantly told the jury in his closing speech: "This case is all about words. Words which describe deeds, when the evidence of the deeds themselves more often than not contradicts the words used to describe them."
Cairns, 45, was asked on the court steps if he would work in cricket again. "No, no, no," he replied. "It's my choice. I think it would be quite a hard environment to go back into. There has been a lot of damage done and I think that's unfortunate."
Asked what he would say to McCullum, he replied: "Why?" It is possible, given all the allegations – unfounded though the jury found them to have been – that cricket would have no urgent desire to find a place for Cairns within it. He may yet have to face another civil case which Modi is considering after new evidence heard during the last nine weeks.
Modi said: "I am aware of the verdict at Southwark Crown Court. As you know I am limited in what I can say as I am restricted by the injunction put in place following the 2012 libel trial. I will consider how this affects my own civil claim against Mr Cairns in due course." If he proceeds, Cairns may have to go through the mill all over again.
Join our new commenting forum
Join thought-provoking conversations, follow other Independent readers and see their replies