Chris Tremlett is back and eyeing an England recall
With Test team short of penetrative fast bowlers, injury plagued Chris Tremlett tells Richard Edwards he is fit and fast again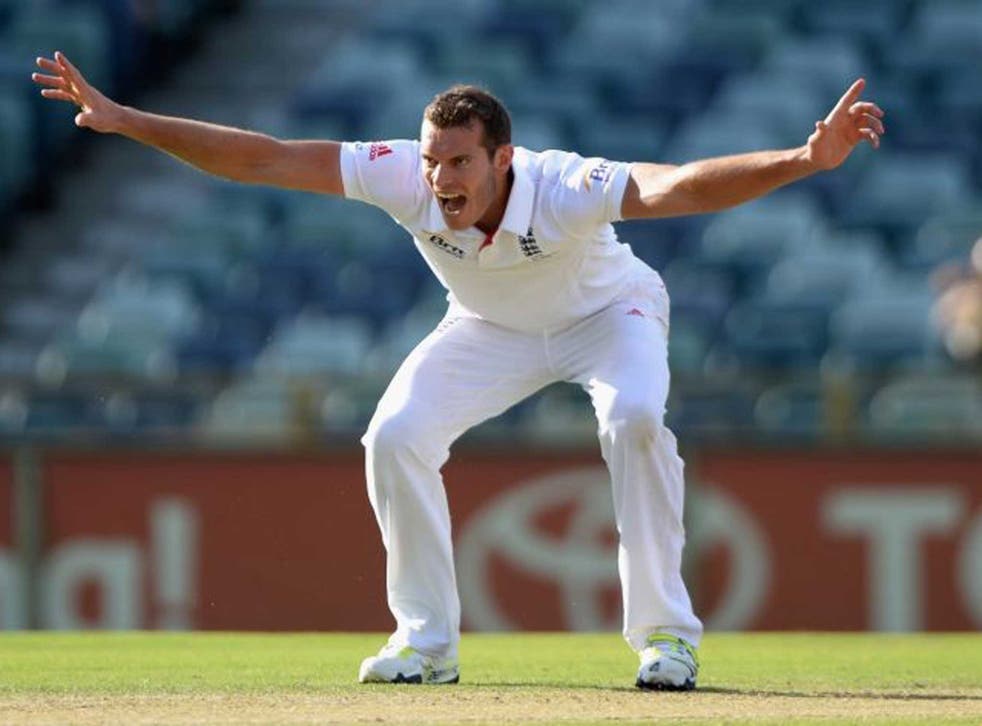 Shane Warne once described Chris Tremlett as the world's No 1 net bowler but questioned whether he was too soft to make a real impact at the highest level.
But as the giant pace bowler prepares for his first appearance in this season's County Championship, it would appear churlish to question the mental and physical toughness of a man who has now been under the knife eight times since he made his first-class debut for Hampshire back in 2000.
His latest surgery, on a shoulder injury in September, has seen him undergo another winter of rehabilitation, while the start of his county season with Surrey has been hampered by a minor hamstring injury. "I'm stuck together really," the 33-year-old says. "I don't really remember ever being truly pain free.
"The spell when I played for England for a year or so, I had a couple of niggles but nothing too serious. Then I had the back operation [in February 2012 after flying home early from England's series against Pakistan in the UAE] and I don't think I've been the same since.
"At the moment the shoulder seems good and I feel like I'm getting my arm in a completely different position. I'm bowling from up high again and things are looking good in the nets – I just need to take that into the games."
His first appearance of the season suggested the 6ft 7in giant was capable of hitting the heights again. With all lenses trained on the returning Kevin Pietersen, Tremlett took five for 30 against Oxford MCCU at the Parks. A month on, he's still hopeful that his aching limbs can continue to propel the ball at speeds approaching 90mph – and that he can give England's under-fire selectors a rapid reminder of his talents in Ashes year.
"I seem to be bowling like I was five years ago at the moment. Hopefully, I can start my season well and stay injury free," he says. "Recovery-wise after the shoulder operation it has been very good. I trained hard in the gym before Christmas and then stepped up the work in the new year. It does seem to have made a big difference."
It was the winter of 2010-11 when England and the world really saw the best of Tremlett. He took 17 wickets as England romped to a first Ashes success Down Under since 1986-87. Since then he has played just six more times for his country.
After missing so much cricket as a result of injury, you could not blame Tremlett for wondering if the time had come to give his body a break. But while he admits that doubts have surfaced from time to time, he's still intent on adding to a first-class wicket tally that already stands at an impressive 453.
"I think if I had a really serious operation again then I would have to consider retirement – there's only so much you can take," he says.
"In my head, though, I knew that this was an operation that was going to improve my performance and perhaps prolong my career. The two most serious operations I've had have really hampered my career and it does take a long time to trust in your body again. Last year I was about a yard down in pace but I feel like I've got that back."
A decade on from one of the most famous Ashes series in history, it's often forgotten that Tremlett was an unused 12th man for most of that summer as England ended 18 years of hurt against Australia. He eventually made his England debut against India at Lord's in 2007, claiming the wickets of Rahul Dravid and VVS Laxman in his first Test.
The previous winter, he had endured a nightmare one-day series against Australia and New Zealand after England's 5-0 Ashes humbling. His final appearance of that ill-fated series saw him go for 72 off 10 overs against New Zealand at Perth; again there were whispers he was struggling with injury. In many ways that was symptomatic of the handling of Tremlett throughout his career. A bowler of his height and pace is someone who should have been treasured, nurtured and protected. As it is, he has played just 12 Tests in eight years, taking 53 wickets at a cost of 27 – figures which compare favourably with every other bowler of his generation. "The last couple of years I haven't been anywhere near as quick or dangerous as I used to be," he says.
"I played one Test in Australia [the infamous one at Brisbane in 2013] and did fairly well but I wasn't the kind of threatening bowler I was in 2011. I've never given up and it has been painful to watch the England side in the past year or so, especially in the World Cup. As for England and me, who knows what will happen? I'm going out there with the mindset of just enjoying playing for Surrey, really trying to find the form I had a few years ago – that's what really motivates me to keep going."
With England now in desperate need of surgery, a fit-again Tremlett might just be the perfect remedy.
Join our new commenting forum
Join thought-provoking conversations, follow other Independent readers and see their replies