County Championship round-up: Tons from Adil Rashid and Gary Ballance tip the scales for Yorkshire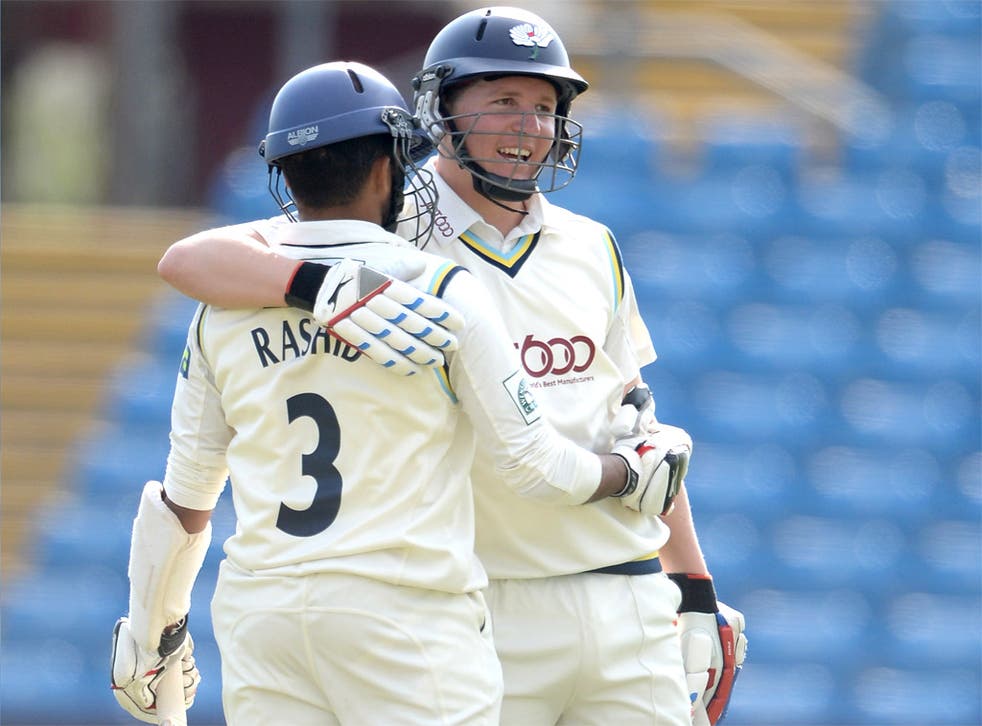 Anybody in Yorkshire will mention two things about their team this summer. This is apart from Joe Root being the next big thing, which is now deemed to be so obvious they barely speak about it any longer.
Gary Ballance and Adil Rashid are different matters. There is a growing conviction in Yorkshire that Ballance, born in Harare and educated at Harrow, which has a neat symmetry about it, will be persuading the England selectors by the end of this summer that he is worthy of recognition, at least in the one-day arena.
Not so long ago, Rashid was the Root of the day, the next big thing, a destiny he has yet to fulfil. Rashid had a wretched 2012, averaging 40 with the ball and 16 with the bat, the wrong way round for all-rounders. The word is though, that he is back.
Ballance and Rashid rescued Yorkshire's innings on the first day of their Division One match against Somerset, coming together at 75 for 4 and putting on 207. Ballance made his first hundred of the season (his second counting his 112 against Leeds-Bradford University) over almost six hours.
Rashid followed him to three figures for the fifth time in his career shortly afterwards. In the absence of Root and Jonny Bairstow, both of whom will be on duty with England Lions on Thursday, this was a commendable effort.
Last week's win against Hampshire offered Essex some much-needed relief after a sluggish start to the season. But there was the feeling that they might have taken two steps backwards as 57 for one became 173 for 8.
Graham Napier, who guided them home against Hampshire with a typically bustling 78 after an early collapse, again salvaged the innings with a more stoic occupation. For a man who once hit 16 sixes in an innings and a century in 44 balls, this was self-denial on a grand scale.
On a much grander scale still, further evidence is emerging about India's desire to have greater influence at the International Cricket Council. This should hardly come as a shock, but there is the suggestion of unsavoury dealings at best.
Tim May, the former Australia Test player who is now president of FICA, the umbrella organisation for players' associations, has been replaced as a players' representative on the ICC cricket committee by the commentator and former India spinner, Laxman Sivaramakrishnan.
It was being openly suggested by FICA that the Board of Control for Cricket in India put pressure on other boards to ensure their Test captains – who cast the vote for fellow players – went for Sivaramakrishnan and that this went beyond lobbying.
Although the BCCI deny wrongdoing, their man seems an odd choice since he is hardly involved in the day-to-day running of the game. It is further evidence that the ICC is rapidly becoming toothless but, since its executive committee has a history of ignoring its cricket committee, it may not have much impact on how the game is run. India are running it in any case.
Join our new commenting forum
Join thought-provoking conversations, follow other Independent readers and see their replies