England lose World Twenty20 final after West Indies demolish Ben Stokes in last over
Carlos Brathwaite the hero with four successive sixes in final over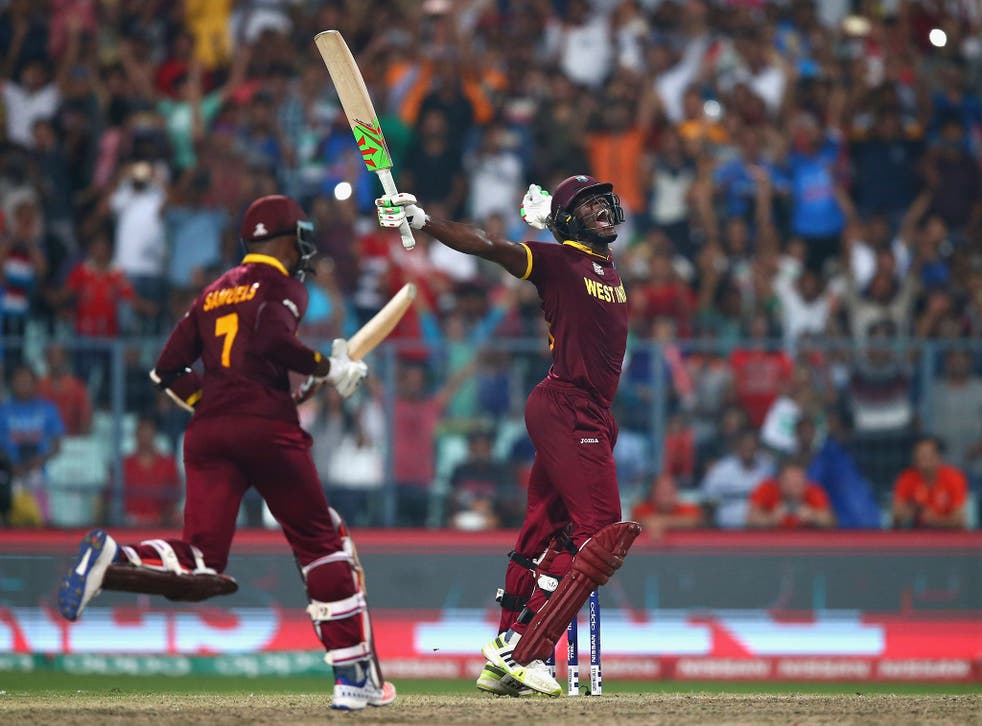 As Ben Stokes sank to the floor, he just knew. England had the World Twenty20 crown in their grasp. Then, after four thunderous blows from Carlos Brathwaite's bat, suddenly they did not.
The West Indies had needed 19 to win from the final over, a position that just needed Stokes' death bowling expertise to seal England's second ICC crown in 41 years.
His radar went awry first ball, a wayward delivery down leg that Brathwaite flicked over square leg for an emphatic six. Thereafter Stokes did not quite locate his yorker, but nor was he far away from doing so. A millimeter too short here; a millimeter too wide there. It was enough for Brathwaite to plunder three violent strokes, each more imperious than the last. Stokes' second ball was smoked over long on, and his third thundered over long off.
So an equation of 19 from six balls was now one off three. The jigs of delight from the West Indies players on the bench spoke of their knowledge that they were about to become the first ever side to win two WT20 crowns; the distraught expression on Stokes' face betrayed a man who felt culpable for England's agonising defeat.
Rather cruelly, Brathwaite had laced the third delivery so far that it got lost in the crowd. A few painful minutes ensued while the umpires brought out a replacement ball, leaving Stokes alone in his own despair. Morgan and the other team consoled him, perhaps telling him, against their better judgement, that he was only three dot balls away from securing a super over.
It did not materialise. The fourth ball, another yorker that was barely misplaced, heaved over midwicket for six. The whole West Indies squad ran onto the outfield in their ecstasy; Brathwaite removed his shirt in his moment of triumph, and who could blame him? He had arrived at the final with some guffawing at his new IPL contract for over $600,000, and with only 25 runs in his T20I career. Here he produced an innings for the ages to back up the three wickets he claimed with his mixture of pace and canny cutters.
It means that the West Indies have now won a trifecta of ICC events in 2016: this triumph joining the win in the U-19 World Cup in Bangladesh and the women's success in the World T20 earlier in the day.
For all the panache of the West Indies' cricket, their success has been underpinned by anger. Anger at their own dysfunctional board, who almost led them to strike on the eve of the tournament; anger at how they are perceived, as modern day mercenaries who treat the West Indies' heritage; and anger at those who berate their cricketing savvy. Pointedly, Darren Sammy singled out the English commentator Mark Nicholas, who has lambasted the West Indies as "short of brains" before the tournament, in the post-match presentation.
There would have been no thrilling denouement without Marlon Samuels. As the West Indies floundered in pursuit of an under-par 156 to win, Samuels held the side together. If he scored more dot balls than he would have liked, Samuels made up for them with his exhilarating timing and power. In his trademark style, he repeatedly backed away, exposing all three stumps, and thundering a straight drive: a shot that seems to contain outrageous risk, but one that Samuels has mastered so comprehensively that he has been man of the match in both the West Indies' WT20 triumphs. In 2012 he thrashed 77 against Sri Lanka, eviscerating Lasith Malinga in the process; here a magnificent unbeaten 85 set up Brathwaite's stage in the final over.
The ending was no reflection on England's sterling effort in the field. Defending a score that felt 20 shy of par, the circumstances impelled Eoin Morgan to gamble, and in the second over so he did. For only the second time this tournament, he called on Joe Root to bowl his offspin.
It was a move designed to provoke the West Indies openers into recklessly attacking rather than playing themselves in. Immediately it worked: Johnson Charles greedily eyed up the long-on boundary and was caught. It brought Chris Gayle onto strike, to raptures from the Eden Gardens crowd, and he promptly carved his first ball over point for four. His gluttony undimmed, Gayle smeared the next delivery high to long-off, where Ben Stokes again took a calm catch. Pandemonium ensued, with Root disbelieving of his sudden metamorphosis into strike bowler.
Root's intervention was only the latest in a litany of inexplicable fortune England have enjoyed this tournament. Coming after the chase for the ages against South Africa in Mumbai, the form of Liam Plunkett, not originally selected in the squad, Moeen Ali's crucial lbw reprieve against Afghanistan, the brilliant catch from Root against Sri Lanka to keep England in the competition, and Ben Stokes' consecutive wickets with full tosses in the semi-final, it give the sense that there was something almost elemental driving on England's side.
Next over, a beautiful inswinger from David Willey added to the impression: India's slayer Lendl Simmons was out first ball and the West Indies were 11-3. Now the bedlam of a T20 innings gave way to the slow-burning tension of a Test match, as Samuels and Dwayne Bravo added 75 in 11.3 overs.
The match begun with England having a fraught start of their own to contend with. In a West Indies team brimming with razzmatazz, Samuel Badree sits anonymously: a balding 35-year-old who has never even played an ODI, let alone a Test match, and has only ever bowled 18 overs in the Indian Premier League. But he is the best T20I bowler in the world today, and the best there has ever been in T20's short history. He proved it from the second ball of the match, a slider that removed Jason Roy's legstump.
When Alex Hales flicked Andre Russell straight to Badree at short fine leg, and then Morgan nicked a Badree googly to slip after making a funereal five, England were 23-3 in the fifth over. It fell to Root, once more, to showcase his class: he scored 54 from 36 balls while taking no discernible risks, largely because he allowed only seven dot balls. Alongside him Jos Buttler sparked again, hitting three thunderous sixes, but so abject was England's start that they craved many more. It was on these failings, far more than Stokes' final over, that the match was lost.
Join our new commenting forum
Join thought-provoking conversations, follow other Independent readers and see their replies