England vs Pakistan: Jonny Bairstow ends summer as he began it - batting with class and purpose
Bairstow has been in good fettle with the bat all year and while his wicket-keeping remains a work in progress, you can see the improvements hard work have gradually brought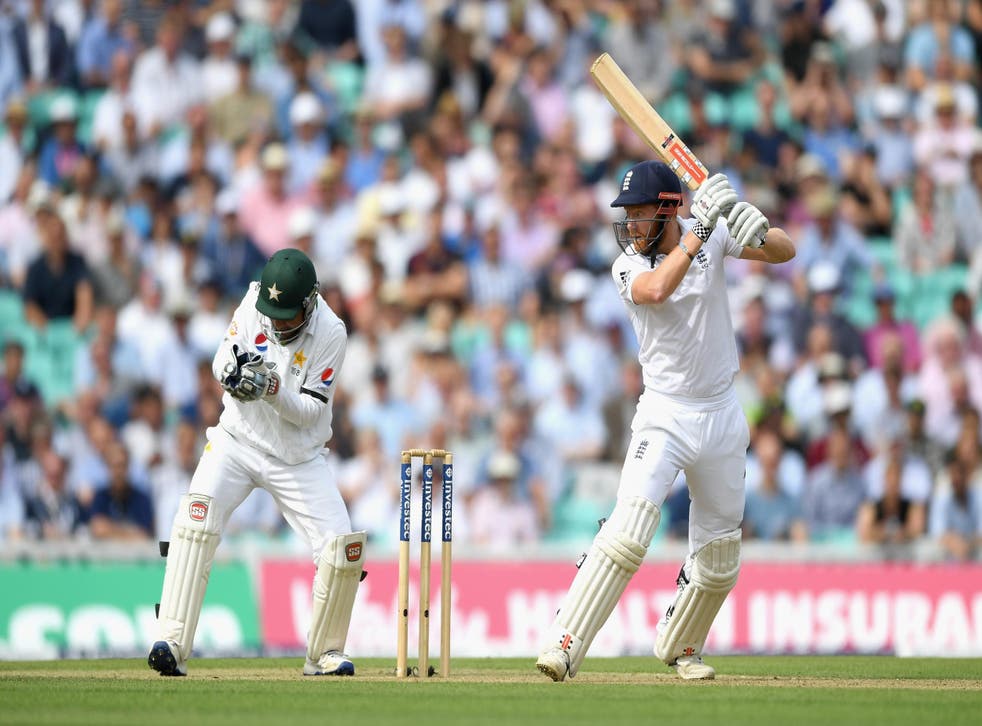 Neither team in yesterday's drawn series at the Kia Oval deserves to be No 1 in the Test rankings, which could yet happen if results elsewhere fall Pakistan's way, but there is a player for whom the top accolade applies without reservation - Jonny Bairstow.
He won't have enjoyed England's defeat or the the unedifying nature of his dismissal in England's 2nd innings, a sloppy pushed catch to short extra cover off Wahab Riaz. Yet, that apart, he essentially ended the summer's he began it, batting with class and purpose.
Actually he has been in good fettle with the bat all year and while his wicket-keeping remains a work in progress, you can see the improvements hard work have gradually brought, and for that he must be congratulated.
Although a supreme athlete who could field anywhere, the dual role of batting and keeping wicket is clearly one he cherishes. It would have been easy, given Bairstow's sundry errors his summer, for the selectors to have restored the gloves to Jos Buttler, but they obviously feel Bairstow is determined to make a success of it and are giving him the opportunity to do so.
His dismissal on Sunday for 81 left him eight runs short of 1,000 for the calendar year. Only Andy Flower, with 1,045 runs has made more as a wicket-keeper batsman over the same period and there is some pretty esteemed company on the list, such as Adam Gilchrist and Kumar Sangakkara.
Although the two Tests England have scheduled for Bangladesh this winter are in doubt, due to recent terrorist atrocities in the country, there are five more set for India in which Bairstow can break Flower's record. He needs 54 more runs to do so, which is a foregone conclusion in his current form. For those who can remember his father, David, who kept wicket and thumped useful runs for Yorkshire and England in the 1970s and 80s, before his tragic suicide, there would have been enormous pride.
The bald figures for his year so far, 992 runs from 16 innings at an average of 76, make tremendous reading but they do not begin to reveal the true story. Batting between numbers five and seven, most of his successful innings, which include three big hundreds, four half centuries plus a number of forties, have allowed England to post competitive totals despite the top-order failing. Although not exactly rearguards, he has rarely had the luxury, except during the Cape Town Test, of arriving at the crease with England in control.
Fortunately, the role of repairman was one he got to play most weeks for Yorkshire during the 2015 county season - one he both relished and was good at. It came at a time too, following a weakness against the short ball, where his England career threw up more queries about his game than plaudits
Yet, specific work on that technical glitch, and the presence of an older, wiser head when he returned to national duty during the 2015 Ashes, meant he has not looked back since, his batting especially going from strength to strength as he finds bowling of most types to be to his liking.
You can tell a lot about a player by his manner in the middle and while Bairstow's public face can seem a trifle intense, his batting looks wonderfully free of any such shackles. Watching his knock of 81 at the Oval on Sunday and you would never have guessed that it was England who were deep in the mire.
He has not yet cracked the game completely. This winter's tour of India will challenge the batsman in him in ways he has only dabbled with in the past at venues like Abu Dhabi and Sharjah. Although he played one Test in India last time MS Dhoni, India's captain, instructed the groundsmen to produce "rank turners," he has not yet made proper runs in such conditions.
India will test his keeping too. How he copes there, especially standing up to the spinners, will decide whether England press on with him as their wicket-keeper or turn to another, probably Buttler.
But where once the removal of that role would have meant the removal of the other for him, Bairstow the batsman is a class act who can now fly solo.
Join our new commenting forum
Join thought-provoking conversations, follow other Independent readers and see their replies