England v Pakistan: Visitors storm to crushing 10-wicket win to draw Test series 2-2
Misbah-ul-Haq and his team had started the summer in style, winning the opening Test at Lord's to spark those famous press-up celebrations, and ended it in a similar convincing fashion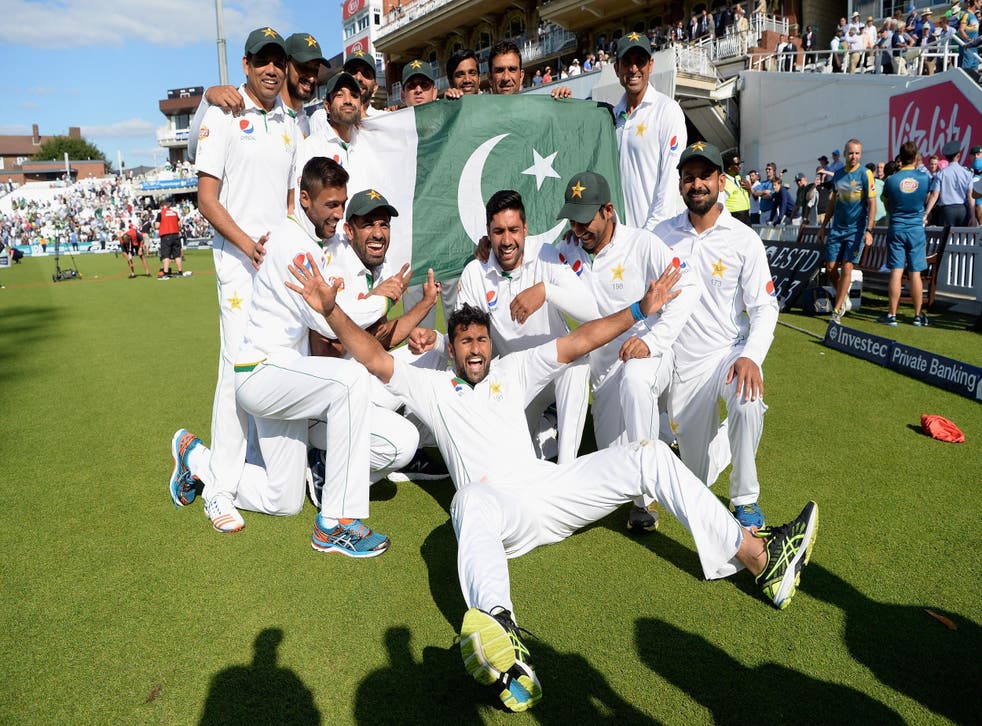 For Trevor Bayliss, England's Australian coach, the honeymoon period is most definitely over after a defeat in this final Investec Test that saw Pakistan deservedly draw the series 2-2.
Misbah-ul-Haq and his team had started the summer in style, winning the opening Test at Lord's to spark those famous press-up celebrations.
They followed it up here with a crushing 10-wicket win sealed with a towering six from Azhar Ali that saw the tourists cruise to their target of 40 inside 13 overs.
In between, England has seized control of the series with wins at Old Trafford and Edgbaston. Ultimately, though, they just weren't good enough to finish off the job at The Oval.
Bayliss had started his tenure last summer with an Ashes victory and followed it up with another landmark Test series success in South Africa.
Both those triumphs exceeded expectations and even the 2-0 defeat by Pakistan in the UAE in between was not a surprise.
However, this is the first series under Bayliss where England have come up short. The low-key 2-0 win against Sri Lanka at the start of the summer concealed a multitude of sins.
Now, despite the goodwill fostered by England's resurgence in limited-overs cricket, Bayliss will have to address the reasons why his Test team have stalled.
Yasir Shah, whose haul of five for 71 speeded up England's second-innings demise here, was one.
Younis Khan's magnificent double hundred that set up this game for Pakistan another.
Yet it is the problems closer to home Bayliss will need to address before England embark on a winter that sees them scheduled to play seven Tests in Bangladesh and India.
Yasir's success in this match, not to mention his 10 wickets at Lord's, has shown up the limitations of Moeen Ali as a bowler, series haul of 11 wickets overshadowed Yasir's 19.
In India, where will England face five Tests, Moeen will be tested like never before.
The top six, though, is the real area of concern and its weakness was the reason for defeat here.
A first-innings total of 328 was never enough. And the way Yasir sliced through the top order during England's second innings on the third evening – removing Alex Hales, James Vince and Joe Root – extinguished hopes of a home recovery.
It left England on 88 for four, still trailing by 126 runs, at the start of this fourth day.
An entertaining morning that saw 106 runs and two wickets livened up the Oval crowd. But by then the damage had already been done.
Jonny Bairstow at least brought up his ninth Test half-century as England went into lunch on 194 for six, trailing by 20.
Gary Ballance, nicking Sohail Khan behind on 17, and Moeen, scoring 32 before becoming Yasir's fourth wicket, were the men to fall.
Moeen's dismissal, edging behind, was frustrating because of its timing seven minutes before lunch.
Ballance's, via the same method, was just infuriating, the loose shot that proved his downfall illustrative of a technique that just looks too fallible at this level.
With question marks also surrounding opener Hales and Vince's time at No4 now surely over after a horror summer, England have much to ponder before they head to Bangladesh and India.
While they were winning series as they did against South Africa in the winter and Sri Lanka earlier this summer, the top six was a problem that could be put on the back burner.
This series, though, has not been won and, save for vital contributions from Bairstow and Moeen, those batting frailties might have seen them lose it.
Bairstow has had a stellar Test summer, scoring two hundreds against Sri Lanka and three half-centuries in this series.
His latest innings, scoring 81 from 127 deliveries, at one point looked like it might leave Pakistan with a tricky chase.
But two wickets in as many balls killed off any faint hopes England had of making a game of it.
Chris Woakes, brilliantly run out by Wahab Riaz, was the first to go. Bairstow then drove Wahab to extra cover as the hosts, still four behind, lost their eighth wicket.
Finn at least scored the runs that meant Pakistan would have to bat again before Broad reverse swept Yasir to Younis at slip as England were effectively reduced to one for nine.
Wahab was then removed from the attack after receiving his third warning for running onto the pitch.
It's a fate that had befallen Anderson in the previous Test at Edgbaston and it was his lbw dismissal by the part-time spin of Iftikhar Ahmed that broke a last-wicket stand of 39.
It left Pakistan needing 40 to win – a total not even the ultimate hot and cold team in world sport could mess up.
For England, injury was added to insult by the end as Finn pulled up with a hamstring strain that signified his side's limp end to the series.
Join our new commenting forum
Join thought-provoking conversations, follow other Independent readers and see their replies