England v Sri Lanka: Gary Ballance cuts loose to set up England for final-day victory push
First Test - day four: England 575-9 dec & 267-8 v Sri Lanka 453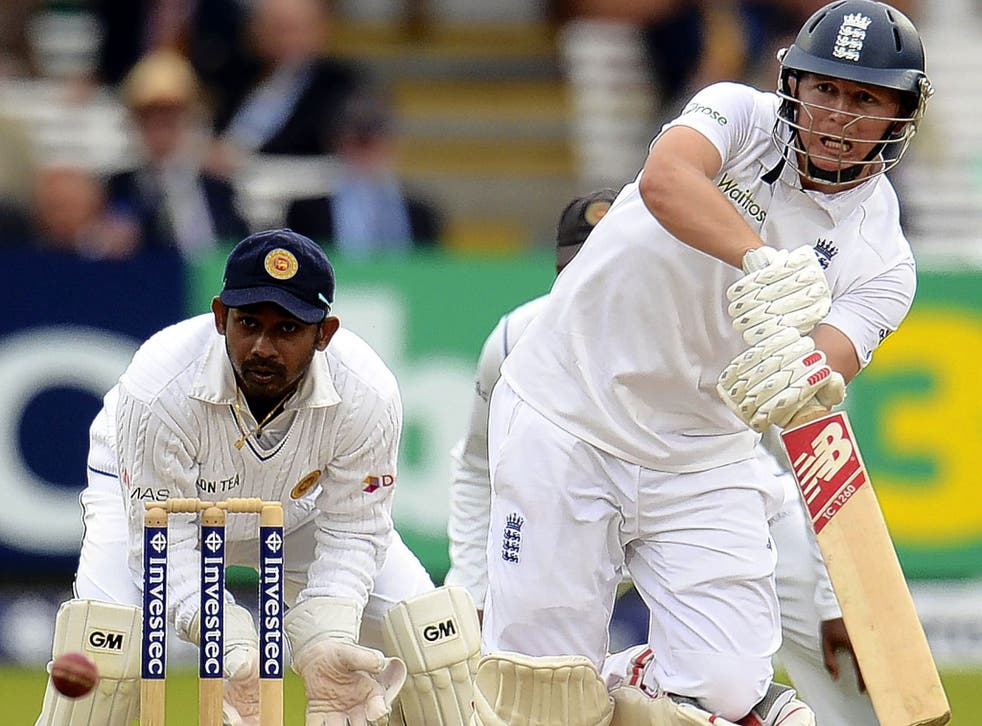 A draw, it was declared. Pitch too flat, it was considered. Weak tourists' attack too easily plundered, it was opined. Predictable cricket, it was averred. Tests will only suffer, was the conclusion.
What even seasoned observers tend to forget about Test cricket, however, is its length. Before any match starts the ground announcer should refashion one of those tag lines from old Saturday morning matinees: "Anything can unfold over the next five days and probably will."
England and Sri Lanka spent the first three days of the first Test mounting up runs and not losing many wickets. The plot was going nowhere. On the fourth day yesterday, it veered all over the place, with a series of twists, turns, unexpected developments, triumph and drama.
It may still end in a draw some time after tea today but England are easily favourites now. Typically, given the nature of this game, they were guided to that position with a maiden Test hundred by their new number three, Gary Ballance, who was generally deemed not to be the most suitable candidate for the particular spot in the order.
In the nick of time, with an overnight declaration looming, Ballance reached his century with a six in the day's final over, determinedly, weightily, hungrily launched into the Grand Stand through midwicket. Even by modern standards of excess, his elation was unconfined. He ran so far in the direction of the home dressing room at the Pavilion End, his bat whirling, his chubby cheeks traffic-light red, though nothing would have stopped for him, that it was assumed England must be calling a halt to their second innings.
They were not and Ballance duly reassumed his guard to finish the proceedings. It was a superb inaugural Test hundred of deep contrasts. At the start, it was doggedly pragmatic – it had to be – but he finished the day with a wonderful flourish and a sequence of aggressive strokes, usually off the back foot and often square of the wicket. Understandably, the selectors will be preening themselves at their masterstroke.
Ballance's first 50 took 130 balls, his second 54 balls. It did not quite dispel the doubts of those who suggest his method of lurking deep in the crease may not make him a durable three but it was a validation of the selectors' bold decision. This was an essential, calm contribution without which England would have been staring at the embarrassment of defeat.
England finished the day on 267 for 8, 389 runs ahead after Sri Lanka added another 38 runs while losing their last three wickets in the morning. Ballance, in his second Test, assembled a crucial partnership with Chris Jordan, one of the three England debutants, who batted with an admirable swagger for the second time in the match.
Strictly in the interests of the match as a contest, their endeavours might not have been desirable. In launching a recovery from 121 for 6 when England were in imminent danger of folding, they have almost certainly put the match beyond their opponents. Had England obliged in losing their last four wickets quickly the final day would have promised an absorbing, even contest.
As it is, Sri Lanka will have 90 overs to save the match on a surface which must wear at some point. If one of England's part-time spinners were to play a prominent role the selectors might be keen to make several more points about what it takes to pick a side.
It is unlikely that the tourists will think they can win. Making above 300 in the fourth innings to clinch a Test match continues to be a rarity. It has been done only once at Lord's, by West Indies, who made 344 for 1 to win in 1984. Two other teams, India (397 in 2002) and Australia (415 in 2009) have made more and still lost.
England almost mucked it up. It all went according to plan, if a bizarre plan, in the morning. Banging it in short, because they could, the home side took the last three wickets straightforwardly enough, but not before Angelo Mathews became the second Sri Lankan in the match and the fourth Sri Lankan captain to score a hundred at Lord's. England, by having fielders round the boundary instead of under his chin, put him under no pressure.
It was imperative, if they were to carry out their new brief, for England to play assertively but not carelessly. Alastair Cook, their captain, fulfilled it well until, as is worryingly his wont, he was caught behind driving at one going across him. Cook still has credit in the bank going back years but he is drawing on capital now. Apart from anything else, he needs a break.
Sam Robson, his new partner, pushed forward too diffidently and with hard hands only to have his off stump hit as the ball seamed back. This was an inspired spell by Shaminda Eranga and Ian Bell, as ever looking peerless, was also bowled by one which shaped away and seamed back.
When Rangana Herath also seized the moment England were in trouble. Herath caught Joe Root on the crease and instantly won the lbw verdict. Moeen Ali came in and announced himself by clumping Herath over long on as if to say that he would not be easily intimidated. But Herath has been doing this kind of thing for years and immediately turned one from the edges of the rough through Ali's rather casual drive. Welcome to Test cricket, Sonny, Herath seemed to be saying.
Had Sri Lanka struck again then anything was possible. But Jordan did not hesitate and his strategy worked. There were five fours in his breezy 35. Jordan is a breezy cricketer. He and Ballance shared 78 and when Stuart Broad arrived to demonstrate further that England's tail mean business again, the game drifted away from Sri Lanka.
It left Ballance to calculate the runs and time ratio. He hit two fours in the penultimate over. Herath bounded up for the last time of the day and without a backward glance Ballance took the ball from off stump with clear intent. It did him and the team credit.
Join our new commenting forum
Join thought-provoking conversations, follow other Independent readers and see their replies