England vs Pakistan: Adil Rashid in, but will it be Alex Hales or Moeen Ali up top?
Cook has had six partners at the top of the order since the retirement of Andrew Strauss in 2012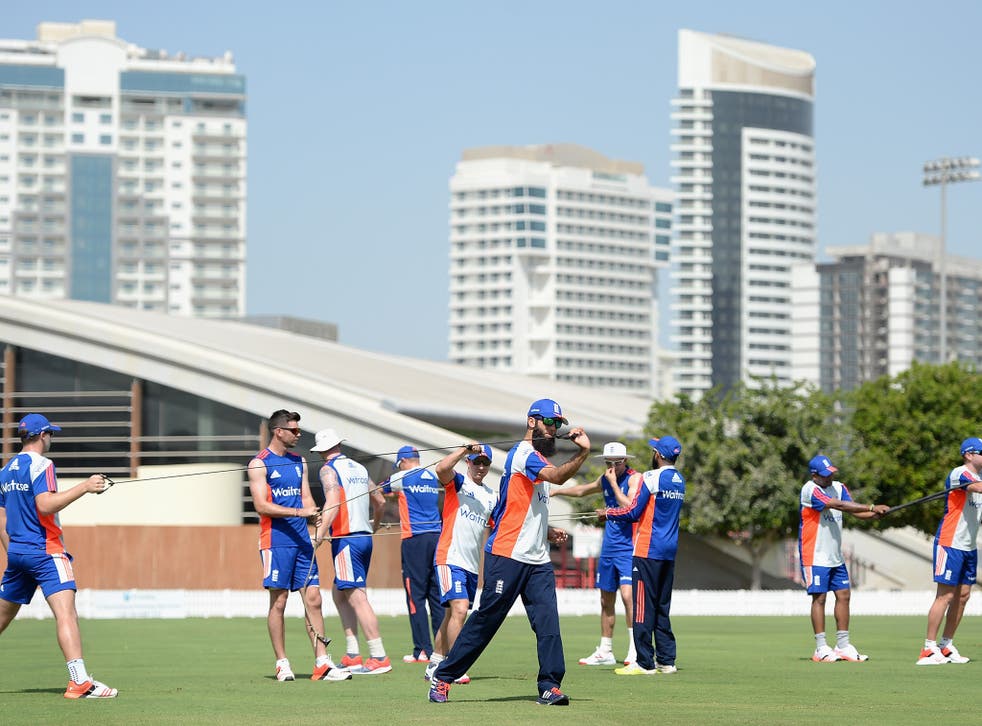 While the identity of England captain Alastair Cook's next opening partner remains a mystery, coach Trevor Bayliss has as good as confirmed that Adil Rashid will make his Test debut during the forthcoming series against Pakistan.
The Yorkshire leg-spinner has waited patiently for his chance, having been an unused squad member on the Spring tour to the West Indies and again during all five Ashes Tests in the summer. Now, after impressing against New Zealand and Australia in one-day cricket this year, Rashid has been told to ready himself for his Test debut during the three-match series against Pakistan, which starts in Abu Dhabi on Thursday week.
"I think he'll make his debut," said Bayliss. "I'm only one of three selectors but that's my view."
Asked if Rashid is ready for Test cricket, the Australian replied: "Yes, if he goes out and bowls like he did in the one-dayers against Australia. He backs himself, he bowls aggressively to take wickets, bowls his variations. There's no reason why he can't be successful."
Bayliss was speaking little more than 24 hours after England's delayed arrival in the United Arab Emirates, their outbound flight to Abu Dhabi on Wednesday pushed back so much that the team did not get to their hotel in Dubai until 5am the following day. That extended journey will have given Bayliss and Cook plenty of time to discuss the pressing issue of just who will open alongside the captain.
Cook has had six partners at the top of the order since the retirement of Andrew Strauss in 2012, Yorkshire's Adam Lyth the latest to fluff his lines during this summer's Ashes series. The choice on this tour comes down to whether England want to invest in promise or go with pragmatism.
Alex Hales, who has served his apprenticeship well in international limited-overs cricket and has been prolific for Nottinghamshire in the County Championship over the past two summers, would be the first option. Moeen Ali, who will be England's primary spinner alongside Rashid and has opened in one-day cricket, the second. For now, publicly at least, Bayliss insists he has not made up his mind.
"We've probably got a bit of an idea who we might play," he said. "I don't think we've got a definitive answer just yet. We've got a few days of practice and a couple of warm-up games before we select that [Test] team."
The first of two two-day tour matches against Pakistan A in Sharjah starts on Monday and Bayliss has indicated those warm-ups could effectively be a shoot-out between Moeen and Hales for the opening position.
"I think both those players will get an opportunity," he said. "We'll play the first one and then see what we need to achieve out of that last match.It will probably be determined on how we play in the first one, and who needs an extra hit, who's had enough... but I'm sure those two boys will get their opportunity."
Cook hinted earlier this week that England could go for a "horses for courses" selection, picking Moeen for this tour and Hales for South Africa in the winter.
Given the pace of South African pitches and Moeen's vulnerability against the short ball, it is unlikely he would relish facing new-ball spells at the start of an innings from Dale Steyn and Morné Morkel in their own backyard.
Bayliss, though, said that whoever gets the job for the Pakistan series has the chance to nail down their place for South Africa too.
"Whoever does well here is going to be very difficult to drop," he said.
Join our new commenting forum
Join thought-provoking conversations, follow other Independent readers and see their replies