England vs Pakistan: Chris Woakes discovers zip that makes him undroppable
Seamer is hurrying batsmen having found an edge to his bowling, writes Derek Pringle at Lord's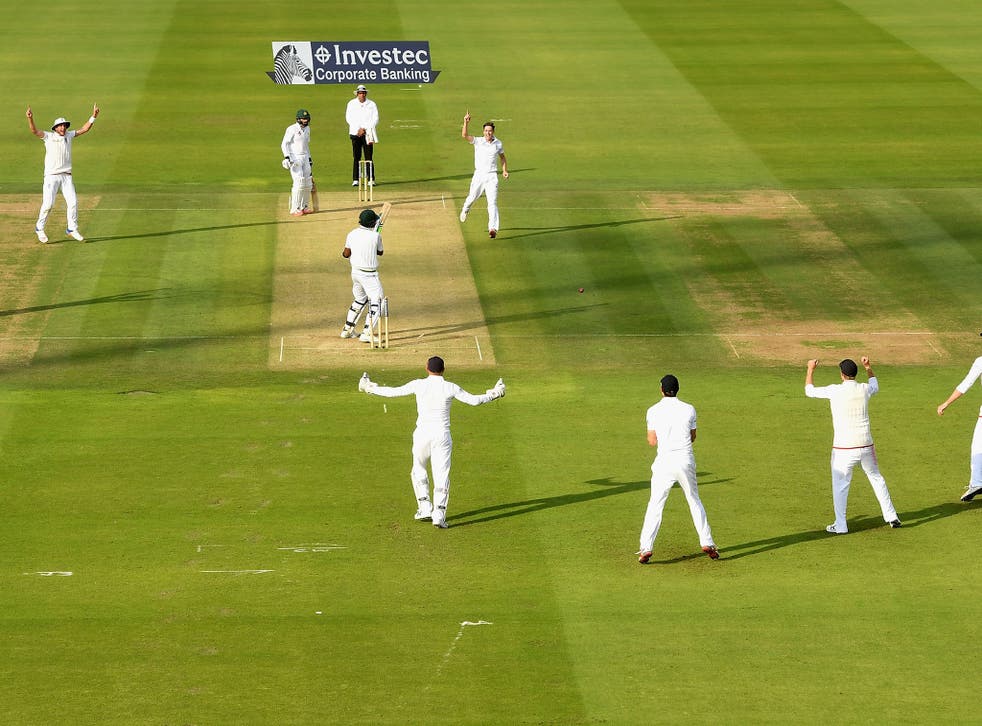 Professional cricketers call it zip, and the difference between having it and not having it can make or break a bowler at the highest level.
Until this summer, Chris Woakes did not have it and his Test match figures: eight wickets at 63.75 from six Tests were dire. But since then, and credit to the selectors for their persistence when others had written him off, Woakes has discovered it and responded with 12 wickets at 18.2 from two and half Tests, including four scalps in this current one against Pakistan here at Lord's.
All pace bowlers know they need zip if they are to hurry the best batsmen and get them out. But like bottle or finesse it is not easily definable, and yet you know when a bowler has it and when they do not.
At the moment Woakes has it and Stephen Finn does not, even though Finn might actually send the ball down quicker. To me, zip hurries a batsmen whether through unexpected movement, bounce, or pace. It is as if the ball gathers pace off the pitch which Newton's Laws of Physics say is impossible but that is the impression.
So how has Woakes done it? As a bowler he always seemed a bit robotic and rigid to be competitive at Test level. For some, he still does not use his front arm enough but he has found some whip, possibly from a different wrist action, that hurries batsmen.
You could argue it was about time that he discovered his mojo but it is not always that easy. Bowling fast is never easy and as we have seen with Steve Finn, knowing just what kind of bowler you want to be, and then having the skill and confidence to see it through are different things. But where Finn has struggled to find his identity as a bowler, or keeps losing it, Woakes looks comfortable with his. Once that happens a cycle of feedback occurs with confidence bolstering rhythm which in turn bolsters effectiveness, which leads to zip, which then leads to wickets.
On Thursday at Lord's, it was instructive how Woakes came on first change and was immediately threatening. With the first ball of his second over he got one to bounce and leave the left-handed Shan Masood up the Lord's slope, a ball the batsmen did well to edge.
A few overs later he found that extra bounce again, this time against Mohammad Hafeez, who turned a harmless looking ball into a wicket-taking one when the batsman scooped it vertically enough for Jonny Bairstow to run round and take the catch. Without zip it was an easy single, but because of it another wicket fell.
Woakes did not build on that until the second new ball, when he got another to rear up against Asad Shafiq, well-established at the time on 73. Shafiq went to play then to leave, but the extra bounce just tickled his bat face and Bairstow did the rest.
He then weighed in with nightwatchman Rahat Ali, bowled off an inside edge, Rahat's wild swish unbecoming of a man trying to hold out for his captain Misbah-ul-Haq, after Misbah had made a hundred in his first appearance at Lord's.
What is more is that he took his wickets bowling from the Nursery rather than the Pavilion End, which tends to provide extra bounce.
Woakes' discovery of zip will give the selectors a headache when Jimmy Anderson and Ben Stokes are fit again, though they always claim that such problems are good ones to have.
Six weeks ago, Woakes would have made way for Stokes and Jake Ball for Anderson. But now Finn, the only one able to bowl over 90mph consistently, looks vulnerable with Woakes one of the first to be inked in - an act unthinkable just a few months ago.
Join our new commenting forum
Join thought-provoking conversations, follow other Independent readers and see their replies