England vs Pakistan: James Anderson apologises for 'petulant' behaviour on second day of third Test
'I was probably a bit out of order,' admits fast-bowler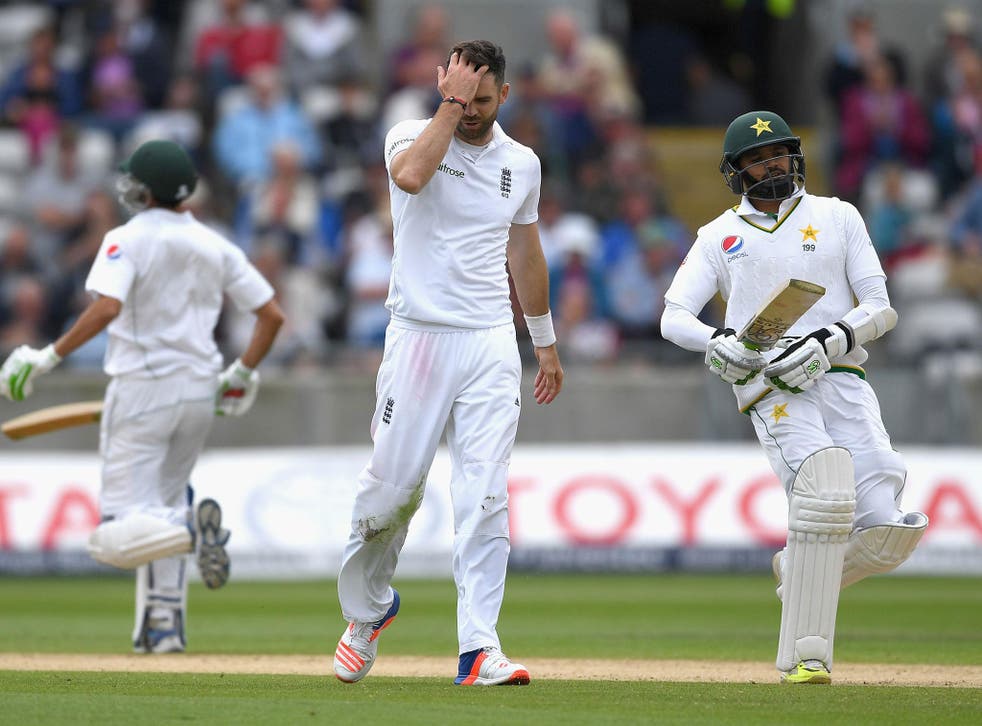 James Anderson has apologised for the petulant behaviour on the second day of this third Test that is likely to see him fined for dissent by the International Cricket Council.
Anderson was twice warned by Australian umpire Bruce Oxenford for running onto the protected area of the pitch while bowling in the evening session. One more transgression will see him removed from England's attack for the remainder of Pakistan's first innings.
But he faces punishment for his angry reaction to Oxenford's on-field colleague Joel Wilson in the morning, when he snatched his cap off the West Indian official and angrily pointed at the pitch after being given an unofficial warning for the same offence.
The ICC could see that as a level one breach of their code of conduct and fine the leader of England's attack 50 per cent of his match fee.
Anderson, who received a reprimand earlier this summer after showing disrespect towards umpire Sundaram Ravi during the final Test against Sri Lanka at Lord's, said: "I was probably a bit out of order. It was a frustrating day and I had an hour and a half and hour where I let it get to me.
"I have apologised to both umpires and my behaviour was unacceptable. A bit petulant.
"I think having seen my reactions on the TV it doesn't look great pointing at the pitch. It was the way I behaved didn't look great.
"My competitive edge has helped me through my career and I know at times I can get close to that line."

Join our new commenting forum
Join thought-provoking conversations, follow other Independent readers and see their replies