England vs Pakistan report: Azhar Ali puts tourists into match-winning position in third Test
Batsman's tenth Test century leaves England with mountain to climb to avoid trailing 2-1 in next week's series finale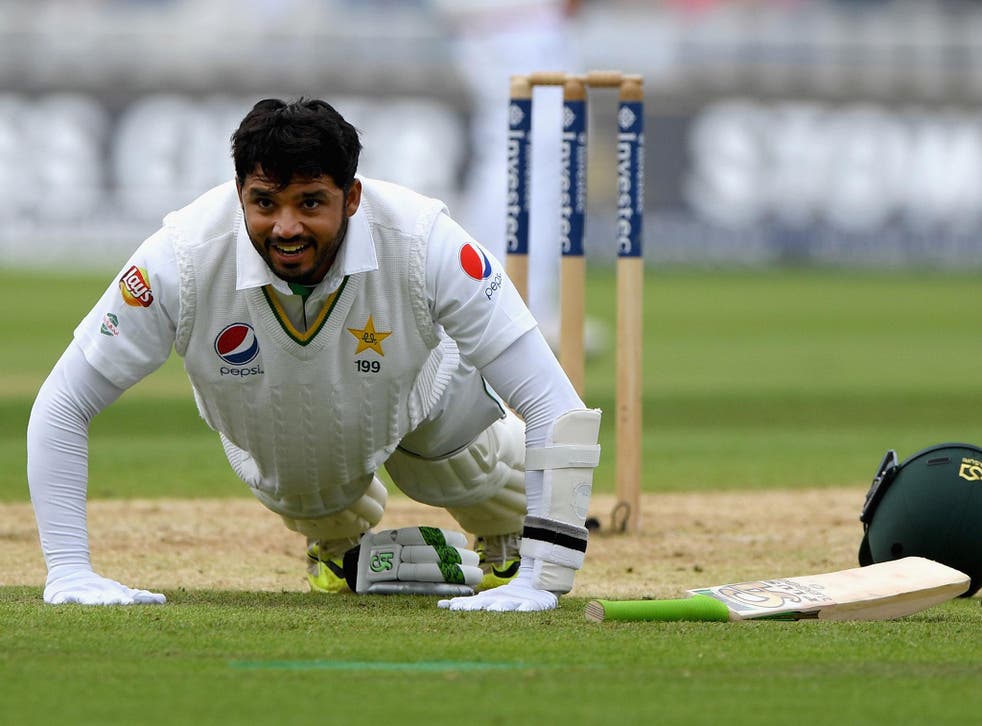 If England are to win this third Test and take a 2-1 lead into next week's series finale at The Oval then they are going to have to do it the hard way after enduring a frustrating second day here in Birmingham.
It may have ended with the dismissal of Azhar Ali, local hero Chris Woakes dismissing Pakistan's No 3 for 139 with the final ball.
However, by then Azhar's tenth Test century had cut through English optimism like a scalpel and manoeuvred the tourists into a match-winning position.
At stumps, Pakistan were 257 for three, just 40 behind England's first-innings total, and with Misbah-ul-Haq, their captain, next in England know the first session of the third day will define their fortunes in this series.
Azhar had celebrated reaching his hundred with the press-ups routine memorably introduced by Misbah after his century that set up his side's victory in the first Test at Lord's.
England know if the 42-year-old is able to repeat that party piece again here then the game will almost certainly be well and truly up.
With the series poised at 1-1, Alastair Cook and his players know how high the stakes are.
Maybe that's why James Anderson, the leader of England's attack, unravelled so spectacularly, his frustration for twice being warned for running onto the protected area of the pitch in his follow-through, personifying the frustration felt by his team.
Anderson had been given an unofficial warning for the same offence by umpire Joel Wilson in the morning. He responded to that polite reminder with a tirade that may well see him fined by the International Cricket Council, even though he apologised immediately after the close of play.
The official warnings, from Wilson's fellow umpire Bruce Oxenford, came in the evening session, the over after Azhar had reached his hundred.
One more warning will see the 34-year-old, his country's all-time leading wicket-taker, removed from the attack in this innings. It's a loss England could do without.
What will make this day feel even worse for England is the fact it started so well, Anderson removing Mohammad Hafeez with just the fifth ball of the morning after the opener played a suicidal shot straight to Gary Ballance at point.
Pakistan had not registered a run at that point but Sami Aslam, handed his third Test cap in place of Shan Masood, showed the patience and discipline required to prosper at this level and alongside the incoming Azhar the second-wicket pair frustrated England for 61.4 overs.
The 181-run stand, which spanned a wicketless afternoon session, was finally broken by an inspired piece of fielding from James Vince at cover, who ran out Aslam with a direct hit after the 20-year-old was sold down the river by Azhar.
Aslam had done his job, though, registering his first Test half-century on his way to an impressive 82.
Vince's sharpness in the field was not matched by his team-mates, with Azhar twice being dropped before reaching his hundred.
Joe Root gave him a life on 38 when Anderson induced an edge to second slip and the failure of his team-mate to take the chance only worsened his foul mood.
Moeen Ali then spurned a difficult return catch off his own bowling with Azhar on 69.
Those drops may prove crucial to the outcome of this match.
England, though, will hope the late dismissal of Azhar, fending Woakes to Cook at first slip, will give them some momentum heading into day three.
With a ball that is just 10 overs old, the opportunity is there for Cook's side to force their way back into this Test. But they will have to be much better than this is they are to take it.
Join our new commenting forum
Join thought-provoking conversations, follow other Independent readers and see their replies