England vs Pakistan: Who is Mohammad Amir and why the fuss over him?
Quick bowler's return to Lord's has caused quite a stir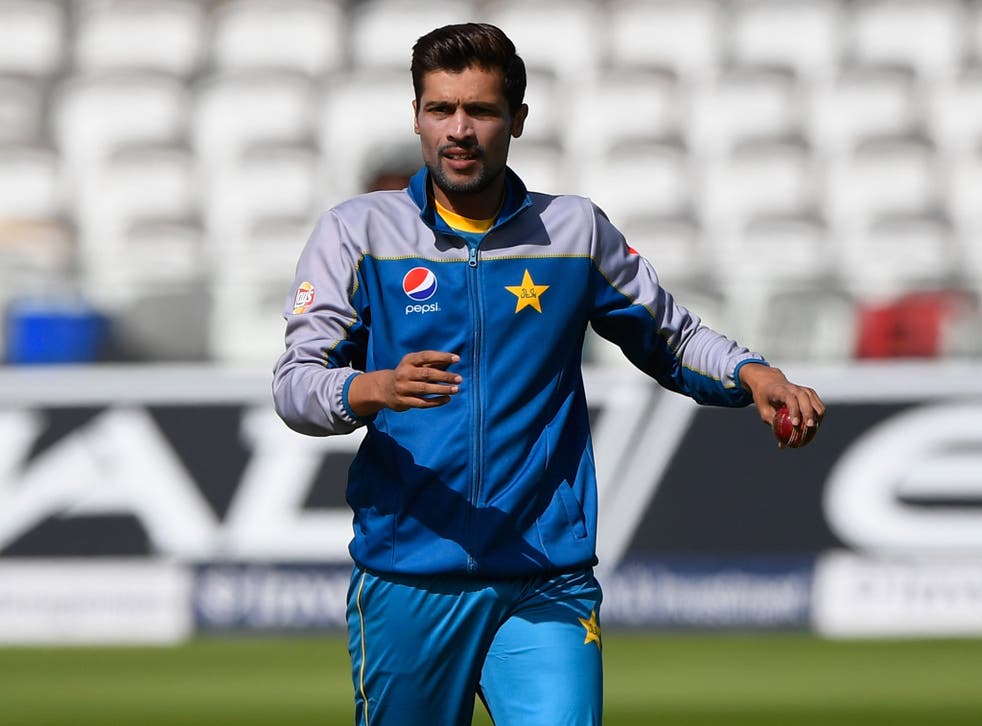 So, who is this Mohammad Amir?
He's the Pakistan pace bowler currently playing at Lord's in the first Test against England.
Right. And why all the fuss?
Well, the last time Amir played at Lord's, six years ago, in a Test series he cheated. He was 18 at the time and bowled two deliberate no-balls at an agreed point in the match for cash under the instructions of his then captain Salman Butt. His fellow fast bowler Mohammad Asif also bowled deliberate no-balls.
Naughty boy. How do we know he did this?
The two no-balls bowled on the first day of the Test caused a minor fuss during play because they were so obvious. There were suggestions that Amir was trying to intimidate the England batsmen by overstepping so much. It was remarked upon in the commentary box by, among others, Ian Botham but at the time foul play was not mentioned. However, the guilty members of the Pakistan team had been set up by the News of The World who broke the story on the Sunday. They had approached Butt's agent Mazhar Majeed and paid him £150,000 to arrange the whole operation.
Ugly stuff. So was Amir so bad that he needed to cheat to earn money?
No. That is part of the sadness. He bowled beautifully in that Test match with his left-arm quick swinging deliveries and took five England wickets in that first innings for not many runs. He was a really exciting world-class quick bowler, of which there are too few in the international game.
So what happened to him?
Amir was banned from all forms of cricket for five years by the International Cricket Council. He also pleaded guilty to corruption offences at a London court and was sentenced to six months in jail. He served half that term in a young offenders' institute. Amir returned to international cricket in January of this year when he played in a Twenty20 match against New Zealand. This Lord's Test is his first return to the longer form of the game.
Having been out for six years, hasn't he lost his bowling ability?
Not a bit of it if his recent performances have been anything to go by. Against Somerset in Pakistan's first tour match he was superb, taking four wickets with his pace up and his late swing befuddling batsmen. He had seasoned professionals in trouble, producing a beauty that dismissed Marcus Trescothick, the late swing catching the edge of his bat. He also clean bowled Peter Trego with a cracker than swung in and nipped through the defences of the right-hander. He hasn't been tested over long and repeated spells but the first signs are good.
What happened to the other two?
Butt was banned for 10 years but half the sentence was suspended. He is back playing domestic cricket in Pakistan. He was not able to be selected for this tour because he was deported from England and therefore unable to obtain a visa. Asif was banned for seven years with two suspended. He is back playing cricket but was not considered for selection.
When will we see Amir in action?
Pakistan chose to bat so we will have to wait until England get into the tail to see Amir walk out to the middle.
What sort of reaction will he get from the Lord's traditionalists?
It remains to be seen. The cricket world is split over whether he should be playing again. Some feel that he was young, naïve and impressionable and was coerced into his transgression by his seniors. Others feel he should have been banned for life because he cheated the game. A life ban would also act as a strong deterrent to others the argument goes.
Join our new commenting forum
Join thought-provoking conversations, follow other Independent readers and see their replies