England wicketkeeper Sarah Taylor on making the grade in the men's game
This year Taylor became the first woman to play in an A Grade match in Australia
Tim Wigmore
Thursday 17 December 2015 00:25 Comments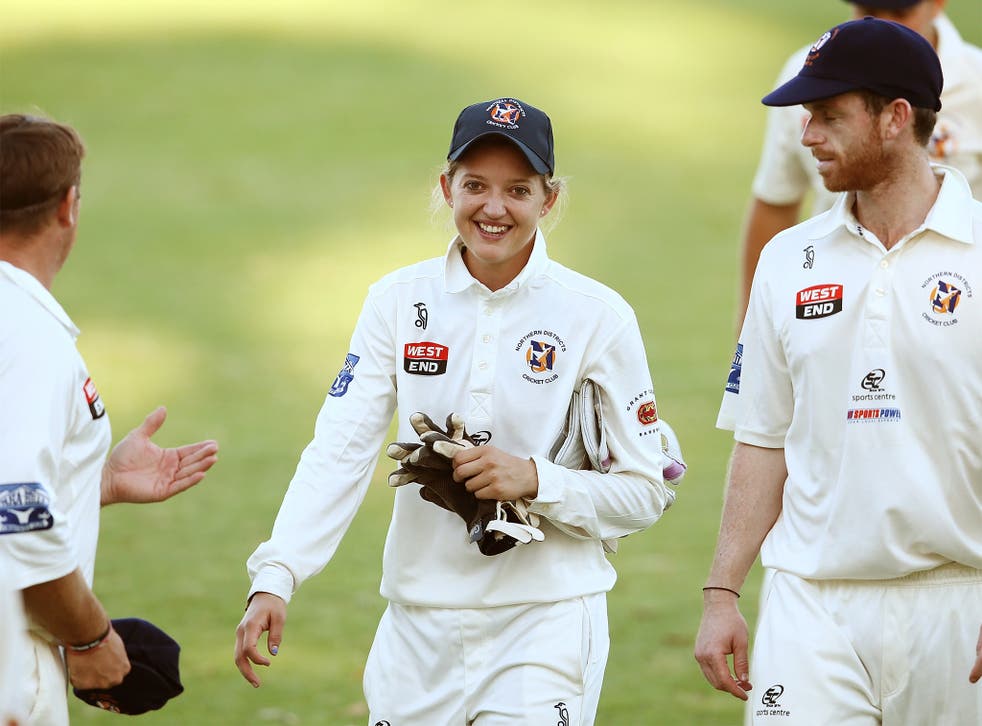 At Hove, celebrated Sussex cricketers are honoured with blue banners boasting their portraits. In August Sarah Taylor became the first woman to join this elite group when she was inducted into Legends' Lane. It was not her only foray into men's cricket this year. Two months later, Taylor became the first woman to play in an A Grade match in Australia when she turned out for Northern Districts against Port Adelaide at Salisbury Oval.
"There were probably about a million emotions," she tells The Independent as she looks back on her remarkable achievement. "It was exciting. It was so nerve-racking. It was probably one of the toughest things I've ever done on a cricket field, but I can walk away and say I somehow enjoyed every moment of it, including the media hype."
While she did not bat in the first two-day game, Taylor took two smart catches behind the stumps. In the next match, batting at No 8, she was out for a second-ball duck. "I snicked off behind," she admits. "I got a pretty decent ball. It's OK, I've not lost any sleep over it."
Despite the bigger ball and spending most of her time as wicketkeeper standing back rather than up, the 26-year-old found men's cricket to be more like the women's game than she had imagined. "The main difference was a couple of the words said – but that might just be Australians."
When other commitments allow, Taylor intends to continue playing men's cricket. "It definitely helped me and my game, more mentally than anything. If you put your mind to something you can do it – you should always give it a go, even if you fail. I'll try and play for them as much as I possibly can in the future."
Taylor is ultimately playing men's cricket to make herself a better player in women's international cricket, but she thinks a female will soon decide to devote herself entirely to the men's game.
"I see no reason why a woman couldn't say, 'I want to play men's cricket' and keep going with it. I hope it does push the boundaries.
"I'm too far into my career now to start changing but there will be some girls who will try and keep going in the male game. I do hope it happens – it'll be good for women and good for the game. If you're trained to play against the guys, you never know what you can do."
But Taylor has enough in the women's game to occupy her thoughts. After the disappointment of England losing the multi-format Ashes series 10-6 in the summer – she contributed a disappointing 135 runs in seven innings – Taylor confronted "a lot of sarcastic comments" when she started playing Australian domestic cricket in October.
She is now playing in the inaugural Women's Big Bash, a female T20 tournament featuring the eight sides who play in the men's Big Bash. "You've got to look to Cricket Australia and say well done to them for pushing this. The excitement here has been amazing," she says, looking forward to the English equivalent – a six-team Super League which will be launched next year.
"We're going to learn as much as we can from this as players and try and perform in the Super League next year. If we can generate the same hype back home in England, which I'm pretty sure we can do, I'd like to think the crowds would be even better."
Taylor's next England commitments come in February, on the tour of South Africa. It will be the first assignment for new head coach Mark Robinson, who Taylor knows well after coaching his daughter.
"He was so involved and so keen to help out. I think because of his daughter his love for the women's game has grown and he's paid so much attention to it. It's exciting times under him," she says. "I don't think he'll have to do anything different from coaching men."
Robinson will encounter a side still adjusting to becoming professional cricketers in May last year. Perhaps the most significant change that professionalism has brought is extra scrutiny.
"There's more responsibility on us being professional and we need to accept the criticism that comes with that." When England's women underperform, Taylor wants them to be treated identically to the men. "We should be assessed in exactly the same way. We shouldn't be any different."
There was no shortage of criticism after the women's Ashes Test in the summer: not only did England lose, but many suggested that women should cease playing Test matches altogether and focus on T20s and ODIs instead. Taylor does not agree. "Test matches are my favourite format. We love playing Test cricket – we get to wear whites playing for England, we get to spend four days playing a game that we love together."
But England's women will not get to do so next summer, as only ODIs and T20s have been scheduled against Pakistan. "There's always disappointment. You want Test matches against everyone but you have to be realistic."
Such frustration is outweighed by excitement at the direction women's cricket is taking. A further positive sign is that Colin Graves, the England and Wales Cricket Board chairman, recently announced that the board had withdrawn its previous opposition to cricket joining the Olympic Games, moving the sport further towards inclusion in the 2024 Games and the additional funding this would open up to the women's game around the world. "That would be amazing," she says. "I'd love to say I went to an Olympics. It would be pretty great and build the women's game a lot."
In the meantime England's women, as one of only two professional cricket nations, approach the World T20 in India in March with the feeling that winning a global event, which they have not done since 2009, is overdue.
"This group of players should be lifting trophies," she says. "It was a shame about the Ashes loss in the summer. The perfect bounce back would be an ICC Trophy. I don't see any reason why we should go to India thinking of anything less."
Neither Taylor nor the women's game are in the business of lowering their sights.
Register for free to continue reading
Registration is a free and easy way to support our truly independent journalism
By registering, you will also enjoy limited access to Premium articles, exclusive newsletters, commenting, and virtual events with our leading journalists
Already have an account? sign in
Join our new commenting forum
Join thought-provoking conversations, follow other Independent readers and see their replies