Ian Herbert: Peter Moores must go. He should never have been brought back to fail again
The England coach leaves players to find solutions - which makes you wonder where he adds value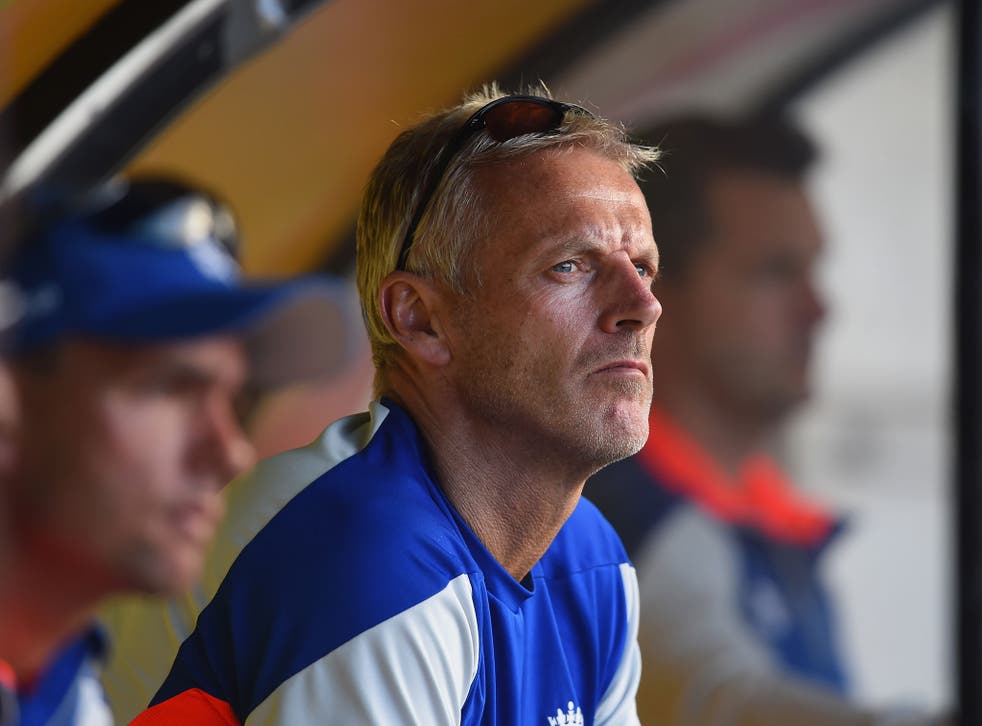 Even in the cold light of the early day – 6am – it made your blood boil to see Joe Root having to stand there with a microphone in his hands and answer for what had just happened.
"I've nothing more for you," he said after five minutes or so, the pain behind his eyes belonging to a man all out of explanations, unwilling to launch into the platitudes which losers so often find in sport.
The three wise men in the TV studio, Michael Vaughan, Andrew Strauss and Nasser Hussain, studied him solemnly. The anger you felt was that the nation's great hope, who had just become England's youngest World Cup centurion, should have been put up to this by an England and Wales Cricket Board who have one hell of a lot to answer for.
The questions for them include why, after the twists and turns and turmoil which cleaved the national team for a year, they made that most incredible decision, 11 months ago, to re-appoint a coach who had inspired next to no hope in his first 20-month tenure at the England helm and under whose leadership the team had lost more often than they won. Played 68, won 27, lost 29: that was Peter Moores' England record across all formats, first time around. He saw England to three Test series wins out of seven, and eight victories out of 22.
If the equivalent to the re-appointment of Moores had been suggested in the white heat within which England's national football team exists, the proposer might well have been taken outside and strung up.
Cricket World Cup 2015: 10 young players to watch

Show all 10
Managers can go away and develop when they have left high office. Steve McClaren has demonstrated that. But the ECB settled for the same man who had taken them from second to fifth in the world rankings first time around and have since watched him preside over 11 months of dither and obfuscation, of which today's desultory nine-wicket defeat to Sri Lanka has to be the point of no return.
Consider what the reaction would have been if the Football Association had managed such acts of incompetence as the ECB heading into a World Cup: dragging out Alastair Cook's ODI tenure to a point where it was pulling the whole team down; thrusting the World Cup job at three months' notice at Eoin Morgan, a player whose scoring sequence was 2,0,0,0 before the New Zealand match; deciding, in an era when 350 runs are ODI standard, that it was not worth the time to give Alex Hales and Ben Stokes 20 games.
This is the World Cup which England were supposed to have cleared the schedules to prepare for. Ashes tours were rescheduled to give the team a six-month run at preparation for the tournament.
You might imagine what Kevin Pietersen would have had to say about some of these decisions, though the ECB have been reflecting with no small satisfaction that he is out of the picture. No one blinked when Pietersen – the one who plays Australian surfaces better than any other – was flying out of Australia in late January, after he had topped the Big Bash averages and England's World Cup preparations were beginning with a thumping at the home side's hands.
This correspondent's sentiment remains the same as it was back then: a yearning that Pietersen is not around to give England at least a fighting chance of thrilling us before they processed home from the World Cup. With such an average bowling attack as the one at Morgan's disposal, they have always known they would need to score 350 runs every time against the competitive nations. Sri Lanka have just proved that point very emphatically. New ECB chairman Colin Graves' hint at a rapprochement with Pietersen offers a crumb of comfort, at least.
Success in sport demands huge egos: the individuals who will not flinch at the prospect of trying to achieve the seemingly unachievable. Success in sports management demands an acceptance that recalcitrance and rebellion come with that quality and that the trick is to harness them. Pietersen was just too valuable to be allowed to reach the stage that he wanted to pour out his anger for England into a toxic autobiography. Other nations at this World Cup have demonstrated that grown-up capacity to bring the rebels – David Warner of Australia, Lendl Simmons of West Indies – back in line.
Pietersen's depiction of Cook as Ned Flanders, the man from The Simpsons who wants to please everybody and Moores as the Woodpecker, yammering away, made you wonder how things might have turned out if there had been someone to front up with Pietersen, man-to-man. Instead we are witnessing a national side as rudderless as any in living memory and one which has folded unforgivably on two occasions.
Why Morgan's bowlers – and James Anderson in particular – have lost the ability to get the ball to swing or seam in this tournament, when Australia's Mitchell Starc and New Zealand's Tim Southee have managed it, is the mystery which led to that helplessness and toothlessness at the hands of Kumar Sangakkara and Lahiru Thirimanne.
Strauss's subsequent observation that "getting wickets in middle overs for English-type bowlers" has been a problem for years was interesting, though a well-established pattern of difficulty calls into question where the intelligence and strategy to overcome the problem might be. It was no shock that the ball didn't seam or swing in Wellington. The minimum achievement to expect in an international coach facing such a challenges might include inculcating a desire to generate scoreboard pressure and get the opposition behind the run rate.
Moores said after the defeat to New Zealand that he leaves the players to find solutions. "We need players who make decisions on the field so they have to be able to make decisions off," he said. "We can tell them what we think, and we share, and that way we get blokes. We didn't play like blokes." Which only made you wonder where Moores actually adds his value.
Compare England with the Ireland team, who compensate for their own limitations with a relentless intensity and focus, and what is lacking in England screams out.
In the aftermath of this defeat, Vaughan tweeted the Albert Einstein line about insanity being the act of "doing the same thing over and over again and expecting different results". With an Ashes summer ahead, the sooner England are home the better. It is then that they should wipe the slate clean, wave Moores off for a second time and attempt to begin again.
Join our new commenting forum
Join thought-provoking conversations, follow other Independent readers and see their replies