ICC Champions Trophy 2017: Australia clash more than just an Ashes warm-up for England captain Eoin Morgan
England's current one-day captain never played against Australia during a brief, 16-Test career that ended five-and-a-half years ago and is desperate for a win at Edgbaston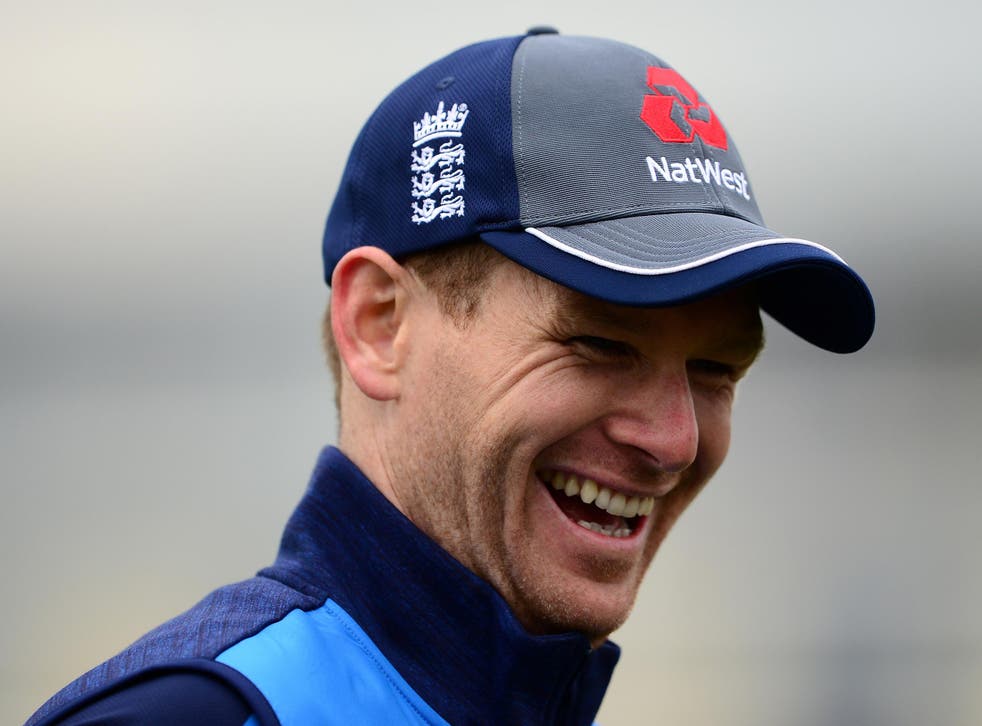 Many have billed England's final group match of the Champions Trophy as a mere hors d'oeuvre ahead of this winter's Ashes series, but for Eoin Morgan it is very much the main event.
England's current one-day captain never played against Australia during a brief, 16-Test career that ended five-and-a-half years ago.
Indeed, although he was a member of the victorious squad that won Down Under in 2010-11 the closest Morgan ever got to the Ashes was playing a tour match against Victoria at the MCG.
That's why he raised his eyebrows and answered a firm "no" when asked if England could strike an early psychological blow ahead of this year's Ashes with a win here, instead stating that matches for this one-day side do not get much bigger than this.
It's true England essentially have nothing to play for at Edgbaston given they are already through to the semi-finals as Group A winners having cruised to victories in their opening two matches against Bangladesh and New Zealand.
Yet matches against Australia are always fiercely fought, especially when England, expected to keep faith with out-of-form opener Jason Roy in an unchanged team, know they can knock their oldest rivals out of the tournament with another win.
"I think they're always big games, regardless of what's on the line," said Morgan. "I think they do mean more. When you win against Australia, you know you're beating one of the better sides in the world. There's always something more on it.
"I'm in a position where I haven't played in Ashes cricket, and certainly there are other guys like that down in the changing room. So from that side of thing, if you never get to play in an Ashes game, it's the closest you will ever get."
Six of England's likely team tomorrow have yet to play an Ashes Test, with only Joe Root, Ben Stokes, Jos Buttler, Moeen Ali and Mark Wood having done so.
As Morgan stated, though, this contest against an Australian team whose fate in this tournament is hanging by a thread after their first two games were washed out will not lack intensity.
Steve Smith's team must win to guarantee their place in the semi-finals.
Despite the good forecast assuaging fears of another no result, Australia's task will not be easy at a venue where they have not been victorious in any form of the game since 2001.
Edgbaston's bear-pit atmosphere is one that usually inspires England – witness their victories against Australia in the 2005 and 2015 Ashes here, as well as the 2013 Champions Trophy.
It is also where the rebirth of this one-day side began, when England made their first 400-plus total in the first ODI of the 2015 summer against New Zealand.
"I think it will be completely different game tomorrow, but, yes, this is a really good ground for us," said Morgan. "It's a fantastic stadium. We love coming here. It's normally a beautiful wicket and a high-scoring ground, and that suits us. I think the atmosphere is always quite lively regardless of how the game is going. So, yes, we always seem to get results here. That's part of home advantage."
Smith also played down talk of this match having any bearing on this winter's Ashes, saying: "I hadn't really thought of it that way to be honest with you. It's a completely different format. It's a big tournament and essentially a quarter-final for us.
"England are through to the next round already. So hopefully, they don't turn up and play the game they're capable of and let us into the game. Having said that, I don't think they'll do that playing against Australia."
As well as the weather, Australia's players have had to contend with the on-going pay dispute with their own board that could see them unemployed when their current contracts run out at the end of the month.
Smith insisted it would not be a distraction.
And when asked if he had any sympathy with the opposition, Morgan quipped: "We'll have a whip round."
It was a sharp one-liner from a man who is currently feeling on top of the world.
Indeed, the only time Dublin-born Morgan has looked remotely flustered during this tournament was when he was asked on Thursday why he has started singing the national anthem before matches after years of choosing not to.
"No, I don't want to," came the curt reply.
But if England win their first major 50-over title this summer, Morgan's views on God Save the Queen will be even more irrelevant. Instead, it will be his name toasted by every English cricket fan – in Birmingham and beyond.
Probable teams
England: Alex Hales, Jason Roy, Joe Root, Eoin Morgan (captain), Ben Stokes, Jos Buttler (wicketkeeper), Moeen Ali, Adil Rashid, Liam Plunkett, Mark Wood, Jake Ball.
Australia: David Warner. Aaron Finch, Steve Smith (captain), Chris Lynn, Glenn Maxwell, Travis Head, Matthew Wade (wicketkeeper), Mitchell Starc, Pat Cummins, John Hastings, Josh Hazelwood.
Starts 10.30am Saturday (Sky Sports 2)
Join our new commenting forum
Join thought-provoking conversations, follow other Independent readers and see their replies