John Townsend: Michael Clarke's majesty highlights the yawning chasm in batting order
The Aussie Angle: The more he props up the top order, the wider the gap appears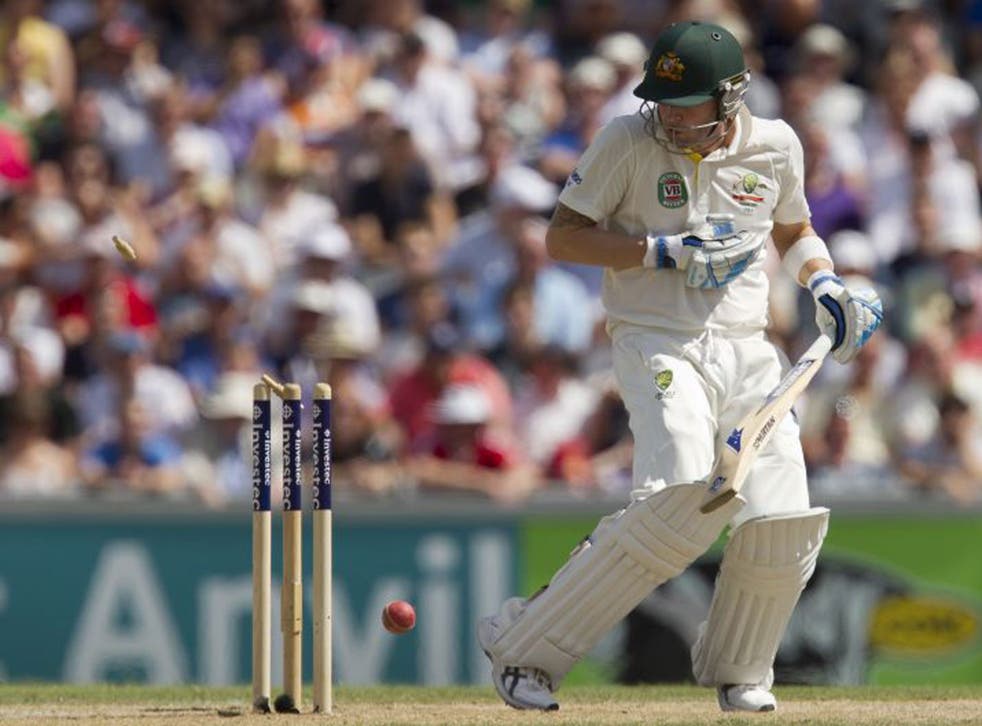 There is a gap in Australian cricket and no matter what Michael Clarke does to bridge it, the task is beyond even his considerable powers. It is Australia's version of the omnipotence paradox.
The classic conundrum poses the question whether an omnipotent being could create a stone so heavy that even he could not lift it. The answer may be apparent to Kumar Dharmasena but no one else. Australia's paradox centres on the yawning chasm that exists between Clarke and the next best batsman. And the more Clarke props up Australia's top order with yet another innings of bravery and substance, the wider that gap appears.
Chris Rogers hinted at the depths of his quality with his first-innings 84. And Steve Smith's mature 89 suggested an option with whom to persevere. Yet, for all their promise, they were overshadowed by the captain whose Old Trafford effort was one of the most substantial innings played by a man in his position in recent Australian history.
Clarke's ability was showcased in Australia in 2012 when he piled up runs in such vast quantity that he broke any number of batting records. A triple century at the SCG, consecutive doubles in Brisbane and Adelaide, and an average above 100 were sky-scraping landmarks in a memorable 12-month period.
It was a year to savour yet, somehow, those performances did not resonate with the same authority that marked the highest score of his Ashes career. Context is everything.
His team 2-0 down in the series, the opposition boasting several world-class bowlers and he required to combat them after two top-order wickets had vanished in the blink of an eye, the scent of the pivotal battle brought the best out of Clarke.
Like Don Bradman seven decades before him, Clarke's class and match-changing ability place him head and shoulders above the next best player in the team.
And just as Bradman fell for 187 on his return to Test cricket in 1946-47, Clarke perished with the same figure beside his name.
It was Australia's highest overseas score since the barely conceivable 201 not out compiled by nightwatchman Jason Gillespie against Bangladesh seven years ago. And Clarke now has four of his team's past five centuries made outside Australia.
Not only is he a much better player than his team-mates but Clarke is one of the very few who can perform close to his capacity when he moves away from the comforts of home. The right-hander had been reluctant to move up from No 5, arguing that his average of 63 and 20 tons were compelling reasons to remain in the lower reaches of the line-up.
But with David Warner restored at No 6, and a group of inexperienced left-handers in the top order, Clarke put his personal considerations aside in the best interests of the team.
It was a bold move and one vindicated by his return from the labour of seven and a half hours in the middle.
There was the odd stroke or two of luck against James Anderson – he slammed a short ball into Graeme Swann at short cover and squirted an inside edge that caught Matt Prior wrong-footed – but he mostly batted with magisterial authority.
It was appropriate that Clarke's 24th century drew him level with Greg Chappell, the greatest Australian player of his own era.
Clarke played much of his early days in Test cricket attempting to emerge from long shadows cast by Ricky Ponting and Matthew Hayden.
It is now his time. And while his shadow extends over the wide gap to the rest of the nation's batting prospects, it is not the bridge that Australia need.
Join our new commenting forum
Join thought-provoking conversations, follow other Independent readers and see their replies