Jonny Bairstow says he's learning to accept not being an England regular in limited-overs cricket
Bairstow's sanguine outlook has helped him overcome the vagaries of selection and continue his hot streak of batting form for England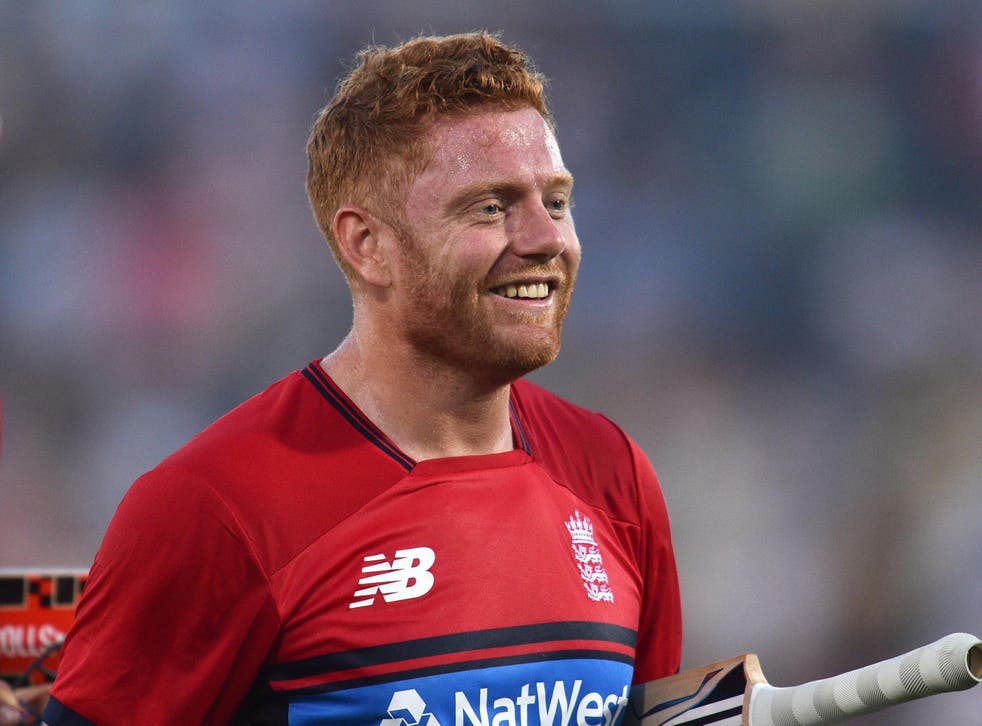 The cliché of choice for England's cricketers over recent months has been: "It is what it is". Yet for Jonny Bairstow it's less a banal platitude and more a state of mind that has helped him overcome the vagaries of selection and continue his hot streak of batting form.
While he has established himself in England's Test side over the past 18 months thanks to some solid form behind the stumps and spectacular returns with the bat, the Yorkshireman's fortunes in limited-overs cricket have been more precarious.
Bairstow was left out of England's team for the start of their Champions Trophy campaign despite a run of three half-centuries in four ODIs.
He then came back in for last week's semi-final defeat by Pakistan in Cardiff, justifying his selection at the top of the order ahead of Jason Roy with a sparky 43.
Whether or not he maintains his place in the one-day team for the series against West Indies at the end of the summer and beyond remains to be seen.
His case, though, was not harmed by a brilliant unbeaten 60 from 35 balls from No3 that powered England to a nine-wicket T20 victory against South Africa at Southampton on Wednesday evening.
Whatever happens Bairstow is refusing to worry about his place in any England team, an approach that has served him well over recent months.
Speaking ahead of Friday's second T20 against South Africa in Taunton, he said: "I'm happy with the way I'm playing and striking the ball and if I'm picked in the XI to play then fantastic and if I'm not then there is nothing I can do about it.
"I hope I'm in the next one-day side, I hope so. Everyone wants to play and I haven't thought about it too much just yet, there is a lot of stuff going on between now and the next ODI.
"It is what it is and there is no point in worrying too much about it.
"I've been in squads and out of squads, I've played, I've not played in different formats and if you look at it and pick it apart you'll get yourself het up.
"There is more to life than getting het up about X, Y and Z, you've still got to live and crack on.
"It is important not to look towards that ODI series just yet but I hope I play.
"I maintain my form by not worrying about it. That is the biggest thing. You've got to deal with the fact you might score runs but the next game you might not play.
"It is a philosophical way of looking at it even from a Yorkshireman, but it is going alright at the moment."
Bairstow, considered one of the more chippy and confrontational members of the England dressing-room, admits: "I think I have grown up a lot over the last three years.
"I'm not sure what I can particularly put that down to but naturally you grow up from a boy to a man and you learn about different things.
"I feel like I'm still learning and it shows that some of my hard work is paying off.
"I would have put more pressure on myself to perform each time I play two years ago, but I'm at that stage now where I've been in and out of the team and had to learn to deal with that which I think is a skill in itself."
England won at a canter at the Ageas Bowl on Wednesday, Bairstow's runs and an unbeaten 47 from Alex Hales helping them chase down their target of 143 with 33 balls to spare.
It means they are unlikely to make too many changes in Taunton despite the promise from captain Eoin Morgan that the five new players in this squad would all get a chance over the course of the series.
Of the new boys, only Mason Crane featured at Southampton, the 20-year-old leg-spinner conceding just 24 runs from four overs on his international debut.
There will be one enforced change, with fast bowler Mark Wood sitting out the last two games ahead of the Test series against South Africa that starts at Lord's on July 6.
But it is likely to be Liam Plunkett, rather than either of the uncapped Tom Curran or Craig Overton, who will take Wood's place.
It means that pair, along with Lancashire all-rounder Liam Livingstone and Middlesex batsman Dawid Malan, are likely to have to wait until Sunday's final T20 in Cardiff for their opportunity.
Register for free to continue reading
Registration is a free and easy way to support our truly independent journalism
By registering, you will also enjoy limited access to Premium articles, exclusive newsletters, commenting, and virtual events with our leading journalists
Already have an account? sign in
Register for free to continue reading
Registration is a free and easy way to support our truly independent journalism
By registering, you will also enjoy limited access to Premium articles, exclusive newsletters, commenting, and virtual events with our leading journalists
Already have an account? sign in
Join our new commenting forum
Join thought-provoking conversations, follow other Independent readers and see their replies