Laurie Evans opens up to cloud Yorkshire's ambitions
Yorkshire 302 Warwickshire 221-8 (Yorkshire lead by 81 runs)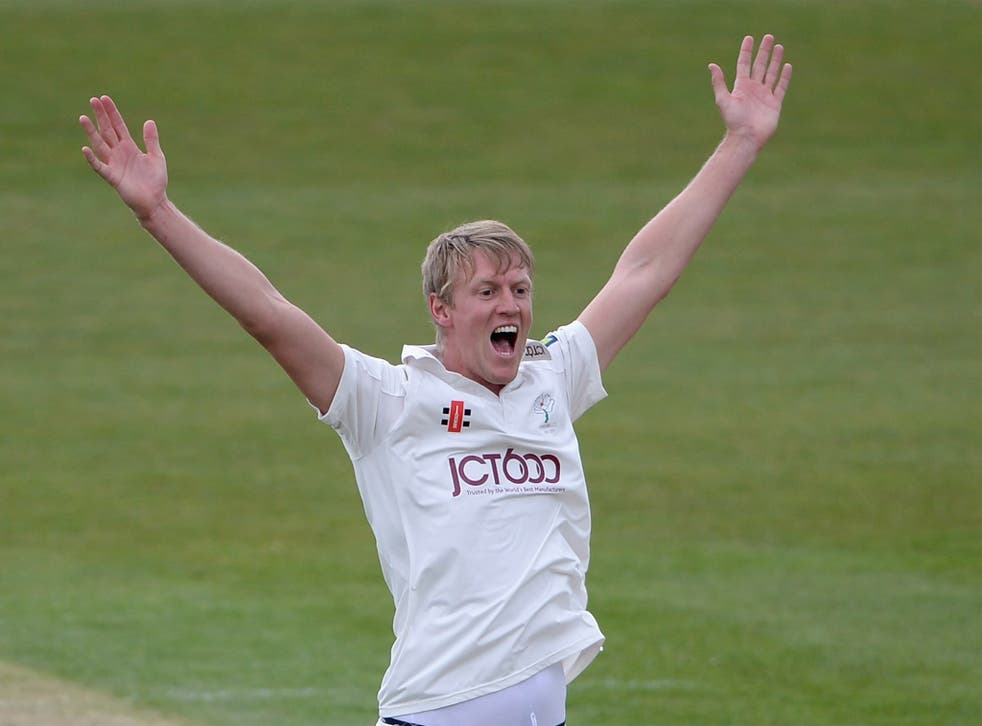 If Monday's weather forecast is to be trusted, there may be frustration ahead for Yorkshire but their performance so far against the reigning County Champions has done little to temper the feeling that they are the side to beat in this season's title race. Their lead going into the latest round of matches was slim at seven points, yet they are playing with a conviction born of confidence.
Only Durham have won as many matches, which suggests their meeting at Scarborough at the end of this month could be crucial. It will be a match that Liam Plunkett will look forward to in particular, given his history. Plunkett spent the first 10 years of his career at Chester-le-Street but it was a time of diminishing returns towards the end as form and self-belief deserted him and every attempt to rediscover the qualities that earned him nine Test caps came to nothing. When he was picked for only one first-class match in his final year, it seemed possible his career might even be at an end.
His move to Yorkshire, though, has brought about a renaissance, largely sparked by Jason Gillespie, his coach at Headingley, who took the view that the best advice he could give Plunkett was to forget about any of the technical issues that had been his pre-occupation and simply run in and bowl.
The prescription so far has been remarkably successful, resulting in a total of 28 wickets in eight matches, including four for 55 yesterday as Warwickshire struggled to post a total within respectable range of Yorkshire's 302. Plunkett and Steve Patterson – the unsung member of Yorkshire's seam quartet but their most successful with 33 wickets – were especially impressive in a contest that has required every batsman to graft for runs in the face of bowling of consistently high quality from both sides.
Warwickshire needed only 16 deliveries to take the one Yorkshire wicket left standing overnight, although at some cost after Ateeq Javid's wayward attempt to run out Ryan Sidebottom went for four overthrows and effectively handed Yorkshire an extra point.
Overall they had bowled well, Yorkshire's total owing much to Gary Ballance's impressive century, but it soon became clear they would be hard pressed to get close. By lunch they were in trouble at 55 for four, with Varun Chopra gone for 23 as the most significant scalp, leg before as Patterson beat him with one that came back.
The champions needed someone with Ballance's resolve and they found him in Laurie Evans, who followed his maiden century against Nottinghamshire last month with a gutsy 88 that will reinforce his belief that he now has the temperament to turn good starts into solid scores.
Had Chris Woakes not mistimed a drive off Plunkett, hitting it straight to Adil Rashid at cover, Warwickshire might have prospered but Evans held them together. It was a shame his dismissal was self-inflicted, caught off a top edge on 88 as he went to pull a ball from Plunkett and realising instantly he had made a mistake. Yet it was a valuable effort that may yet deny Yorkshire a win.
Join our new commenting forum
Join thought-provoking conversations, follow other Independent readers and see their replies