Magical memories of 2012 - Cricket: 'A sweep for three and Cook had broken a 73-year-old landmark'
6 December: Alastair Cook breaks England century record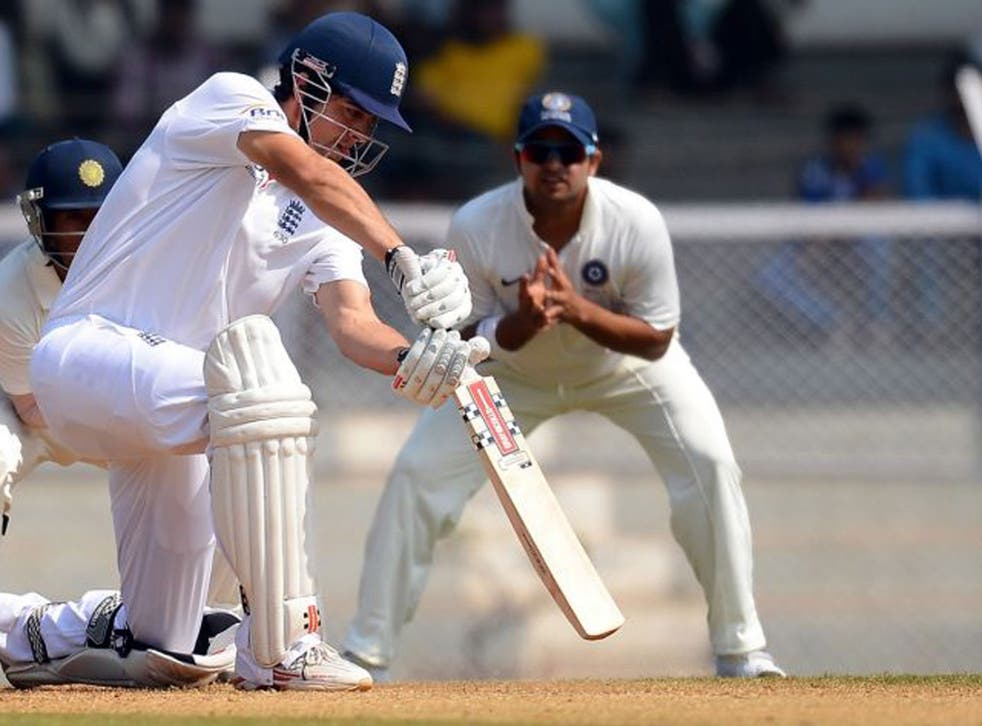 For most of the year, the moment resolutely refused to appear. Cricket had, frankly, struggled. It was lacking attention and it was lacking glory.
Other matters elsewhere devoured it. This was as well during the Olympics because South Africa were having England for breakfast, lunch and dinner, and Mo and the others diverted attention.
A little local spat which was briefly treated like the outbreak of war dominated and ruined the late summer. The dispensation of some tlc was vital.
And then the moment arrived, and it was beautiful. In the 52nd over of England's first innings in the third Test at Eden Gardens, Kolkata, their glistening new captain, Alastair Cook, swept a ball from outside off stump which brought three runs and took him to a hundred.
It was his third in successive Test matches and the 23rd of his career. Cook had thus broken a record which had stood for 73 years, the most enduring and therefore one of the most cherished of all landmarks in English cricket.
The total of 22 was first reached in 1939 by Wally Hammond, who scored his 22nd hundred for England against West Indies at The Oval 12 days before war really was declared.
Hammond's total had been equalled twice but never surpassed, first by Colin Cowdrey and then by Geoff Boycott, also in India, three years before Cook was born. It is not being either parochial or jingoistic – or perhaps it is but darn it – to be glad that it was Cook who broke it.
For a year or so it had been pretty clear that one of Cook, Andrew Strauss or Kevin Pietersen would be the first to pass the great triumvirate. Perhaps they would all do it in the same match, but one of them still had to be first.
Strauss's runs dried up and he retired to the applause of a grateful nation. It was a two-horse race and Pietersen led going into India. By the time they came to Kolkata both were on 22.
But there was too much previous with Pietersen to be wholly supportive of his getting there first and, however much it is debated and fretted over, and no matter what he has done for English cricket (a lot), he was born, raised and learnt to play the game in South Africa.
There were other points. Cook was England's new captain and he had led them from the front. When they went to India they were accompanied by forlorn hope, not firm conviction.
Cook dragged some virtue out of the heavy defeat in the first Test with a defiant century, his 21st, and in the second Test he led the side to one of England's greatest wins abroad with another stoic hundred, his 22nd.
On to Eden Gardens. There was never much doubt about it really, especially after he was dropped on 17. Cook's batting will never win awards for style, but content is all. He is an accomplished batsman, has potential to be an excellent captain and, much more than that, much more, he is the sort of bloke any mum would want their daughter to bring home.
Further reading:
Olympics: 'Mo, Jess and Greg gave us a night no one could forget' 4 August: That night in the Olympic Stadium - James Lawton
Football: 'When Chelsea saw off Barcelona, the joy was in watching the spoilers have their day' 24 April: Barcelona 2-2 Chelsea (agg 2-3); Champions League semi-final second leg - Sam Wallace
Athletics: 'The roar for Ennis made the hair stand up on the back of my neck' 3 August: Opening day of track and field at the Olympics - Simon Turnbull
Rugby Union: 'It was eerie seeing England sticking it to the silver fern' 1 December: Manu Tuilagi waltzes to the try line as England smash New Zealand- Chris Hewett
Cycling: 'Bradley Wiggins' achievement was greatest we have ever seen from a Briton' 22 July: Bradley Wiggins wins the Tour de France - Alasdair Fotheringham
Football: 'We'll never encounter anything quite like it again' 13 May: Manchester City win the title in thrilling style - Ian Herbert
Football: 'After losing the title in the cruellest way, Ferguson stood firm' 13 May: United are denied the title in heart-breaking style Martin Hardy
Olympics: 'Nobody personified it more than Hoy, the ultimate sportsman' 27 July: Hoy leads out Team GB at the Games opening ceremony - Robin Scott-Elliot
Football: 'An hour later Theo Walcott was a hero – given a standing ovation' 26 February: Theo Walcott turns the jeers to cheers to steer Arsenal to derby victory - Glenn Moore
Golf: 'This was it. The moment that would decide the Ryder Cup. A 10-footer for glory ... Get in!' 30 September: Europe claim Ryder Cup in thrilling fashion - Kevin Garside
Boxing: 'The fight was terrific from the first bell. It had urgency, nastiness' 14 July: David Haye v Dereck "Del Boy" Chisora - Steve Bunce
Tennis: 'After Murray won he staggered in a daze, then held his head in his hands' 11 September: Andy Murray ends Britain's wait for a major - Paul Newman
Football: 'That night Spain played thrilling, bold, beautiful football' 1 July: Beautiful Spain smash Italy in the Euro 2012 final - Jack Pitt-Brooke
Formula One: 'Kimi's Lotus win was F1's most romantic result' 4 November: Kimi Raikkonen zooms to victory in Abu Dhabi - David Tremayne
Racing: 'Frankel enlarged life's comfort zone for us all' 22 August: Juddmonte International Stakes; Frankel finally goes the full distance - Chris McGrath
Join our new commenting forum
Join thought-provoking conversations, follow other Independent readers and see their replies