Middlesex 505 Nottinghamshire 258-4: Eoin Morgan shows class but Steven Finn suffers from Alex Hales' hitting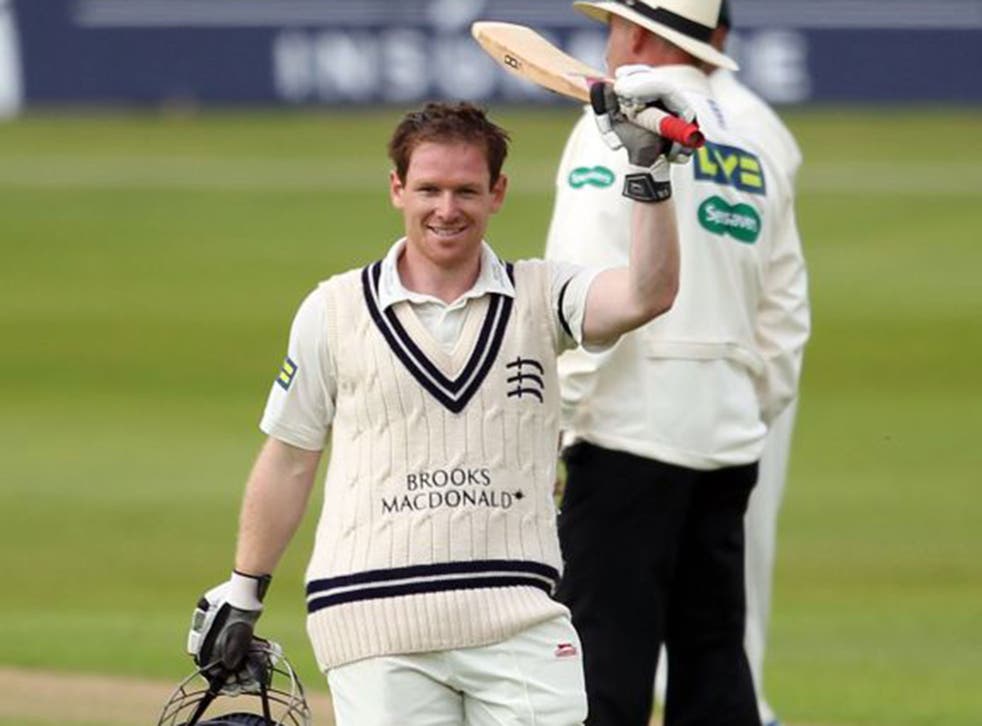 Nottinghamshire are as well equipped as any side to bat themselves out of a crisis but after the huge contributions made to Middlesex's cause by Chris Rogers and Eoin Morgan it needed an innings of comparable stature to keep them in the contest. Even after closing the second day with a perfectly respectable return from 73 overs they still have much to do even to avoid the follow-on.
Morgan's 191 helped Middlesex top 500 from only 115 overs, a score that reflected a pitch that has offered little reward to the bowlers.
In Notts' reply, life was particularly hard for Steven Finn, the England bowler, whose 13 overs cost 61 and tended to suggest he has some way to go yet to re-attain the consistency that brought him international recognition for the first time four years ago.
Finn suffered at the hands of Alex Hales, who struck him for 30 off 23 balls including a run of four boundaries in five deliveries, although the bowler did produce one ball that offered a reminder of his ability, bowling Michael Lumb middle stump.
Hales missed out on a second century of the season, but given the troubled times the England Twenty20 specialist has come through in the red-ball game it was of little consequence. The tall right-hander had such a poor year in 2013 that he was not even in the Notts team at the start of the season, at one stage being shipped off to play for Worcestershire in the Second Division on loan. Back at Trent Bridge he has started to show more discipline and care in constructing an innings and this was a good example.
Hales took his chances when they were offered and made few errors. Given out leg before for 96, he might have argued he was unlucky with that decision too.
Morgan gave the England selectors a nudge and was within touching distance of a first double century in Championship cricket when he gloved an attempted pull, although he could not complain too much either given his fine innings.
Samit Patel is unbeaten on 75 overnight and it is to him that Nottinghamshire will look to stay in the game.
Join our new commenting forum
Join thought-provoking conversations, follow other Independent readers and see their replies