Mohammed Shami pick of woeful India pace attack in draw with Leicestershire
India 333-4dec Leicestershire 349-5 (Match drawn)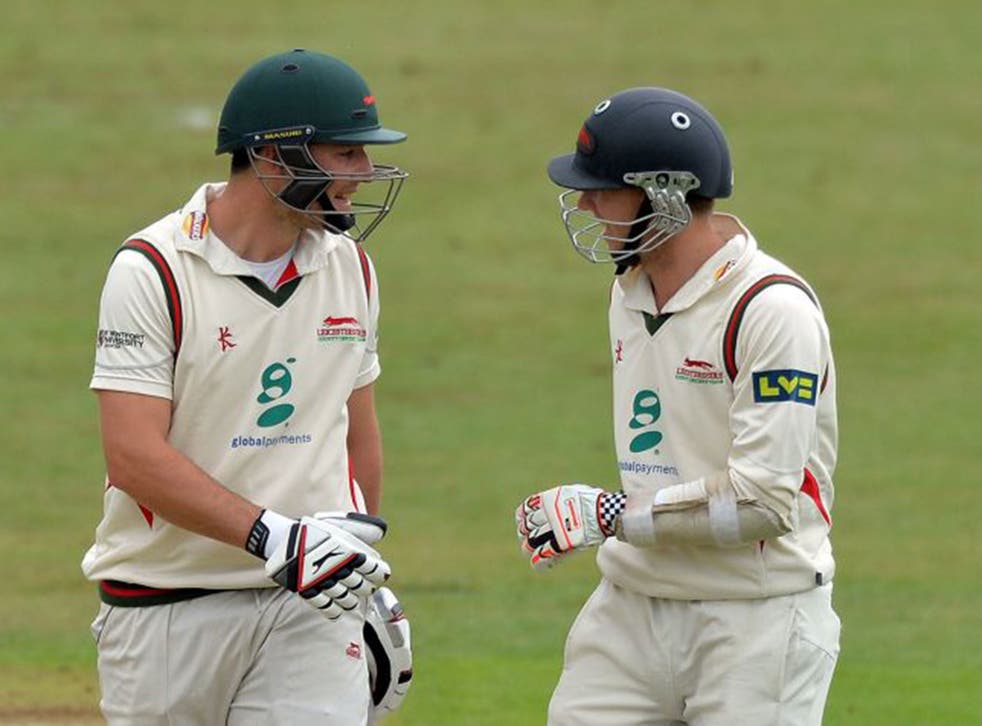 England may be feeling downcast at present, but they can take considerable solace from the shambolic showing by some of India's bowlers against struggling Leicestershire ahead of the forthcoming five-Test series. Exactly a week on from Sam Robson's maiden Test century for England, his brother Angus also reached three figures – a feat he has yet to achieve in first-class cricket – and Greg Smith eased to a hundred too.
Angus Robson said: "Two Saturdays in a row, my parents have seen their sons get hundreds. I saw my dad at tea and we had a laugh about it. Sam usually calls me, so he might ask a few things about India."
Leicestershire's Robson is still a long way short of his brother's standards, so his achievement in reaching a run-a-ball century, alongside the similarly unruffled Smith, highlighted severe flaws in India's attack and their lack of discipline on a green-tinged wicket.
The spinner Ravi Jadeja made an appearance shortly before tea and Smith soon struck him for successive sixes to bring up his century. At tea, Robson and Smith retired of their own accord after a 221-run unbroken stand from just 35.2 overs, then Dan Redfern added to the tourists' discontent with more quick runs in the final session.
The least reliable of the touring team's bowlers, though, was their most experienced – Ishant Sharma, the only one who has played a Test in England before. India are likely to pick three specialist pace bowlers for the opening Test, and the ill-disciplined Sharma damaged his chances of selection. His first two overs produced 27 runs, including three no-balls and two fours. India afforded him plenty of bowling time after that erratic start but he could not find any rhythm, despite his relatively meaningless wickets late in the day.
Pankaj Singh, one of India's fresh faces, was handed the new ball – ahead of Sharma, who came on as first change – and he gave a better all-round display. Singh secured the early India breakthrough as Matthew Boyce edged and Ajinkya Rahane took an adroit catch at third slip.
Two India pace bowlers who would be expected to start in the first Test – Bhuveneshwar Kumar and Mohammed Shami – gave varying accounts of themselves. The skiddy Kumar was disappointing, often overpitching and being hit for 10 fours in his opening seven-over spell by Robson, who drove impressively.
Shami was the pick of a poor bowling attack and the quickest, producing one particularly vicious delivery into Robson's ribs and coming close to dismissing him on 61 by inducing an edge, which fell short of the slips.
The squad's other seamers, Ishwar Pandey and Varun Aaron, had their chance later in the day and found the going tough. Stuart Binny – the son of former India player Roger Binny, who is now a selector – also featured without impressing. Whoever was thrown the ball, there was a lack of penetration. There is plenty of hope yet for England's batsmen.
Join our new commenting forum
Join thought-provoking conversations, follow other Independent readers and see their replies