The Independent's journalism is supported by our readers. When you purchase through links on our site, we may earn commission.
ODI series: Alastair Cook fails to score once again, but at least there's some relief for England
Cook was walking back to the pavilion within the first over but Ravi Bopara stares with the ball to earn 172-run victory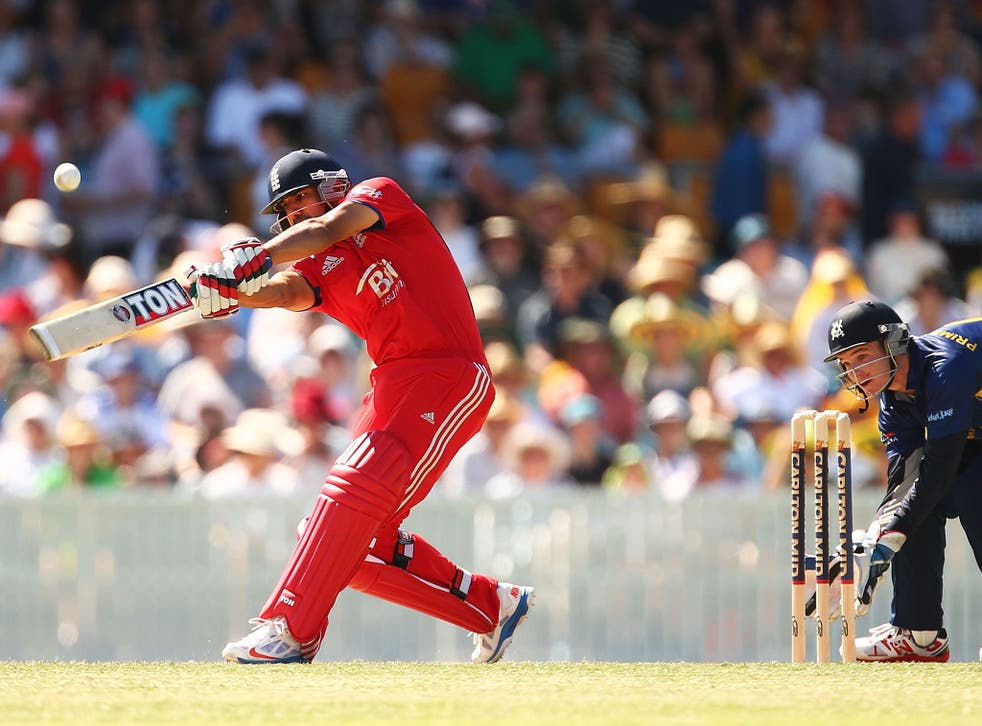 There is a long, if broken, tradition of matches between the Prime Minister's XI and the tourists in the Australian capital. Things have changed a bit and not only because the Manuka Oval now has floodlights which resemble giant oars.
In the 1958-59 meeting between the PM's side and the England tourists, still known as MCC in those halcyon days, one of the umpires was the cricket correspondent E W Swanton. The chances of a cricket reporter being asked to do the job now would be about as likely as Sir Matthew Pinsent lifting out one of the floodlights and using it to row to Olympic glory.
Back then Robert Menzies, who was a cricket buff, still occupied the official PM's residence in Canberra, The Lodge, and Swanton was also the unofficial chairman of the England selectors. That, too, has changed.
Some things have not. England came to Manuka 55 years ago, 3-0 down in the Ashes with one to play – which they also lost eight days later. Still Jim Swanton is smiling like the cat with the cream in the official photograph which hangs in the pavilion.
This England, the Ashes already long since lost, will be pleased to have squeezed in the fixture, though it comes in a busy week of plane and hotel-hopping. It offered them the chance to win for only the second time on this tour and that is something they desperately needed after five consecutive Test defeats. They have lost seven consecutive internationals and are hot on the trail of their record of 10, set both in 1993 and 2001.
In the event, it was quite the formality. The tourists did not have it all their own way in assembling 264 for 8 but it was more than plenty for the PM's throng, who were bowled out for 92 in 26 overs.
This Prime Minister, Paul Abbott, fielding his first such team, had some trouble raising it because of the demands of the Big Bash, something Menzies did not have to deal with. His side, for instance, included Ray Lindwall, who was about to play in the fifth Test.
Much more of this, however, and they will be calling for Abbott's resignation. Contentious right-wing policies are one thing, picking losing cricket teams quite another.
England threatened to make a mess of it until their middle order put the world to rights in front of a happy, hot full house. Alastair Cook's wretched tour continued. He was out for one in the first over, edging a lifter behind (a sentence cut and pasted from other previous dispatches from this tour). That this one came from the veteran speed merchant Brett Lee, who still paws the ground at the end of his run at the age of 37, will not have eased  the pain.
It will turn again for Cook. It must. But just for the moment, a long moment as it happens, he is short of runs and confidence. Somehow, he is remaining cheerful if resigned. He is probably walking out to bat at present knowing there is a ball coming up with his name on it.
The other day he said he needs a little luck for it to come right again. Luck is often overlooked in cricket until you have run out of the stuff and only then do you realise that you cannot dash to a 7-11 store, of the type which are on every street corner in Australia, and buy a new supply.
England, who might have been taking it all too lightly, were pulled from their reverie by Gary Ballance and, particularly, Jos Buttler. Ballance made a well-ordered 50 to follow his 79 in the opening  one-day international on Sunday, placing the ball assuredly on a slow outfield.
If there is an element of flavour of the month about Buttler, he impresses with each visit to the crease. He had a good Big Bash with Melbourne Renegades before joining the England squad and is in form. The ball stays hit when Buttler strikes it, which he does to some unexpected areas.
But he batted with calm sense yesterday, eschewing some of his boldest manoeuvres, though he could not resist one elegant scoop and a beautiful reverse hit. Still his 61 came from 60 balls and included only four fours. He runs the runs too. It always looked far too many for the opposition. So it proved.
Chris Jordan and Boyd Rankin made some early inroads and when James Tredwell persuaded Brad Hodge to pull him into the hands of deep midwicket, that was that. Ravi Bopara tidied it all up with four wickets in 17 balls for three runs.
It may make a difference to how they tackle Australia in the second ODI on Friday. Or it may not.
Join our new commenting forum
Join thought-provoking conversations, follow other Independent readers and see their replies