ODI series: George Bailey admits 'pride' in England troubles as Australia continue to make life difficult for struggling tourists
The departure of Steven Finn saw the bowler become the third player to leave the Tour Down Under after Jonathan Trott and Graeme Swann both returned home early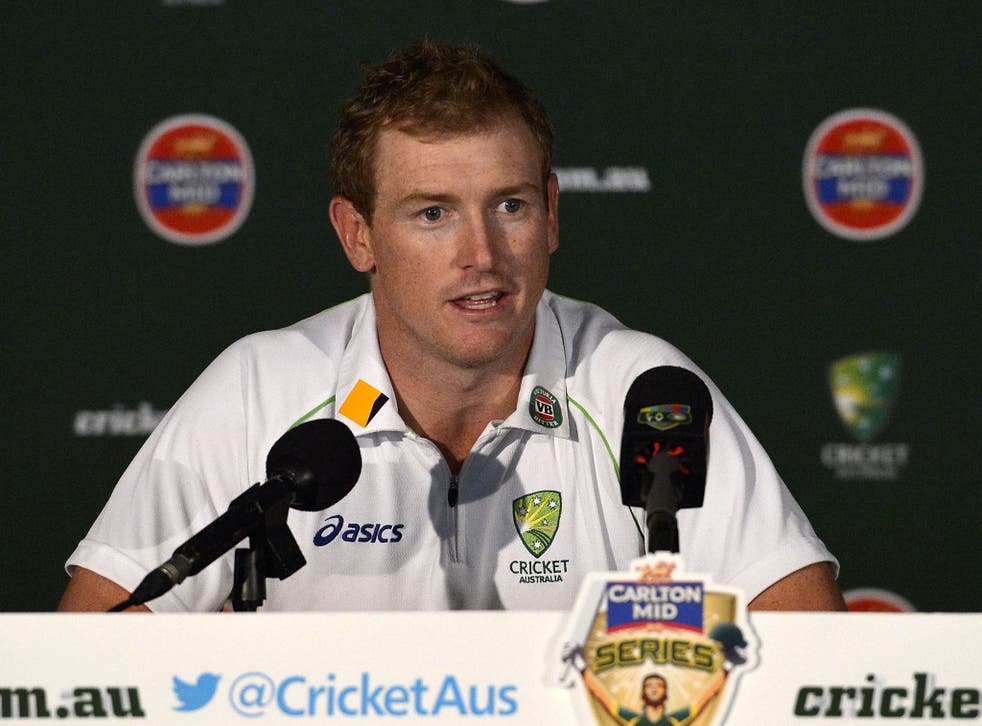 George Bailey believes Australia should take some pride in England's rate of attrition during their forgettable winter tour Down Under.
Paceman Steven Finn became the third England player to return home before their service was due to end, after problems with his bowling action had left him "not selectable".
Finn's early departure comes after Jonathan Trott and Graeme Swann were both unable to see out the tour.
Trott's early exit, with a stress-related illness after the first Test, was universally met with understanding while Swann retired after the Ashes were lost in Perth before Christmas.
Finn's troubles have been a symptom of his battle with his technique, which limited overs coach Ashley Giles admitted he would not cure in the competitive environment of an Australia tour.
England arrived to an ambush of media headlines off the field and, when the Ashes began, an aggressive Australia approach on it fast-tracked a 5-0 whitewash.
With the reputations of other England stars such as Kevin Pietersen, Matt Prior and James Anderson now also at their lowest point in recent memory - and skipper Alastair Cook under fire - Bailey is unapologetic for the way Australia have turned around their fortunes.
Asked how he viewed the growing list of England players absent from the tour, Bailey said: "(I take) a little bit of pride in it.
"I guess in those terms that we are making it so uncomfortable for guys, whether that's through form or fitness.
"In the way we've played, and the intensity, and the media build-up of a series, it's been pretty big.
"There's no doubt there's been a lot of scrutiny.
"I think it is always challenging when you are a long way from home and from family and the things you know.
"With the shoe on the other foot, we've been in that situation before and know how challenging it is."
Bailey is reticent to put Australia's success this winter down to a couple of well-aimed barbs on and off the field.
The 31-year-old believes coach Darren Lehmann's aggressive approach is more nuanced than some are giving him credit for.
"I'm sick of the sledging stuff to be honest," Bailey said.
"Just because you're aggressive, that seems to be a thing that everyone jumps towards.
"There's a myriad of ways you can play cricket aggressively that doesn't have to head down that path.
"There's always stuff that's going to be said - I wouldn't read into the fact that just because there's two guys talking out there every time that they're ripping each other's heads off.
"There's a lot of blokes out there who get along pretty well.
"The aggressive way we play is a mantra that is as much about the cricket as opposed to everything else.
"Darren has brought with him some values and a way that he wants us to play the one-day game. I think we're having a real crack at that.
"I still think we have a lot of work to go."
This winter has certainly proved too much for England in the Ashes and Australia are 1-0 up in the one-day international series heading into Friday's second match in Brisbane.
While inflicting more pain on England is the immediate objective, Bailey is optimistic the foundations are being set for a successful World Cup campaign on home soil in 12 months' time.
"We certainly hope it is," he said.
"We hope that it is a brand of cricket that will take us onwards and upwards to the World Cup.
"We hope it's a way of cricket that will not only be good enough for England in this series but will be good enough for the world come February next year."
PA
Join our new commenting forum
Join thought-provoking conversations, follow other Independent readers and see their replies