Pakistan vs England: Costly luxury or genius at work? Adil Rashid's big test
Leg-spinners have not featured much for England but Yorkshire's finest can change that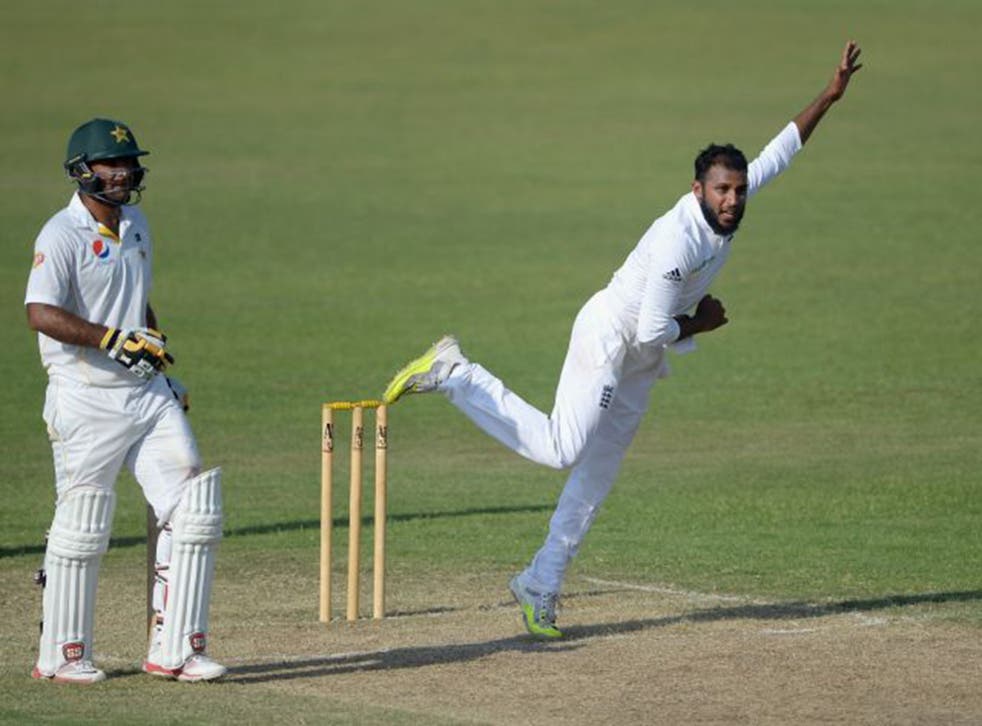 Perhaps the most famous delivery in a Test match for England was bowled by a leg-spinner. Tears were still flowing down the cheeks of Don Bradman, the most prodigious batsman of all, as he took guard at The Oval in his final Test match for Australia.
Bradman, applauded all the way to wicket and routinely revered by his opponents, needed a paltry four runs to ensure that his Test average reached 100, unprecedented then as it is now. Second ball, his usual nerveless composure disturbed by the emotion of the occasion, he failed to read a googly from Eric Hollies and was bowled.
Bradman had nought and an average of 99.94. That was in 1948 and no English leg-spinner has ever been as celebrated again as Hollies was that afternoon. The search for someone, anyone to cast in the role has gone on and on and on.
The mystical qualities of leg-spin are constantly lauded, but no-one has been picked for long, no-one has been trusted. Who now can recall Tommy Greenhough, Robin Hobbs, even Ian Salisbury of more recent vintage?
Hollies, for instance, took 2,322 other wickets in first-class cricket but he played only 13 Test matches between 1935 and 1950, that solitary one against Australia. He was part of the last pair of leg-spinners to play for England in a match, against West Indies in 1950. Imagine that now. Leg-spin, which was born in England, as was its key variant, the googly, has been magnificent in theory, less welcome in practice.
Now England are on the verge of selecting another leg-spinner, the Yorkshireman, Adil Rashid. Nine years after he first played for the county, Rashid has done the hard yards in the form of more than 3,700 first-class overs to learn what is an unfathomably capricious art.
He will make his Test debut in the first of the three-match series against Pakistan here on Tuesday. There will be no time for gently bedding in. Rashid is being picked because spin is likely to play a significant part in the next month.
Yasir Shah and Zulfiqar Babar, leg- spin and slow left-arm respectively, are likely to be Pakistan's spin pairing on Tuesday. In the five matches they have played together, they have each taken 27 wickets. If Rashid were to match that, England would be on to something.
If leg-spin is devilishly hard to bowl, it is also fiendishly difficult to play. As Trevor Bayliss, England's coach, said: "I think it's the unpredictability of the leg-spin. Most leg-spinners round the world can take wickets off bad balls with the extra drop, with the extra spin . Having an off-spinner in the team and the leg-spinner you have got the ball moving both ways. You've got the variations of the wrong 'un and the slider.
"There is more over spin so the ball can drop and swerve in the air. It gives the batters another decision to make and that's what you're trying to do as a bowler. If the batter has got only one decision and that's to hit the ball because it's in the slot then it's going to be an easy decision, but as soon as you get the batter to have to make a decision and it's 50-50, then it could make the difference."
Bayliss has been angling to give Rashid a go since he took over the coach's job in the middle of the summer. Had he been in charge, Rashid's time might have come earlier. It seemed that he would make his Test debut in the West Indies last April but England's selectors changed their mind at the last moment.
Rashid's display in the warm-up matches in St Kitts was racked with nerves. He never settled into a rhythm so that his bad balls – and there are always a few – diverted attention from the good stuff. Peter Moores, England's coach then, also failed to hold his nerve.
Bayliss will not be so deflected. He likes the idea of spin, and as a coach has promoted it in both first-class and limited-overs cricket. His New South Wales teams usually had two spinners, though not always of the leg-spinning sort.
"I have always been in favour of having two spinners in most of the teams I have been involved in before because of the combinations it can bring," Bayliss said.
It is actually a mere two years since England last picked a leg-spinner, Scott Borthwick of Durham, in the woeful final Test of the 2013-14 Ashes series in Sydney. Borthwick, only 23 at the time, acquitted himself tidily in the circumstances (1 for 49 and 3 for 33) but has not had a sniff of a recall since.
Rashid may change the selectors' minds but it will require a seismic shift. Only one leg-spinner, Doug Wright, has taken more than 100 Test wickets for England. The country's traditional way of turning the ball away from the right-hand batsman has been with left-arm spin, of which 12 practitioners have taken more than 100 Test wickets.
There is a genuine chance that Rashid, if his confidence can be kept high, can change the tide. Talking to Jason Gillespie, Yorkshire's coach, early last summer, he was waxing lyrical on the joys of his job.
"The other day I was sitting on the viewing area, coffee in hand, grin on my face watching Yorkshire perform well with a genius at work," said Gillespie. The player he had in mind was Adil Rashid.
Join our new commenting forum
Join thought-provoking conversations, follow other Independent readers and see their replies