The Independent's journalism is supported by our readers. When you purchase through links on our site, we may earn commission.
Pietersen seals passage to India after Oxford pact
Talks bring England recall but only once KP's T20 Champions League stint is over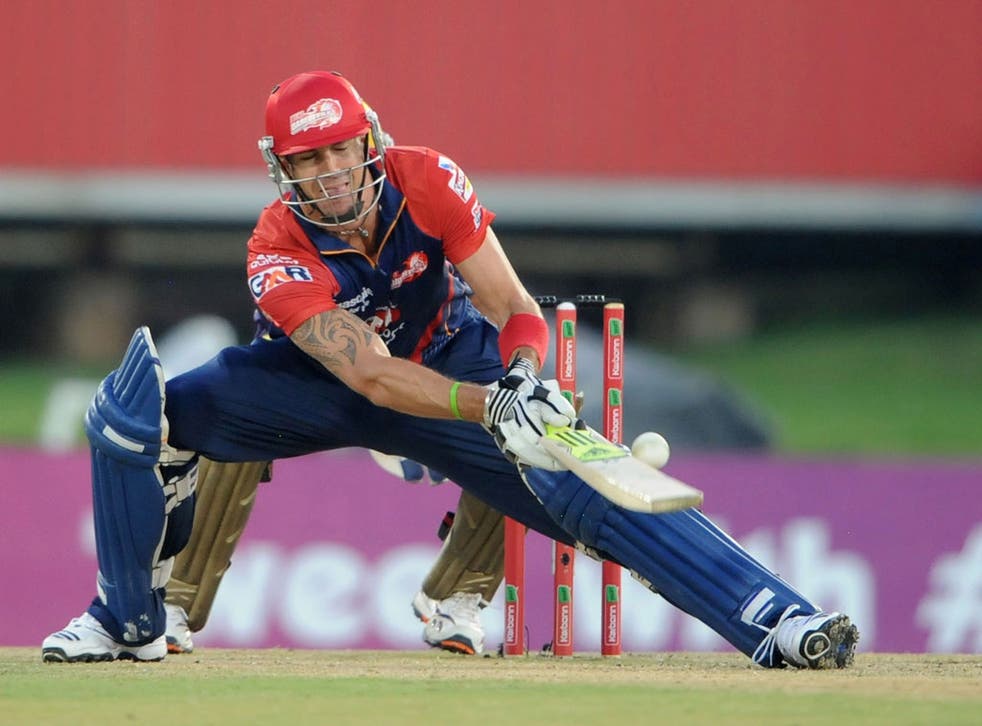 After a "reintegration process" conducted seemingly on fast forward, Kevin Pietersen will return to England duty for the tour of India, but not before completing his duties with the Delhi Daredevils at the Twenty20 Champions League in South Africa.
The England and Wales Cricket Board announced yesterday that differences between England's players and management and their estranged batsman have been settled. Pietersen made a two-day return to this country earlier this week for talks in Oxford with the England coach, Andy Flower, the captain, Alastair Cook, and other senior figures before returning to his native South Africa on Wednesday evening.
The Champions League finishes on 28 October. Pietersen will join up with England after the final or as soon as Delhi are knocked out – they play Auckland in Durban today. The group stages conclude with Delhi's final game on Tuesday, the semi-finals three days later. Cook and the rest of the squad leave London without Pietersen for a pre-tour training camp in Dubai on Wednesday before heading to Mumbai where they play the first of three warm-up games on 30 October. The first Test begins on 15 November.
The ECB held a board meeting at Lord's yesterday at which Pietersen's reintegration, a solution announced in Sri Lanka two weeks ago, was discussed. With the say so of Flower it was decided he should be added to the 15-man squad that will play four Tests in India before Christmas, so bringing to a close a saga that began with Pietersen being dropped in August. The Oxford pact ended negotiations that have themselves been on going since last month.
"We were keen that Kevin should hold a series of face-to-face meetings with team management and senior players before the Test squad departs next week," said Hugh Morris, the managing director of England Cricket. "The meetings were constructive and cordial and all outstanding issues have been resolved. All the England players and management are now keen to draw a line under this matter and fully focus on the cricketing challenge that lies ahead in India."
Pietersen's response came via Twitter: "BOOOOOOOOM!! The happiest days of my career have been playing cricket for ENG. Long may that continue!"
Pietersen was dropped from the England side ahead of the final Test against South Africa at Lord's in August after sending provocative text messages to opposition players. The 32-year-old was then left out of the squad for the world Twenty20 and off the list of centrally contracted players. But Cook succeeding Andrew Strauss as captain has helped ease tensions between the two sides and at the start of this month Pietersen and Giles Clarke, the ECB's chairman, appeared together in a tightly controlled press conference at a Colombo hotel to announce the start of the player's reintegration. Pietersen agreed a new four-month contract that will be extended to a year should his comeback go without hiccups.
It was left to Flower as to when the actual moment of his return would come and this week's meetings appear to have delivered the desired result.
"I've got no problems with Kevin at all," said Graham Onions, part of the tour party for the India series. "He is a fantastic player, a high-profile player and for me to play in the same side as Kevin Pietersen, as I have been lucky enough to nine times, has been special."
The ECB will be relieved to have resolved the issue. The actual content of the messages remains unclear and that grey area – Pietersen has remained publicly vague as to what they actually said – led indirectly to David Collier, the ECB's chief executive, having to apologise to the South African board after claiming their players had provoked the affair.
No player will drop out of the squad, which includes uncapped batsmen Joe Root and Nic Compton, to allow for Pietersen's addition. Ian Bell is expected to miss the second Test to return home for the birth of his first child.
"We are pleased to welcome a player of Kevin's proven international calibre back into the Test squad for such an important series," said Geoff Miller, the national selector. "The team will benefit from having an extra batsman in the squad and all players who were originally selected for the tour will fly out as planned next week."
Yorkshire are washed out
Yorkshire must beat Highveld Lions tomorrow to have any chance of reaching the semi-finals of the T20 Champions League in South Africa after yesterday's game against Mumbai Indians was washed out. The Indian side had made 156 for 6 with 13 balls left before rain intervened in Cape Town.
Join our new commenting forum
Join thought-provoking conversations, follow other Independent readers and see their replies