Twenty20 rolls back into town as the jewel in English cricket's domestic crown
Since the introduction of T20 cricket in 2003, the format has gone from strength to strength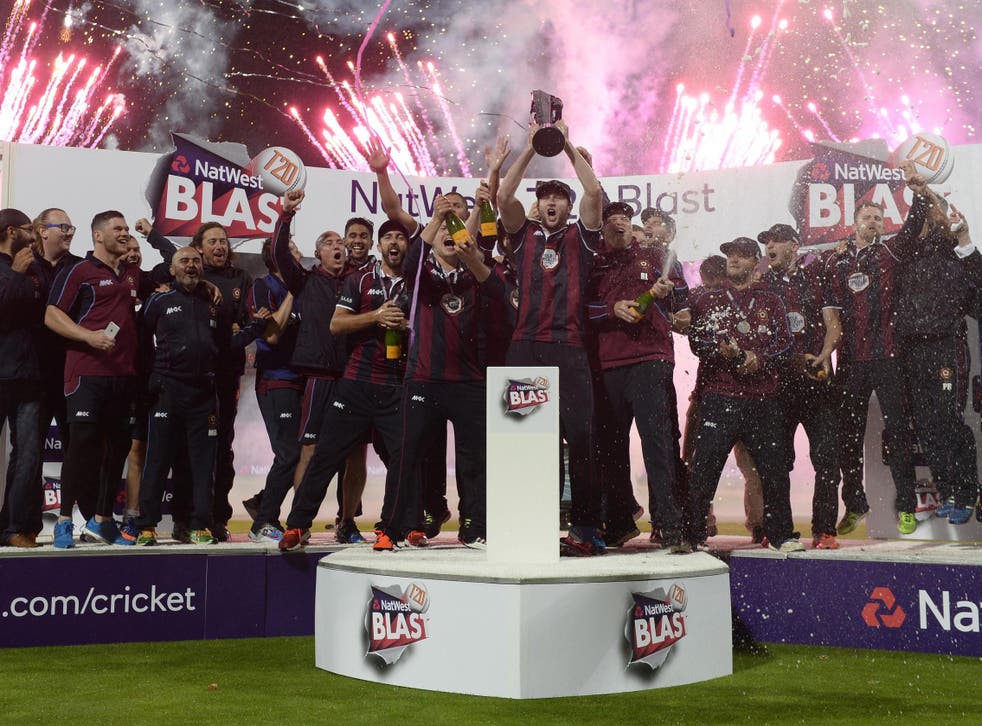 "Then Neil Diamond kicks in and the whole crowd starts belting out Sweet Caroline," says Peter Moores, the Nottinghamshire coach. "What's not to love?"
It's unclear whether the Brooklyn-born Diamond has ever taken the opportunity to catch some Twenty20 cricket during his regular tours here but, even if he hasn't, it's undeniable that the shortest format remains the jewel in English cricket's domestic crown. Or it's cash cow, at least.
The T20 Blast begins today with three fixtures. Moores' Nottinghamshire side, the current champions, meet Warwickshire at Trent Bridge to kick-off an annual competition that last year played out to over 900,000 spectators country-wide.
An ECB press release yesterday trumpeted the fact that ticket sales were already well ahead of the equivalent period last year. Sales for the tickets that haven't been held back for the counties competing in Finals Day have also risen to the tune of 60 per cent year-on-year. Little wonder that there's a spring in the step of chief executives across the 18 counties.
Hell, you could even argue that these figures suggest that the ECB's wholesale tinkering of the calendar to include a new city-based tournament from 2020, complete with a hundred-ball innings, is utterly unnecessary.
But that's a debate for another day.
For now, with that tournament still two years off, it's time to focus on the serious business of singing, drinking vast quantities of beer, mascot races and long, long sixes struck by batsmen who have never had it so good.
And bowlers who probably wish they had worked a bit harder on their batting to save themselves the indignity of watching their length balls sail into a neighbouring county.
"It's fun," says Moores. "And with that fun comes the mixture of both great skill on the field but also playing in the spirit that makes it exciting to watch.
"I think it has gone from strength to strength every year. The batting quality has gone up and when that happens the quality of the bowlers steps-up too. I expect the bowlers to get better and better to try and stop the kind of shot making that we're seeing.
"Do I sometimes feel a bit sorry for the bowlers? It's a hard job for them. What's happening is that bowlers are having to move the goalposts when it comes to recognising what a good over looks like in T20 cricket.
"At a place like Trent Bridge – 10 an over might now be absolutely outstanding at different times of the game. I think for all the bowlers to get their head around that takes a bit of time. It's not that long ago that bowlers were trying to keep it under six (an over).
"Last year we had some high scores but what it did for our bowlers is, once it got to a certain point, they realised that their yorker had to be better, their slower ball had to be better because if it wasn't an exceptional ball then it went out of the ground.
"That's what the crowd want to see, that's why they come through the gate. Those players who have played around the world, in the IPL (Indian Premier League), have come to terms with that. And the fact is that wickets are the key in Twenty20. If you can get a couple of wickets then suddenly two or three overs can disappear quickly."
The search for dots in the scorebook, however, is often as fruitless as the scouting for white balls around the perimeter of the ground as the likes of Alex Hales, Jason Roy and overseas stars such as Aaron Finch, Kane Williamson and Martin Guptill make hay.
There is, though, no shortage of bowling talent on show this year with Afghanistan's leg-spin magician Rashid Khan at Sussex and his fellow spin twin, Majeeb Ur Rahman, at Hampshire.
On the bowling front, Peter Siddle at Essex, Andrew Tye – the leading wicket-taker in this year's IPL – at Gloucestershire, and Lancashire's James Falkner, will hope to remind the cricket loving public that Australia are still producing cricketers of the highest quality, despite their 5-0 ODI drubbing against England.
Notts will be among the favourites to retain their title but no side has ever won back-to-back T20 honours since the first competition was played back in 2003.
Heavily fancied Hampshire, along with Jason Gillespie's Sussex and Surrey, will be out to ensure that that record continues this season.
The rest of the country, meanwhile, is preparing to clear its throat.
All together now. "Sweet Caroline..."
Join our new commenting forum
Join thought-provoking conversations, follow other Independent readers and see their replies