Trevor Bayliss spinning in favour of Adil Rashid after dramatic debut
Bayliss is intent on keeping Rashid in the team not only for the four-match series in South Africa that follows this tour, but also into the English summer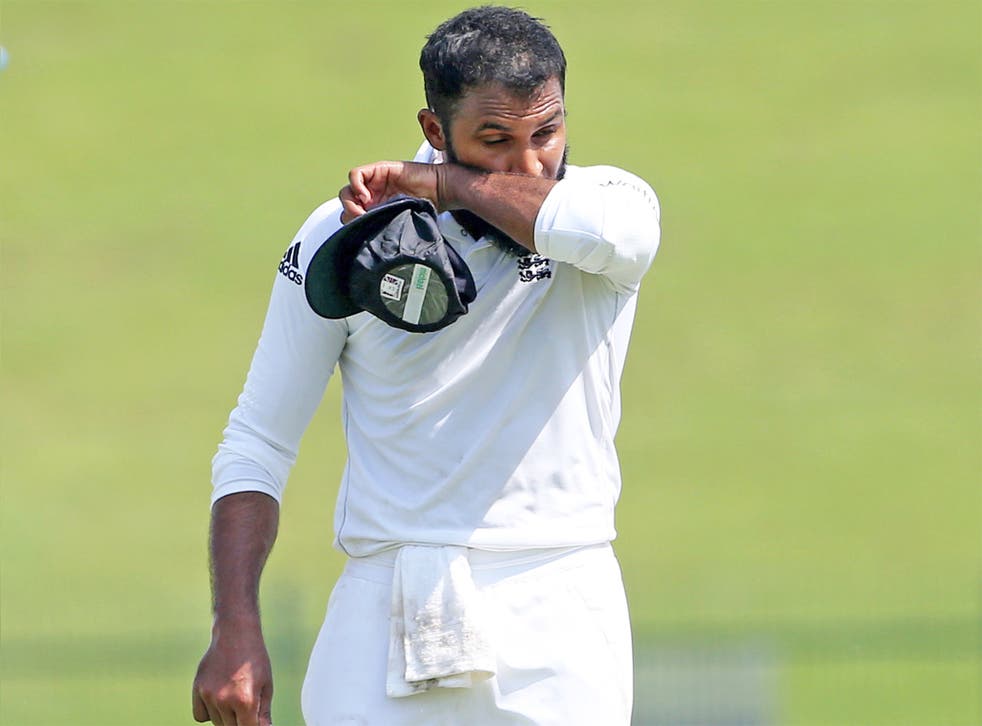 Trevor Bayliss, the England coach, has assured Adil Rashid he is not just a quick fix for this tour of the UAE but has a long-term future in the Test team after a dramatic debut in Abu Dhabi.
The Yorkshire leg-spinner's five-wicket haul on the final day of the first Test against Pakistan took England to the brink of one of their greatest wins. Bad light eventually denied Alastair Cook's team just 25 agonising runs short of their victory target of 99.
It came after Rashid became the first England leg-spinner in 56 years to take a five-wicket haul, his 5 for 64 helping to rout Pakistan for 173 inside two sessions and setting up a thrilling victory charge.
What was even more impressive about Rashid's performance was that he had overcome the psychological blow of producing the most expensive first-innings figures by a Test debutant – 163 for 0 – when Pakistan piled up 523 for 8 declared on the opening two days.
"It was testament to his ability and mindset," said Bayliss. "I don't think a lot gets to him; he's pretty philosophical. He knew that come the fifth day he would be in the game. Everyone in the game has been in similar situations at some point in their careers, it's just unfortunate it was in his first game. But I think he showed the ability he has got and the benefits he can bring to English cricket."
Bayliss is intent on keeping Rashid in the team not only for the four-match series in South Africa that follows this tour, but also into the English summer. "He's definitely not a selection for just here," he said. "We saw with Shane Warne that he played everywhere. It will come down to whether [Rashid] is bowling well enough and it's a lot easier to keep him in the team if you've got Moeen Ali batting in the top six or seven and Ben Stokes in there as well."
Despite the reference to Warne, Bayliss is keen to shoot down any comparison between Rashid and the greatest of all leg-spinners.
"I played against Shane," he said. "He was one out of the box, wasn't he? We shouldn't go around I suppose making those comparisons. I coached Stuart MacGill at New South Wales. The ability for a leg-spinner to take wickets when they are on their game is probably greater than most other bowlers."
England, who travelled by road to Dubai yesterday ahead of the start of the next Test on Thursday, would not have had the opportunity to go for victory without Cook's brilliant 263, the captain's near 14-hour marathon at the crease the longest Test innings of all time by an Englishman.
Bayliss admitted the rest of the touring party were in "awe" of their leader and added: "It was a superb effort of concentration and it's a great lesson for the young batters in the team that if you bat for a long time the rewards are there."
The stirring denouement to the opening Test has given England a belief they can become the first team to defeat Pakistan in a Test series in the UAE.
"It certainly gives us belief we can win Test matches," said Bayliss. "Our mentality is that we won't be playing the next two matches trying to draw them, we'll be trying to win them."
England will have a fair chance of doing just that if Rashid continues to bowl like he did on Saturday.
Join our new commenting forum
Join thought-provoking conversations, follow other Independent readers and see their replies