The Independent's journalism is supported by our readers. When you purchase through links on our site, we may earn commission.
Tri-centurion Amla makes a mockery of England's No 1 status
England 385 & 102-4 South Africa 637-2 dec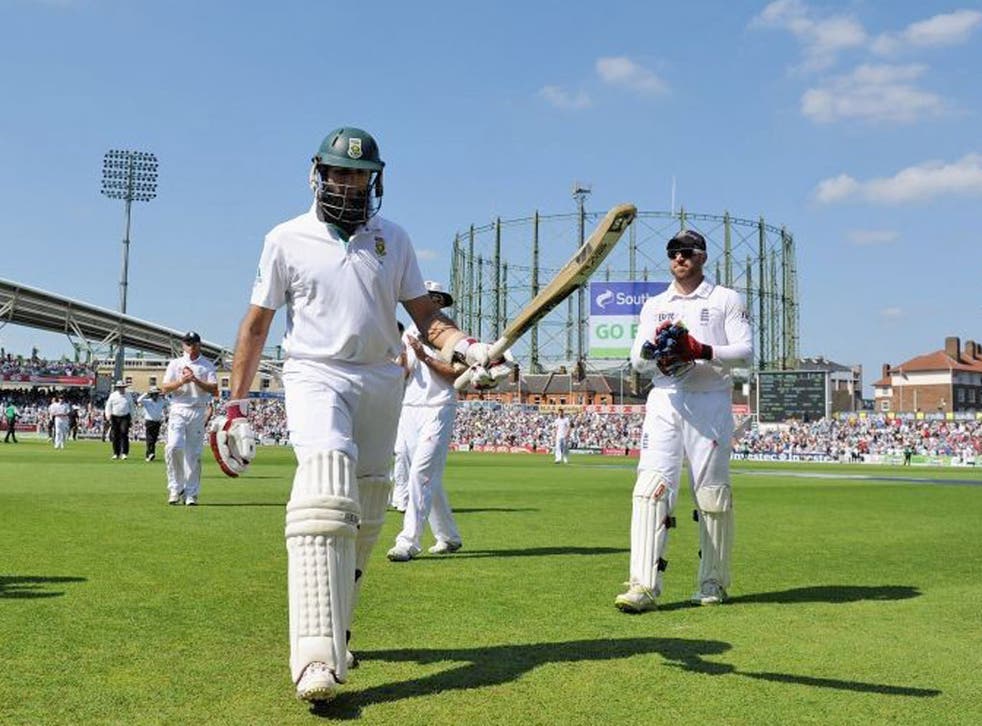 Only one team has looked the best team in the world for the past three days of the first Test. It is not the one which officially – soon they will be saying allegedly – holds the ranking.
England were left staring defeat in the face last night as South Africa, hungry, nay ravenous, for the exalted status continued their remorseless domination. The bare figures tell the difference between the teams: South Africa made an extraordinary 637 for 2 declared in their first innings, with Hashim Amla making the first triple century in this country for 22 years, and on the same benign surface three hours later England had staggered to 102 for 4.
The fear was that the tourists would be underprepared for this series, having spent most of the first fortnight of their trip wondering if it was worth trying to recruit a team sponsor for mackintoshes. But they recovered from a moderate first day to win nine consecutive sessions without reply.
Nothing has gone right for England after the first day and for most of the time they have seemed bereft of any worthwhile notion about how they might alter that. South Africa's resolve has been their most priceless asset.
It is a considerable relief that England possess the most formidable bowling attack on the planet. What the tourists might otherwise have done to them yesterday is beyond contemplation. Their first innings was monumental. Amla made 311 not out - only the 26th triple hundred in Test matches - and shared in an unbroken partnership with Jacques Kallis of 377, the highest here for 55 years.
Just when it seemed a wicket would never fall again in the match, England, asked to bat four sessions to save it, promptly lost four.
The world's No 1 ranked side, a status they have rarely played up to since acceding to it a year ago, are eyeball to eyeball with defeat.
The pitch, though wearing, is still innocuous and England have dug themselves out of enough holes to make survival a little more than merely fanciful. Unfortunately, the two batsmen who might have been expected to bat out time are both back in the dressing room. Alastair Cook followed his first innings hundred with a duck and Jonathan Trott was also caught behind, more culpably playing at one he might have left.
When Kevin Pietersen had his middle stump removed by Morne Morkel two overs after being dropped off the same bowler, England were deep in the mire. Deeper still when their captain, Andrew Strauss, essayed a sweep which took a top edge and floated limply to square leg.
This England side have fought successful rearguard actions before. If the most celebrated was against Australia in Cardiff three years ago, when they hung on from 70 for 5 and went on to regain the Ashes, they also have previous against South Africa. Their Cape Town escape in early 2010 followed the loss of three wickets on the fourth evening. But lose or draw, this match has been a salutary pointer to England's frailities.
After the first day they were on the verge of establishing an impregnable position and have spent each hour since ensuring they were exposed. The bowlers never looked like taking a wicket yesterday. Amla and Kallis simply took up where they had left off on Saturday evening, repelling England's early enthusiasm and then cashing in. It was never exactly scintillating but it was flawless and it wore England down. All four of their main bowlers clocked up a century of runs next to their name in the scorebook.
Amla was pitch perfect. His strokemaking was assured without being flashy, he knew when to leave and when to punch a crisp boundary through cover or flick one through midwicket and when to settle for a single. At 13 hours, nine minutes, it was the second-longest innings to be played in England. Only Len Hutton, who batted eight minutes longer for his 364 at The Oval in 1938, has occupied the crease longer. Amla never wavered and offered only the one chance, a hard edge to Strauss at slip when he was 40. When he was on 305 he drove hard in the air back to Ravi Bopara.
It was the first time that a South Africa batsman had made 300 in a Test and the moment when he passed the landmark was the only time when Amla allowed himself a show of emotion. He punched the air.
There has been much speculation on social networking sites about whether, as a devout Muslim, he is fasting during Ramadan. It would have made his brilliant achievement still more outstanding but he has special dispensation, as many sportsmen do.
It was a pleasure to see him and Kallis operate. Indeed, it has been said that Amla, in some ways, is the new Kallis, refusing to give up his wicket lightly and regarding attempts to take it more or less as an attack on his integrity.
This was a quite typical Kallis innings, his 43rd hundred in Tests, as measured as it was inexorable. It was the only time that England have ever had two partnerships of more than 250 made against them in the same innings. The pitch can be said to be chief cause, but it should also be remembered that this England attack has prided itself on being able to prise wickets from the most unpromising situations and conditions, of making something happen.
Not here, they didn't. It was by a considerable distance the highest total in a Test with only two wickets down. There was some surprise when Graeme Smith, en route back to South Africa tonight to be with his wife for the birth of the couple's first child, declared at tea. It lasted as far as the third over.
Timeline: How England continued to toil in the field
11.01am Start: England's weary fielders get set for another energy-sapping day in the sunshine. James Anderson bowls a maiden to start but it does not take long for South Africa to add to their mammoth total.
11.38am Double century, South Africa 428-2: Hashim Amla hits through the covers for three off the bowling of Stuart Broad to bring up his second Test double century.
12.54pm South Africa 511-2: Jacques Kallis gets his ton and the tourists continue with the milestones, reaching 500. Amla's four then brings up his 250 as the 29-year-old passes his highest Test score.
2.41pm South Africa 566-2: Amla drives Tim Bresnan to the ropes for another four to reach 281. The knock is the highest-ever Test score by a South African, surpassing A B De Villiers' 278 against Pakistan two years previously.
3.02pm South Africa 579-2: Kallis reaches 150 for the 14th time in Tests before Bresnan appeals after hitting Amla on the pads. Replays suggest England were right not to refer.
3. 21pm Triple century South Africa 605-2: Minutes after almost being caught off Ravi Bopara, Amla brings up his 300, just evading Ian Bell as he hits through extra-cover for four.
3.50pm Declaration South Africa 637-2: Tea brings a declaration from the tourists, with a lead of 252. Amla ends unbeaten on 311 following a partnership of 377 with Kallis, who ends on 182. England have a job on.
4.51pm Wickets, England 32-2 Cook 0, Trott 10: A poor start. After losing Alastair Cook inside two overs, Jonathan Trott follows for 10 off Dale Steyn.
6.09pm Stumps, England 102-4: The wobbles continue, Kevin Pietersen allowing Steyn to remove middle stump and Andrew Strauss top edging to Vernon Philander off Imran Tahir. The hosts end 150 behind.
Stats magic: The day in numbers
311: Hashim Amla's knock was the highest-ever Test score by a South African and the 20th-highest of all time.
4: Yesterday was fourth time England have had ceded two 200+ partnerships in Tests.
43: Jacques Kallis hit his 43rd Test century - only Sachin Tendulkar (51) has more.
1990: Year of the last Test triple ton in England - by Graham Gooch.
The Oval Scoreboard
First Test (third and fourth days of five): England are trailing South Africa by 150 runs with six second-innings wickets in hand
England won toss
ENGLAND First Innings
385 (Cook 115, Trott 71, Prior 60, Morkel 4-72)
SOUTH AFRICA First Innings
Overnight 403-2 (Smith 131) Overnight 86-1
*G C Smith b Bresnan 131
273 balls 0 sixes 20 fours
H M Amla not out............311
529 balls 0 sixes 35 fours
J H Kallis not out.............182
326 balls 1 sixes 23 fours
Extras (b5 lb4 w2 nb2)13
Total (for 2 dec, 189 overs) 637
Fall: 1-1, 2-260.
Did not bat: A B de Villiers, J A Rudolph, J P Duminy, V D Philander, D W Steyn, M Morkel, Imran Tahir.
England Bowler Spells: JM Anderson: 41-7-116-1 (1nb) (6-3-15-1; 4-0-12-0; 6-2-11-0; 4-0-16-0; 5-0-23-0; 4-1-13-0; 7-1-14-0; 5-0-12-0), SCJ Broad: 34-6-118-0 (1wd) (10-4-20-0; 5-0-24-0; 3-0-21-0; 5-0-16-0; 3-0-6-0; 4-1-8-0; 4-1-23-0), GP Swann: 52-10-151-0 (5-1-12-0; 13-6-30-0; 3-0-10-0; 6-2-11-0; 1-0-2-0; 4-0-11-0; 10-1-23-0; 6-0-30-0; 4-0-22-0), TM Bresnan: 37-2-140-1 (1nb) (6-1-19-0; 3-0-17-0; 4-0-4-0; 3-1-8-1; 4-0-16-0; 4-0-13-0; 4-0-10-0; 3-0-22-0; 6-0-31-0), RS Bopara: 18-1-78-0 (2-0-7-0; 2-0-7-0; 5-1-15-0; 5-1-27-0; 4-0-22-0), KP Pietersen: 3-0-13-0 (1-0-4-0; 2-0-9-0), IJL Trott: 4-0-12-0 (2-0-3-0; 2-0-9-0)
ENGLAND Second Innings
*A J Strauss c Philander b Tahir 27
80 balls 0 sixes 2 fours
A N Cook c de Villiers b Philander 0
6 balls 0 sixes 0 fours
I J L Trott c de Villiers b Steyn 10
27 balls 0 sixes 1 fours
K P Pietersen b Morkel.16
17 balls 0 sixes 3 fours
I R Bell not out 14
70 balls 0 sixes 0 fours
R S Bopara not out 15
33 balls 0 sixes 2 fours
Extras (b3 lb12 nb5)....20
Total (for 4, 38 overs) 102
Fall: 1-2, 2-32, 3-57, 4-67.
To bat: M J Prior, T T Bresnan, G P Swann, S C J Broad, J M Anderson.
South Africa Bowler Spells: M Morkel: 8-0-24-1 (2-0-3-0; 5-0-20-1; 1-0-1-0), VD Philander: 9-2-13-1 (1nb) (5-1-7-1; 4-1-6-0), DW Steyn: 9-2-27-1 (5-0-20-1; 4-2-7-0), I Tahir: 12-3-23-1 (4nb) (one spell)
Progress: Day three: H Amla: 50 off 110 balls (6 fours), 100 runs in 43.3 overs, G Smith: 50 off 160 balls (6 fours), 150 runs in 55.5 overs, G Smith: 100 off 201 balls (16 fours), Lunch: 187-1 in 65 overs (GC Smith 103, HM Amla 80), 200 runs in 68.4 overs, H Amla: 100 off 199 balls (13 fours), 250 runs in 84.4 overs, Tea: 277-2 in 92 overs (HM Amla 131, JH Kallis 10), 300 runs in 97.4 overs, H Amla: 150 off 294 balls (19 fours), 350 runs in 114.4 overs, JH Kallis: 50 off 94 balls (7 fours), 400 runs in 132.2 overs, Close: 403-2 in 135 overs (HM Amla 183, JH Kallis 82).
Progress: Day four: H Amla: 200 off 392 balls (23 fours), 450 runs in 152.2 overs, J Kallis: 100 off 227 balls (13 fours), 500 runs in 161.6 overs, HM Amla: 250 off 445 balls (29 fours), Lunch: 514-2 in 164 overs (HM Amla 251, JH Kallis 125), 550 runs in 173.4 overs, J Kallis: 150 off 299 balls (20 fours), 600 runs in 183.2 overs, H Amla: 300 off 515 balls (35 fours), Tea: 637-2 dec in 189 overs (HM Amla 311, JH Kallis 182) - England: 50 runs in 15.3 overs, 100 runs in 37.5 overs, Close: 102-4 in 38 overs (IR Bell 14, RS Bopara 15)
Umpires: Asad Rauf (Pakistan) & S J Davis (Australia).
TV Umpire: H D P K Dharmasena (Sri Lanka).
Match Referee: J J Crowe (New Zealand).
Join our new commenting forum
Join thought-provoking conversations, follow other Independent readers and see their replies