The paradox of Twenty20 cricket needs to be addressed - it's time for change
The ascent of T20 on the club level shows there's an appetite for the sport. Cricket's elite now need to bring structure to the international fixtures to ensure they offer meaning for fans and players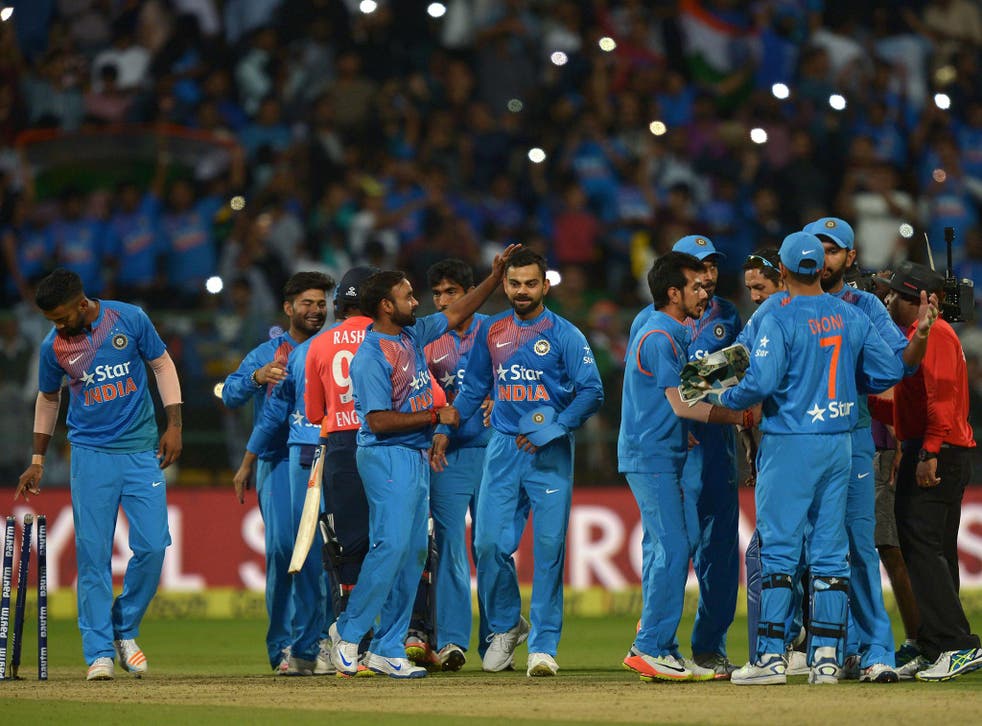 In the litany of great England batting collapses, Bangalore 2017 now stands unsurpassed. Never have England lost eight wickets for as few runs. Only one country, New Zealand in 1946, have ever suffered a worse collapse.
The ignominy exposed a number of issues about the England side. Most obviously, it reaffirmed England's frailties against spin. Even with India resting Ravichandran Ashwin and Ravindra Jadeja, they still found another pair of spinners to flummox England: Yuzvendra Chahal, who took 6-25 with his googlies and flippers; and Amit Mishra, whose parsimony pushed England into heaving forlornly at Chahal.
Perhaps more worrying, given that England will not play in Asia again until 2018/19, is the team's apparent vulnerability under pressure. While the debacle in Bangalore can be seen as an aberration, it is also part of a disconcerting trend. It was the eighth time in 11 winner-takes-all white ball matches, stretching back to the final of the 2013 Champions Trophy, that England have lost.
Nestled in these statistics and these defeats is an unpalatable truth. For all the thrilling élan that defines England's batting in limited overs cricket, their startling evolution since the 2015 World Cup has been far more pronounced in style than results. England are still only ranked fifth in ODIs and sixth in T20Is.
Yet the salient point, perhaps, is how much their defeat in Bangalore really matters. Last month, Mickey Arthur, the Pakistan coach, advocated that T20Is outside the World Twenty20 be scrapped altogether, because they lack meaning. And just before the start of this Twenty20 international series, Eoin Morgan was asked to explain what, exactly, was the point of the three games. Morgan's answer was to claim that the three-game T20I series was good preparation for the Champions Trophy: a different format of the game, played in completely different conditions in four months.
It summed up how international T20 cricket is demeaned by a schedule unworthy of the name. There is a curious paradox in the international game today: T20Is are watched by the highest audiences yet are treated with the least care by cricket's governing elite.
Bilateral T20I cricket amounts to a random hotchpotch of matches, hanging together as awkwardly as an Italian political coalition. As the games have no obvious meaning - the world rankings are irrelevant, and bilaterals lack any sense of history to derive significance from - they are prime opportunities for teams to rest players, as India did Ashwin and Jadeja. The upshot is that tussles between full strength teams are lamentably rare, and matches are played more out of a sense of contractual duty than anything else.
All the while, domestic T20 leagues grow in number and significance. While the structure of T20Is is unfathomable - matches tacked onto the end of tours with all the significance of glorified friendlies - T20 leagues have the great virtue of a simple structure: easy to understand leagues that culminate in a champion.
Allowing T20Is to stumble on in such an undignified way not only belittles the format; the vacuum also lets domestic T20 competitions establish themselves as the pinnacle of T20 cricket, the WT20 apart. The ascent of club over country is already having huge implications for the game, with greater interest in domestic fixtures translating to players being paid more than for playing internationals. Inevitably, that will mean more players shunning international cricket prematurely, as already seen in a spate of Caribbean players and the retirement of Brendon McCullum, leaving the international game diminished in quality and relevance.
There is a growing awareness of these dangers. In Dubai this week, the International Cricket Council is discussing how to imbue T20Is, and the wider international game, with more meaning.
The ICC's solution to the irrelevance of T20I cricket is two-fold. First, restore the WT20 to begin every two years: the next tournament is not scheduled until 2020, despite the roaring success of the 2016 WT20. Second, and more radically, the ICC would like to introduce a 13-team league for T20I cricket, which would be played in addition to the 13-team league planned for ODI cricket. All countries would play one three-game series against all the other teams over a three-year cycle - 36 games each over three years, beginning in 2019. Matches would count towards a league table, producing a champion and also relegation, thereby creating interest at the top and bottom end; rather than being preparation for a tournament in another format, England's T20I series in India could instead have been a tussle for supremacy in the T20 international league. And by including three Associate nations, cricket would also be taking a belated step towards embracing expansionism.
A year ago, the WT20 tournament in India showcased how intoxicating T20I cricket can be: not just when the sport is thrilling, but when matches are infused with real meaning. That much was evident not just in the West Indies' extraordinary heist in the final, but also in the Netherlands' anguish at their elimination through rain, Afghanistan's jubilation at reaching the Super10 stage and England's cocktail of disbelief and relief at chasing 230 against South Africa to remain in the tournament. This was not just cricket as entertainment, but sport with consequences.
Returning to India for this T20I series has been an oddly deflating experience. At Bangalore, Chahal's jubilation and Morgan's fury about England's meek batting could not disguise that this was a match, and series, that existed largely for reasons of commercial expediency. In T20I cricket and beyond, collapses as spectacular as England's deserve to be in matches that really matter.
Join our new commenting forum
Join thought-provoking conversations, follow other Independent readers and see their replies