In Tymal Mills - the accidental pioneer - England have a glimpse of cricket's future
Mills serves as a fascinating case study in the future of the sport, and how players can benefit from specialising in one format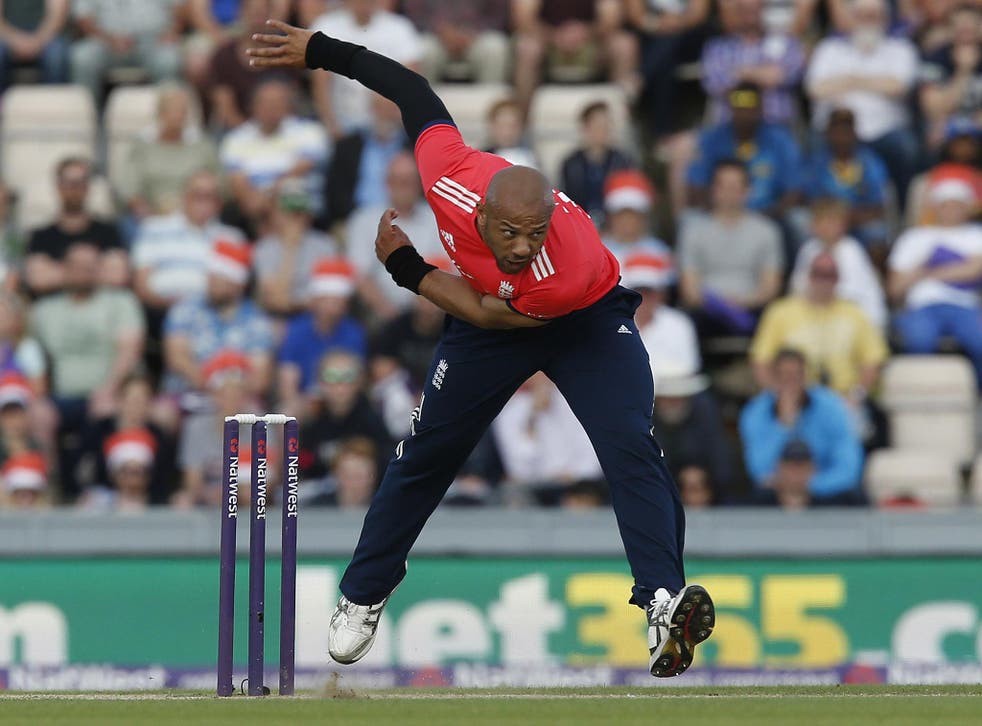 For a glimpse of cricket's future, look at Tymal Mills. This is not so much about his pace and athleticism, impressive as these are, as his career path. Aged 24, Mills has already established himself as a T20 specialist who does not play the other two formats of the game at all.
There were other T20 specialists before Mills, but they have generally been much older men who confined themselves to T20 after successful careers in ODI and Test cricket. Mills is the youngest ever player to devote himself to T20 cricket.
It is working, too. Before arriving in India, Mills had spent his winter playing in T20 competitions in Bangladesh, New Zealand and then Australia. He already has a contract in the Pakistan Super League, in the UAE. The three T20 internationals in India loom not merely as a chance for Mills to secure his place in England's first-choice T20 side, but also to win an IPL contract too; the auction will take place days after the final game. "If I bowl well, it's good for myself, for England and for my future," Mills says. "It's maybe an extra incentive."
Unwittingly, Mills serves as a fascinating case study in the future of the sport, and how players can benefit from specialising in one format. While there is a chasm between the skills required in T20 and Test cricket, Mills can focus unremittingly on T20, and it is logical that specialising could allow him to become a better T20 bowler than if he had to divide his time between all three formats.
Evidence of as much comes from the Caribbean. Internecine wrangling between the West Indies players and board has pushed many into T20 specialism; the West Indies' triumphs in two of the last three World Twenty20s have shown the benefits. The legspinner Samuel Badree, instrumental in both those tournament victories and long-ranked the number one T20 bowler in the world, has never played an ODI, let alone a Test.
"Everything I do is geared towards being the best T20 player I can be whereas it's tough for the other guys preparing for Test cricket and that's completely different. Every ball I bowl is with the white ball – I haven't bowled with a red ball for two years," Mills says. "Hopefully that gives me an edge or at least accelerates my development."
Mills certainly has an enviable array of skills. Watching Mills harass England's batsmen in the nets in Kanpur, his height and sheer pace - he proudly declares that he topped 150kph several times in the Big Bash League, and believes that he has further pace to add - was most notable. This is allied not just to a potent yorker and bouncer, but also a coterie of slower balls and a realisation that these can be most effective. "Sometimes the faster you bowl the faster it goes off," he reflects. "You've got to mix your pace up and mix your skills up."
Such gifts are married to chutzpah and showmanship. Before facing Chris Gayle last year, Mills proclaimed that he was "the big wicket you want to take". Two days later, at a heaving Hove and with the Sky Sports cameras in situ, Mills needed only three balls to dismantle Gayle's leg stump with a 93mph yorker. Soon after he made an impressive England debut, conceding under a-run-a-ball against Sri Lanka.
His itinerant existence in T20 leagues is also forcing Mills to become more adaptable. He has normally bowled two overs opening the bowling and his last two in the final overs, the role he is poised for during this series, but during his stint in Bangladesh he tended to bowl in the middle overs of the innings.
Mills, though, is an accidental pioneer. In April 2015, after moving to Sussex with the aim of winning an England spot in all formats, Mills succumbed to excruciating back pain during a County Championship match. In the weeks after, he had much more than his cricket career to worry about, and was even tested for multiple sclerosis.
Eventually he was diagnosed with a rare congenital back condition and told that, if he bowled 15-20 overs a day, he risked causing irreversible damage. He would have to retire from first-class cricket immediately, after 32 matches in which his promise had been much-hyped but seldom glimpsed, and was told that he might not be able to play any more 50-over cricket either. When he got home, he later said, he asked himself a simple question: "Oh God, what am I going to do here?"
The answer, it has turned out, was to forge an enviable existence in T20 leagues. "This is my job now, this is my life now, to play in these tournaments, to enjoy these tournaments, both on and off the field, see these places around the world and meet people around the world," he declares, betraying no embitterment about the dream of Test cricket that he has lost. "I'm in a unique situation now where I can hopefully do this for a long time."
And yet there are downsides too, many that would be familiar to the burgeoning freelance workforce throughout the world: the inconsistency of the work; the challenge of managing your own workload; and, most of all, the awareness that injury will not lead to paid leave, but rather bring a huge financial cost.
"I don't earn very much playing in the UK for Sussex, because of only playing T20 cricket, so I have go and play in these tournaments around the world in terms of getting paid really. If I get injured and don't get to play in these tournaments obviously that affects me in a different way, so my security is a little bit less," he explains.
For all that he is carefully monitored by the ECB, who have devised him a personalised training programme, Mills has no central contract. As such, when he is in T20 leagues around the world, Mills needs to manage himself. The possibility of conflict is obvious: what if, say, he is faced between playing a final without being fully fit, knowing that he could injure himself and potentially miss out on a lucrative IPL contract, or disappointing his teammates by pulling out?
"One thing I've learned with the injuries I've had and the limitations that I have with my cricket is I've got to train smart, and I've got to play smart, because I've got a limited amount of balls that I can bowl so I can't waste any."
It is fear of another debilitating injury, that makes Mills unwilling to try and play ODI cricket too. Given his talents and how batting-friendly ODIs have become, the prospect of him playing 50-over cricket - even if he could only bowl, say, seven or eight overs - must be a tantalising one for the England management, especially with the Champions Trophy in mind. But not, for now, to Mills himself. "I don't want to risk putting myself at harm again by playing a big block of 50-over cricket. The ramifications for me could be quite serious."
Yet Mills knows his fortune: a decade ago, before T20 leagues became ubiquitous, his back would probably have forced him into complete retirement. "I'm really grateful that I can still play, and still travel and still experience great things."
In his tale it is possible to observe, too, a harbinger of cricket's evolution, a world in which the best T20 players are increasingly specialists, and three-format masters become ever-rarer.
Join our new commenting forum
Join thought-provoking conversations, follow other Independent readers and see their replies