Welcome to Germany: The fastest growing nation in world cricket
The country is now the fastest growing in the cricket world and, if you remove the Netherlands from the equation, it now has more regular players than the rest of continental Europe combined
Tuesday 12 September 2017 18:48
comments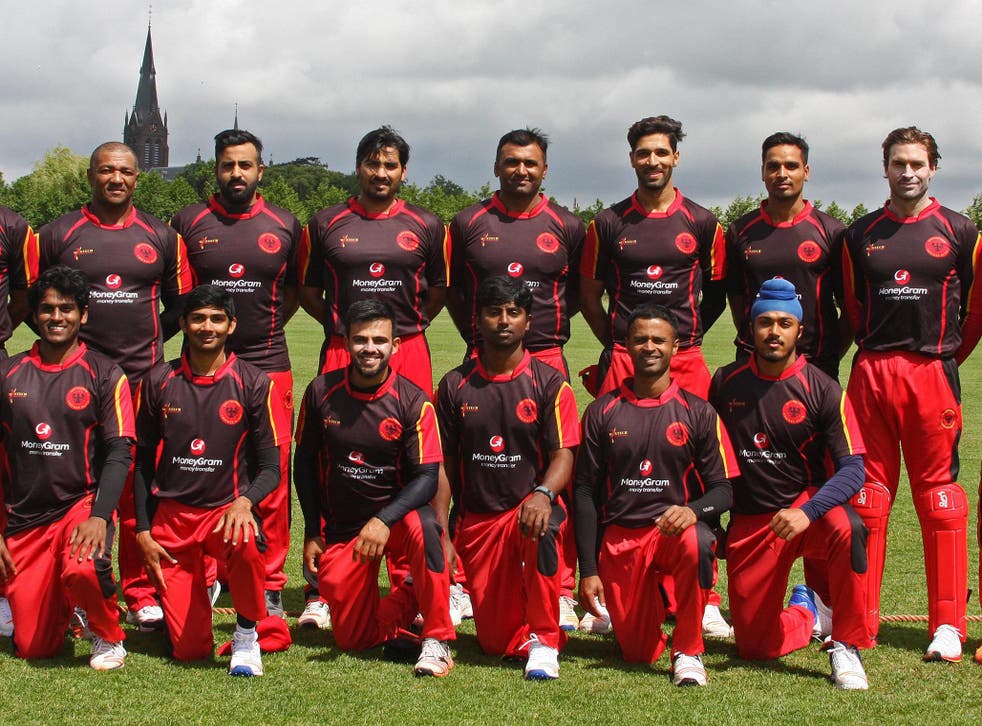 Germany's immigration explosion has captured more than its fair share of negative headlines over the past 18 months but, from a cricket perspective at least, the news gets more positive by the day.
The country is now the fastest growing in the cricket world and, if you remove the Netherlands from the equation, it now has more regular players than the rest of continental Europe combined.
This year, Germany won the European Division One tournament for the first time in its history and last week the country marked its return to Division Five of the World Cricket League after a nine-year hiatus with a one-wicket victory over Ghana.
Their involvement in the competition, held in South Africa, didn't last beyond the group stage, signalling their relegation back to continental rather than global cricket but, if recent trends are anything to go by, they'll soon be back.
Germany's burgeoning Afghan population has ensured that cricket participation rates in the country have soared – an unlikely by-product of an immigration influx that has polarised German society.
But while some in the country undoubtedly see these new arrivals through the prism of a half empty glass, Brian Mantle, the chief executive of the Deutscher Cricket Bund is raising his to a new generation of talent that could, investment allowing, carry Germany to a Twenty20 World Cup sooner than he could have possibly imagined.
"Germany is up to about 6000 participants playing hard ball cricket," he tells Independent Sport. "Then there are thousands and thousands playing softball cricket in parks and self-organised leagues.
"Around 95% of them are Asian immigrants and a lot of them are refugees but we've got more cricketers now than anywhere else on the continent – it's huge. We've gone from 60 clubs five years ago to around 370 this year."
The numbers themselves are impressive but what's even more remarkable is that Germany's rise as an unlikely cricketing power has come despite a desperate lack of facilities and investment.
"The big difference is that we don't have any infrastructure, we don't have any cricket history, we're playing on makeshift pitches and although the facilities are getting better it's still a big struggle," says Mantle.
"The locals are more intrigued than anything else. There has been a huge amount of interest from the press, last week even CNN ran a story on German cricket. It's a nice story about immigration which is obviously a departure from what we've seen in recent years."
An American network running a story about a cricket team in Germany is an incongruous combination but it's an indication of the tremendous impact that the country's newest immigrants have had on the sport's development.
Equally important, however, has been the impact that cricket has had on them.
"There are hundreds of young Afghans in their late teens – many of them fast bowlers and quite a few spinners – who are going to qualify to play for Germany in the next couple of years," says Mantle.
"There are almost 300,000 Afghans here now. In certain parts of that country, cricket was the only sport that was tolerated by the Taleban because you can't not tolerate something that everybody loves. They come over here and have nothing to do, they have no money and they have all this time on their hands.
"A lot of them didn't think you could get cricket bats here so they ended up getting loose pieces of wood and chiselled away at them until they had something resembling one.
"They then took them into the park and started playing with a taped-up ball. At the beginning, cricket was all a lot of these guys had.
"We get a lot of donations from the Lords Taverners and last week we received a delivery from Shropshire County Cricket Club. You give these guys old pads and a bat that's almost 20 years old and it's like all their Christmas's have come at once."
The sport itself hasn't been immune from criticism in certain sections of German society with some believing cricket isn't encouraging integration but is, instead, encouraging refugees to do something that they would be doing in their home country anyway.
"It's not much of an argument is it," says Mantle. "Cricket is hugely important to them in terms of getting them settled - we have to get these guys happy. If they're not happy then they have no chance of integrating."
In football-obsessed Germany, it seems the true spirit of cricket is alive and kicking.
Join our new commenting forum
Join thought-provoking conversations, follow other Independent readers and see their replies