World Twenty20 final: Crisis, what crisis? West Indies win over England is a triumph for the game as a whole
The match had so many elements of what makes cricket enthralling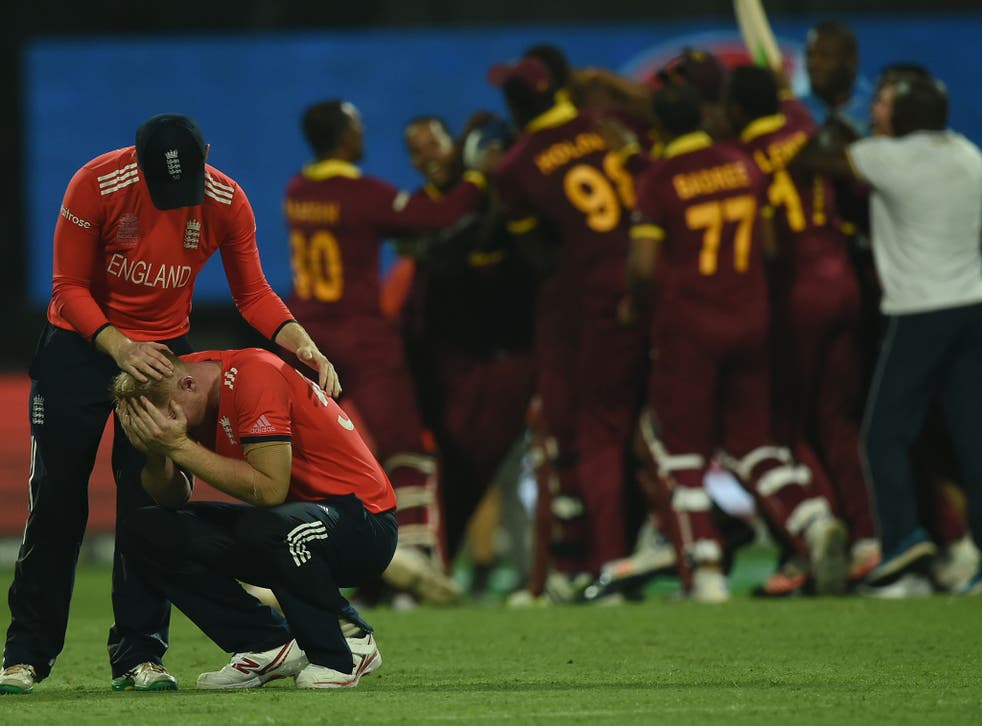 England's players will wonder for the rest of their lives how they failed to win the World Twenty20 on Sunday night. It will perhaps never be the remotest consolation that it required a stunning intervention in the last over of the tournament for West Indies to become the first team to be champions twice.
Four consecutive sixes by Carlos Brathwaite off Ben Stokes sealed an extraordinary victory. They had been kept in the match by the man at the other end, Marlon Samuels who played a coruscating innings of 85no. It was Samuels who played the decisive role when West Indies last won the title four years ago.
West Indian cricket is regularly cast as a basket case. Players are in constant dispute with officialdom and the recent past has been littered with arguments, both significant and petty.
Yet here is this disparate conglomeration of small nations utterly defying the conventional wisdom. The breath taking climax which saw them win the men's final by 10 wickets followed the triumph of their women's team earlier in the day against a highly fancied Australia. Earlier this year West Indies won under 19s World Cup. It is a spectacular way to deal with a crisis.
Braithwaite's wonderful hitting with the game seemingly in England's bag not only provided the most unexpected conclusion but was also a perfect advertisement for T20 as a form. The game will be recalled for as long as any thrilling Test match because it contained so many elements of what makes all types of cricket enthralling.
England, playing above themselves as they had throughout the competition, appeared to have overcome a frightful start. They lost a wicket to the second ball of the final to the mesmerising Samuel Badree, who has epitomised in the last three weeks why spin bowling still has an important place in the game. Before the PowerPlay was done they were three down.
But this side does not wilt and engineered largely by Joe Root, they hauled themselves back into the tie. Root is their stellar player and he was not done yet. It seemed that England's total of 155 was just short of what they needed and it was certain that they required early inroads.
Root was surprisingly but inspirationally given the second over (he had bowled a solitary over in the competition until then) and took two wickets, including that of Chris Gayle. It was the dream start and England played wonderfully for 19 overs. They were eager but disciplined and the run rate kept rising.
There was plenty of highly skilful bowling, especially from David Willey and Liam Plunkett. The last crucial death overs were rightly entrusted to Chris Jordan and Stokes. Jordan bowled a beautiful 19th over. West Indies needed 19 from the final over and since Samuels was not facing the pendulum swung further towards England.
While it was true that Stokes erred in his quest to bowl Yorkers, it was still a staggering display of powerful hitting. It is possible that Stokes was disconcerted by seeing the first ball hit for six, he was certainly stunned when the second was drilled down the ground.
West Indies are probably the second favourite team of most cricket followers because, partly you are never quite sure what you are going to get but also because they play with such dash. This was a superb triumph for the Caribbean region and while England will understandably never be convinced for the game as a whole.
Join our new commenting forum
Join thought-provoking conversations, follow other Independent readers and see their replies