Elinor Barker prepares to complete her education on the track
After sitting her A-levels and becoming a world champion, Welsh rider targets World Cup joy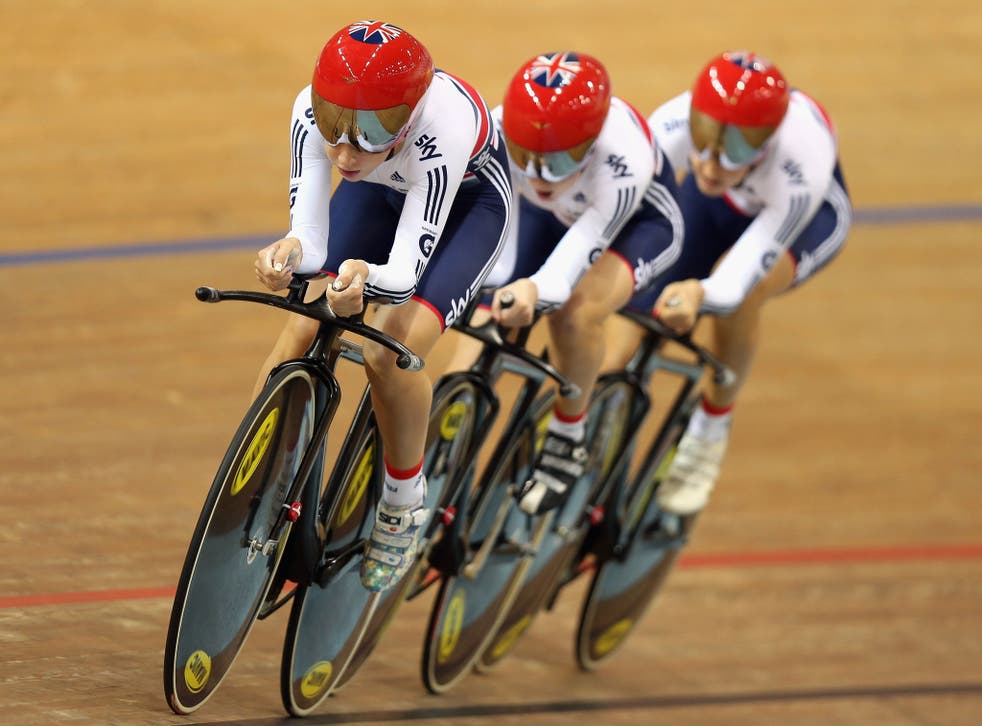 So, Elinor Barker: apart from becoming a world and European champion, a world-record holder, leaving school, passing your A levels with flying colours and leaving home for a new life as a full-time bike rider in Manchester, what have you done with yourself in 2013?
It was a year ago that Barker was hurried into the team pursuit line-up for the World Cup in Glasgow, added to the Olympic and world champions Laura Trott and Dani King after the third of the all-conquering triumvirate, Jo Rowsell, was forced out by illness. She took her school books with her and jumped in at the deep end.
"It was nerve-racking," says Barker of her team pursuit debut. She stood out in her GB colours – the first time she had worn them in the senior ranks – because her two team-mates sported the rainbow rings of world champions. "I was really nervous."
It did not show as she tore round the track, surfing the waves of post-Olympic goodwill from a noisy full house in the newly inaugurated Sir Chris Hoy velodrome. Those post-Olympic celebrations had taken their toll on King, and Barker had to ride an extra half lap on the front. Britain won and the new girl had made a splash.
A year on from that white-knuckle ride of a debut, tonight Barker goes in the World Cup in Manchester with the Olympic trio – the women's pursuit has been upped to four riders going four kilometres – sporting a rainbow jersey of her own. She is now an established member of the quartet, just about the surest thing in British sport if you want to put the mortgage on the right colour of medal.
"It's been pretty nuts," says Barker of her first year as a senior rider. She competed in the World Championships in Minsk while studying in between races for the looming exam season. Two As and a B followed a winning ride alongside Trott and King.
"In a way it was a nice distraction from the other, you never had time to get too stressed about one thing, but it was a lot to think about. Now I can concentrate just on cycling it's a much nicer feeling. I can put all my effort and thoughts into cycling rather than thinking I've got to go home and do an essay once I've finished training!"
A month ago, having turned 19 in September, she moved up to Manchester to begin full-time training at the velodrome that is home to Britain's best riders. When Trott made a similar move, leaving home to live on her own for the first time at the same age, she happily confesses she did not even know how to bake a potato. Barker laughs. "I can cook a potato," she says. "I can do the basic stuff – I can keep myself alive."
This weekend, in which she will also ride the points race on Sunday in the three-day event, is the next step on the road to Rio 2016 – not only for Barker but for all Britain's cyclists, with fierce competition for few places. Barker, one of a growing number of Welsh riders on GB duty, has the short-term aim of February's World Championships in Colombia, and a return to Glasgow at the Commonwealth Games, where if the schedule permits she may attempt to double up and compete in both the track and road events.
"There is a hell of a lot competition," says Barker ahead of what will be the British team's first international ride at their Manchester home since London 2012. "This time last year I was still a junior so everything was on a lower level. Everything is just bigger and faster. Everything's changed."
Friday's action
Men's team pursuit Reigning Olympic champion Ed Clancy leads a strong British quartet.
Women's team sprint Double world champion Becky James teams up with Vicky Williamson.
Women's team pursuit Laura Trott, Dani King, Jo Rowsell and Elinor Barker are the world champions and world record holders.
Men's team sprint Jason Kenny and Philip Hindes are reigning Olympic champions; Kian Emadi is the latest to try to fill a large Chris Hoy-shaped hole in the team.
Join our new commenting forum
Join thought-provoking conversations, follow other Independent readers and see their replies