Joanna Rowsell: Unsung cycling hero is now a British banker
Somewhat forgotten in Team GB's avalanche of track medals, the pursuit specialist carried on winning last year as others faltered. She tells Matt Majendie about her hopes for more success in this week's worlds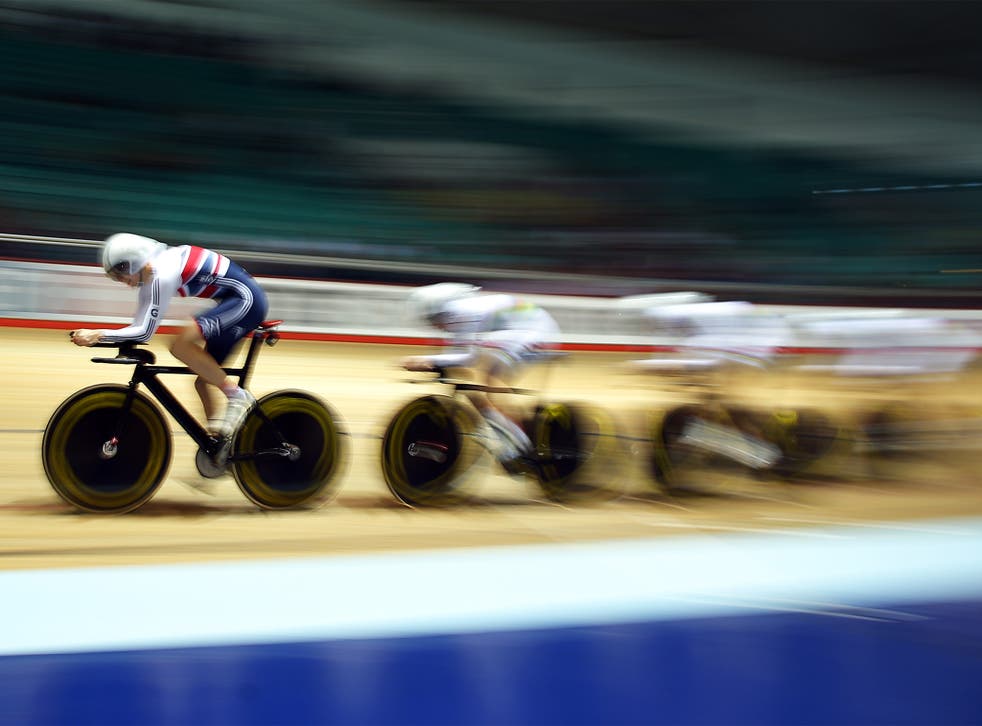 While fanfares have greeted a conveyor belt of British household names on the banked velodrome in Manchester in recent years – Sir Bradley Wiggins, Sir Chris Hoy and Victoria Pendleton – Joanna Rowsell has garnered barely a ripple of attention in comparison.
She is, to all intents and purposes, the unsung star of British track cycling despite the fact that, like the aforementioned trio, the 26-year-old has won everything imaginable on the track, including being a current Olympic, world, European and Commonwealth champion.
The British track team go into the World Championships in Paris this week with the spotlight on them as ever, the expectation being that they will sweep the board once more. Such an outcome has become customary, except for last year's worlds in Cali.
Then the team were derided by the head coach, Shane Sutton, the uncompromising Australian admitting Britain "had a scrap on their hands" to stay top of the table.
Lost amid all that was the fact that Rowsell, a two-time world champion in Cali in the individual and team pursuit, provided the sum total of GB's gold-medal haul at those championships in Colombia.
"Every interview was like 'what a disastrous world championships for Great Britain', but firstly it wasn't that bad and secondly I was like 'hey, I won two gold medals'," she recalls, not remotely embittered as she highlights the fact. "I personally couldn't have asked for anything better."
The women's team pursuit has virtually become a guaranteed gold at world level for Britain, such has been the line-up's dominance. But what was most impressive was the manner in which Rowsell won her individual gold, beating the great Sarah Hammer, a five-time world champion in the pursuit, by some margin, 1.2 seconds to be precise.
Lizzie Armitstead came into the British set-up at a similar time to Rowsell and the pair are good friends. It was Armitstead who introduced Rowsell to her now fiancé, Dan Shand.
"She probably doesn't get enough attention," is Armitstead's take on her former GB track team-mate. "She's phenomenally powerful over a short distance and very headstrong, and her work ethic and team spirit are incredible.
"People think she's old but she's still only 26 and she's been world champion every single time she's competed in the team pursuit except for the time I did it. Silvers follow me around so you can't blame Jo!
"But she's so good at switching her mind off and getting the job done, while I think I'm a more emotional rider. I need to engage a lot more with my surroundings and with other people."
Like Armitstead, Rowsell was spotted by British Cycling scouts while at school and came within a whisker of never getting involved in the sport at all.
She rarely if ever rode a bike growing up in London and was not even sure whether to attend the talent day when the scouts came calling. "They came with bikes handed to us on a plate," recalls Rowsell, back then an accomplished swimmer, "and we couldn't really say no. My competitive nature was just to race the other girls rather than see if I had potential."
In her first race – a BMX event – she came dead last and that, she points out, "was despite everyone else crashing and getting back on their bikes". In her second race – a time trial more befitting her obvious talents – she again finished rock bottom.
"So if at that point someone had come up to me and said I'd ride around a velodrome at full speed with no brakes on my bike, I would have just laughed at them."
The appeal of the individual pursuit was cemented in her psyche watching Wiggins ride to gold in Athens in 2004, and there is still a level of irritation that her best event was removed from the Olympic schedule.
So more often than not it is with other riders that Rowsell shares the podium, the exception being last year – the season of her career – with solo track wins in both Glasgow at the Commonwealth Games and Cali.
While she, like her team-mates, is happy to wax lyrical about London 2012, she admits: "My memories of Colombia are that it was the best victory of my career, particularly in the sense that it was not expected, although it was odd to be standing on the podium on my own."
Whether she can make a successful dual defence she has no idea, but looking ahead to both the worlds and the lure of the Olympics in Rio in 2016, she admits: "It will be difficult to top 2014."
The schedule plays to her strengths, with the individual pursuit following the day after the team event, which she insists suits how her body reacts to the whole process and recovers.
Whatever happens on the track, however, this will be a special year, with Rowsell due to tie the knot in July to Dan, a trainee accountant and a former cyclist who understands better than most the machinations of Rowsell's daily grind.
On reflection, the proposal was obvious – a trip away to Venice on what was their fifth anniversary together – but she did not have an inkling he was about to go on bended knee.
"It's hard to explain what he does for me but he's a massive help in my cycling career," she adds. "He understands the demands of the sport and the mechanical side of things."
But before the wedding bells ring out, Rowsell's focus is on the lap bell inside Paris's Vélodrome de Saint-Quentin-en-Yvelines.
World Championships moved for Six Nations
The 2016 track cycling World Championships in the former Olympic Velodrome in London will now take place from 2 to 6 March.
The original scheduled dates of 24 to 28 February had to be amended to avoid a clash with rugby union's Six Nations. It is the final World Championships prior to the Rio Olympics.
Join our new commenting forum
Join thought-provoking conversations, follow other Independent readers and see their replies