Lizzie Armitstead convinced Marianne Vos is vulnerable in world duel
Armistead hoping to follow in Sir Bradley's tyre marks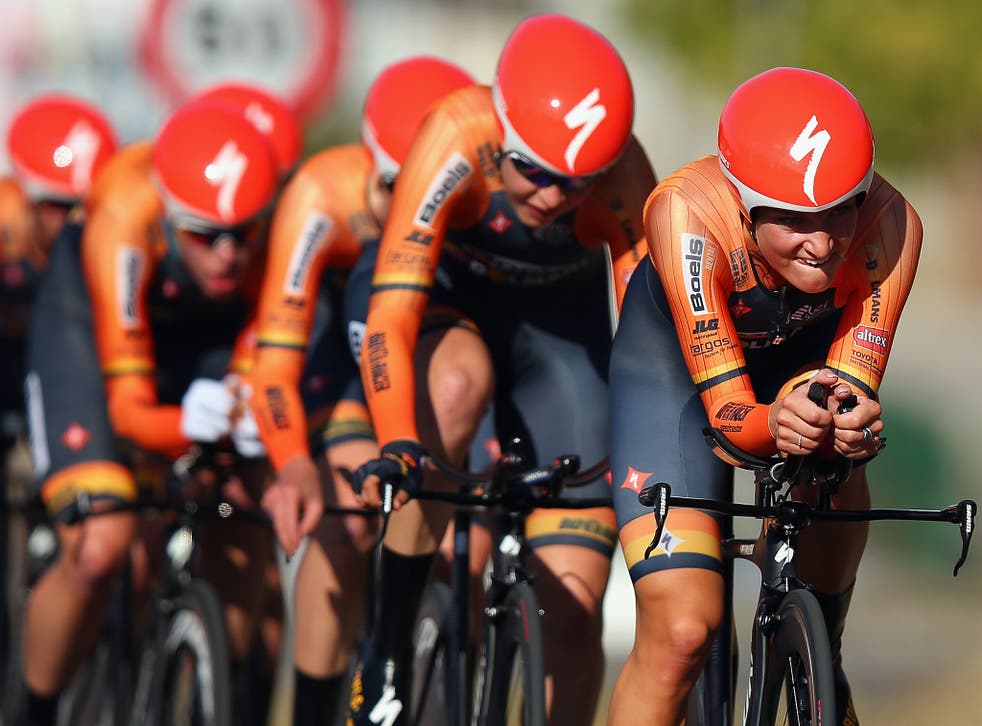 Following Sir Bradley Wiggins' triumph in the World Championships time trial, Yorkshire's Lizzie Armitstead will be gunning for more British success in the women's road race – and like Wiggins, a victory would mean toppling a giant of the sport.
Wiggins managed to beat three-times defending champion Tony Martin of Germany, but Armitstead's mission is arguably even more arduous: to conquer the Netherlands' Marianne Vos, winner of the women's race for the past two years, and a silver medallist on no fewer than five previous occasions.
Given the extent of her successes so far this year – victory in the World Cup series including the Ronde van Drenthe round, a devastating solo win in the Commonwealth Games road-race – Armitstead would be perfectly justified if she took her World Championships bid a little lightly.
But instead, the Yorkshirewoman is convinced that she has a real chance of victory in today's hilly 127.4 kilometre course, particularly with Vos – as Martin was on Wednesday – recently suffering from uneven form.
"Normally you come to these interviews and say 'yeah, yeah, I can do it [win the race] but you don't really believe it," the 25-year-old from Otley said earlier this week. "However, I actually believe it this time."
Nineteenth last year in the World Championships in Florence, Armitstead's best placing to date in a race considered the high point of the women's racing calendar is seventh in 2011.
If August's Commonwealth Games victory is much fresher in everybody's memory – including hers – it is also hard to forget her Olympic road-race silver medal, taken in a deluge on The Mall in 2012. Both two years ago in London and today in the town of Ponferrada, in one of the most remote regions of northern Spain, Vos will be her main rival. In the Olympics the Dutchwoman overpowered Armitstead, but this time round the British team leader feels that the World Championships could be a different story.
Asked if a weaker Vos was a boost to her motivation, Armitstead responded "definitely."
"To win a World Championships you've got to beat the rest of the world, but you have got to beat Marianne Vos, unfortunately. She is the one to beat and her form hasn't been great the last couple of weeks."
"I don't think it's a show like some people have suggested. She's genuinely not in her best shape."
"I'm not going to base my race around Vos, but I'm certainly not going to take my eye off her, because she's someone who can win World Championships."
Whilst Friday's road-racing ended with Britain's riders well out of the medals, the World Championships final event on Sunday is the men's road race.
The all-rounder Ben Swift, who like Armitstead hails from Yorkshire, will be Britain's protected rider: for cycling fans in "God's Own County", it could, then, be quite a weekend.
Join our new commenting forum
Join thought-provoking conversations, follow other Independent readers and see their replies