British Cycling sexism claims: Victoria Pendleton and Nicole Cooke support former team-mate Jess Varnish
Varnish was cut from British Cycling's podium programme and she claims she was told by technical director Shane Sutton to 'move on and get on with having a baby'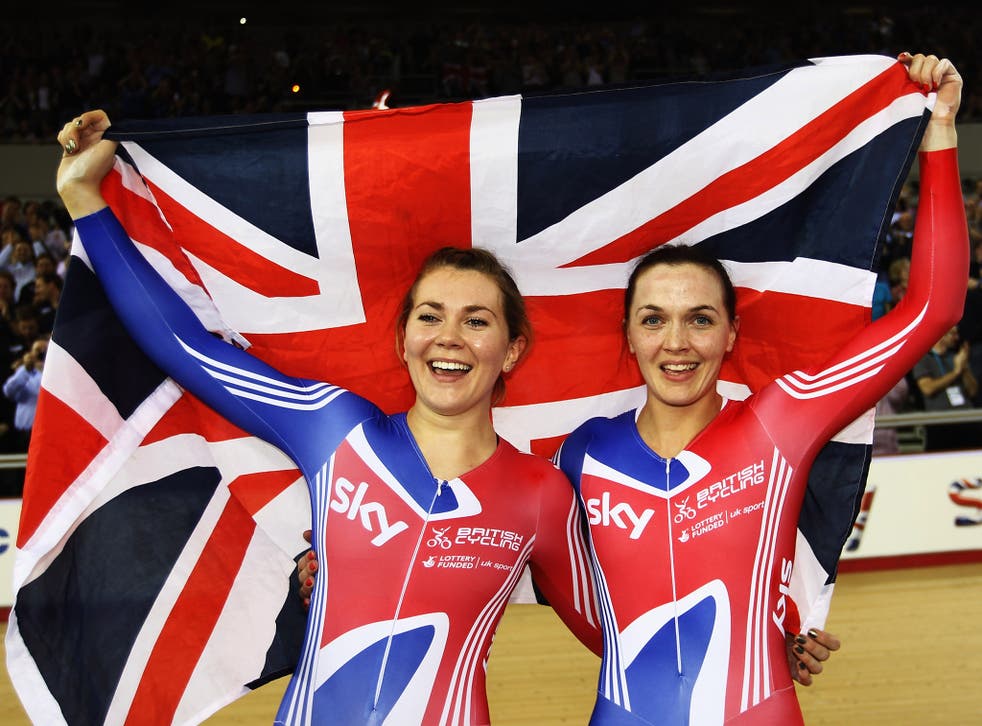 Olympic gold medallists Victoria Pendleton and Nicole Cook have supported Jess Varnish's claims that there is sexism high up in the ranks of British Cycling.
Varnish, 25, was controversially axed from the GB team earlier this month and over the weekend alleged she experienced sexism while competing and training. She alleged to the Daily Mail she was told to "move on and get on with having a baby" and was "too old" by Shane Sutton, technical director at British cycling. Sutton has said he "wholeheartedly" denies the claims and British Cycling maintain Varnish's career was not renewed on performance grounds.
Varnish also alleges that she was told by Sutton she could not change from position one because her "arse" was too big.
Pendleton, who retired from the sport in 2012 after becoming the most successful British female Olympian, said that she "wholeheartedly believes" her former sprint team-mate and admitted that she "would not be able to live with myself" if she did not support Varnish's claims.
"I have never spoken out before," Pendleton told The Telegraph. "But I have to do it now. I would not be able to live with myself if I sat back and let people try to discredit [Varnish's] character. Not when I wholeheartedly believe her. My experiences [at British Cycling] were very similar. And I know exactly how miserable they made me."
Pendleton also explained her belief that there is a clear gender divide among British cycling, which, she says, is wrong given the equal split in male-to-female athletes that represent Team GB.
"I never really felt I had the same respect as my male team-mates," Pendleton added. "My opinion wasn't worth as much. I used to sit quietly in meetings and not say anything as I knew my opinions would be disregarded. And that's after I had become Olympic champion and multiple world champion.
"You have to wonder why there isn't a single woman in a position of leadership in the organisation," she adds. "If there's a 50-50 split in terms of athletes, why isn't there in terms of staff? Although that's something that needs to be addressed in sport as a whole."
Sutton issued a statement last weekend to deny that he "said or did anything other than act with complete professionalism" in dismissing Varnish from the programme, and said that the decision had been taken solely due to the 25-year-old failing to "justify retaining a Lottery-funded place on the podium programme as an athlete with medal potential in this Olympic cycle or the next."
The uproar started after Varnish and Katy Marchant failed to qualify the women's team sprint for Rio 2016 after finishing fifth at this year's World Championships, with Varnish speaking critically of British cycling's decision not to run their best pairing throughout qualifying for the Olympics.
Pendleton went on to criticise British Cycling's hard-line approach and admitted that, in her opinion, she underperformed at London 2012 – where she won gold in the keirin, silver in the individual sprint and was disqualified from the team sprint alongside Varnish – due to a lack of support that is missing across the whole of the British roster.
"Of course they'll say, 'Oh it's just sour grapes' and, 'Get over it, we get results'.
"But how wrong is that? Just think how good it could be if you felt supported. We are all totally committed as elite athletes. To think that pushing people around and bullying them is the best way to get results out of them is just ­ludicrous.
"I resent the fact that I failed to perform in London [disqualified in the team sprint with Varnish, silver in the sprint and gold in the keirin] because I didn't feel supported by a few individuals.
"Don't get me wrong, there are some fantastic people who work at British Cycling who kept me together; who were there when I was struggling with it all. They were walking the same tightrope in many ways, because if you do speak up your days are numbered."
Cooke, who won Olympic Road Race gold at Beijing 2008, has also criticised British cycling and revealed a culture of gender inequality – not just in Britain but in cycling as a whole. Writing in The Guardian, Cooke said: "Hypocrisy and double standards in respect to gender are ingrained in cycling and many other sports but this is hidden in reports of events. I am often asked, how can it be stopped? Athletes with their Olympic dreams on the line are never going to be the source of information on ill treatment by those whose responsibility it is to select or administrate."
Cooke goes on to identify examples that show the split between the two genders. British Cycling commissioned the McLaren Formula One Team to develop top of the range bikes for not just the male cyclists but also their reserves for London 2012, yet these were not made available for the leading female medal hopefuls.
There was no pre-London 2012 road race event for the women like there was for the men, and both the women's team sprint and individual time trial – which Varnish competes in – are shorter in distance than the male races.
Join our new commenting forum
Join thought-provoking conversations, follow other Independent readers and see their replies