Women cyclists face an uphill climb to attract sponsors
An event featuring some of the biggest names in the sport is struggling to find funding. Is it because the riders are female?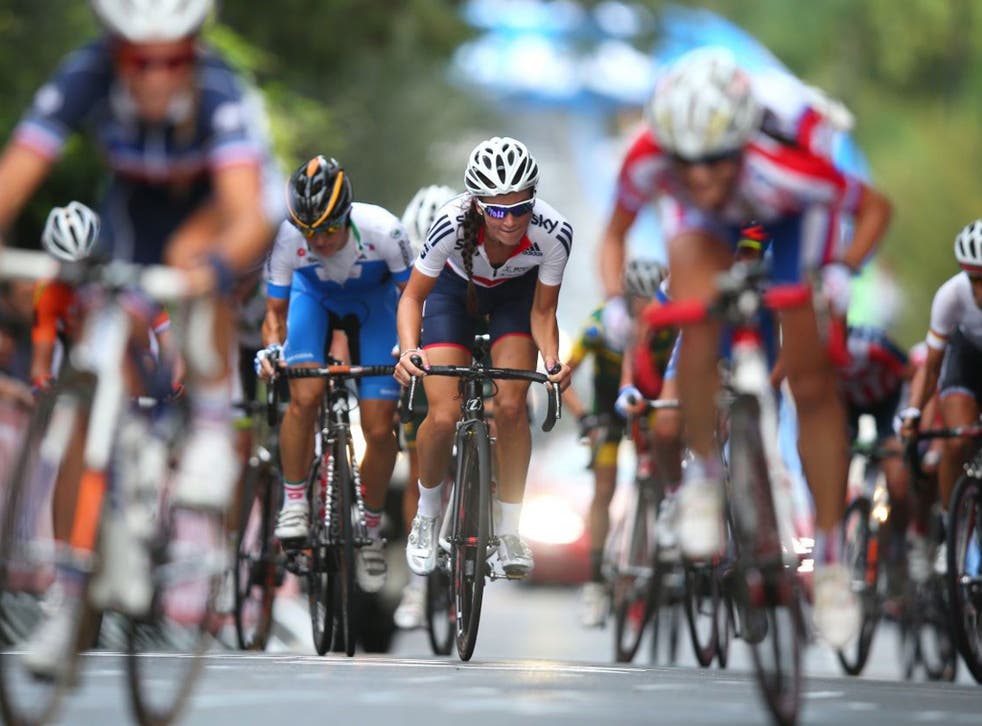 A women's cycle race with the most prestigious line-up of female riders ever to compete in Britain has failed to secure a single sponsor after searching for more than four months.
The Women's Tour, which is scheduled to go around England for five days in May, already has the International Cycling Union (UCI), local authorities and a terrestrial broadcaster on board. But, when it comes to pinning down any corporate sponsors, organisers say they are "hitting a glass ceiling".
The case is a dramatic illustration of the gulf in funding between men's and women's sport. Only 0.5 per cent of sponsorship money in Britain goes to women's sport, despite the success of female athletes in this country.
Some of the rebuffs from major brands – all of whom have stringent equal opportunities policies – have been startlingly blunt. The responses reported by organisers have included: "We don't believe anyone is interested in women's sport" and "we focus our sports investment on men". Others have simply said, "We don't believe there's a market." The most common was simply that the event was "not quite right" for the company.
The elite international stage race is the first to be held in Britain for women and will attract the best talent in the world, including Olympic and World Champions. Held from 7 to 11 May, it is already over-subscribed as national teams vie to take part.
The sponsorship knock-backs are particularly galling for organisers as they come at a time when public interest in cycling – and particularly women's cycling – continues to soar in the wake of Britain's Olympic medal haul. The golden finishes of Team GB stars such as Laura Trott, Sarah Storey and Victoria Pendleton have helped the nation fall in love with the sport.
Yet none of the 300 leading companies approached for support since the summer have shown sufficient interest to sign a deal, despite many being in the FTSE 100, with a track record of sponsoring big sporting events. Among those who have declined or ignored the opportunity are large corporations in the sports, energy, health food, finance, pharmaceutical and fashion industries. A few are still considering the opportunity, but none has been prepared to make a commitment.
The Independent on Sunday has seen a list of the companies who were approached, but organisers did not want to publish them for fear of alienating other sponsors from coming forward.
Ruth Holdaway, chief executive of the Women's Sport and Fitness Foundation, said: "It's a shame that commercial sponsors haven't woken up to the opportunity to support women's cycling, which would allow them to reach the many sports fans that will tune in to watch the world's best female riders compete.
"After the success of the Olympics it would be a massive lost opportunity if women's cycling isn't given the focus and investment it needs to develop even further."
The race, to be broadcast on ITV4, will go through the East Midlands, East Anglia and south-east England. It is the first women's cycling event that will offer absolute equality in prize money, with the victorious rider expected to receive £50,000 – equivalent to a men's elite five-day race.
Councils have already underwritten £500,000 in funding for the event, which they hope to win back through local sponsors. But to make the race happen, another half a million pounds is needed, with organisers hoping for yet more.
The remaining money is expected to come from several sponsors, but the sums being requested for brand promotion on jerseys, stages and gantries are paltry compared with those achieved in men's sport.
Sky is understood to pay upwards of £10m for its cycling team, while Manchester United's sponsorship deal with General Motors is worth an estimated £51m a year; Vodafone's backing of Formula One adds up to around £40m.
Guy Elliott, the director of the tour's organiser, SweetSpot, said: "We've been overwhelmed by the support and immediate buy-in from councils and broadcasters, but when it comes to finding sponsors we have found we are hitting a glass ceiling. It has surprised us how much more difficult it has been to find corporate sponsors – and that comes from a position of having been highly successful in attracting sponsorship from a wide variety of sources for men's professional cycling over the last ten years.
"Almost every potential sponsor we speak to says they love the concept of the event, they believe in the wider social agenda and 'it is the right thing' to do – yet getting them to cross the threshold from sponsoring just men's sporting events has proved both tough and disappointing.
"A few have also come out with 'stereotypical' adverse comments, but they are generally in the minority."
Join our new commenting forum
Join thought-provoking conversations, follow other Independent readers and see their replies