The 10 most exciting Champions League players of 2015/16 revealed
Lionel Messi fails to make top three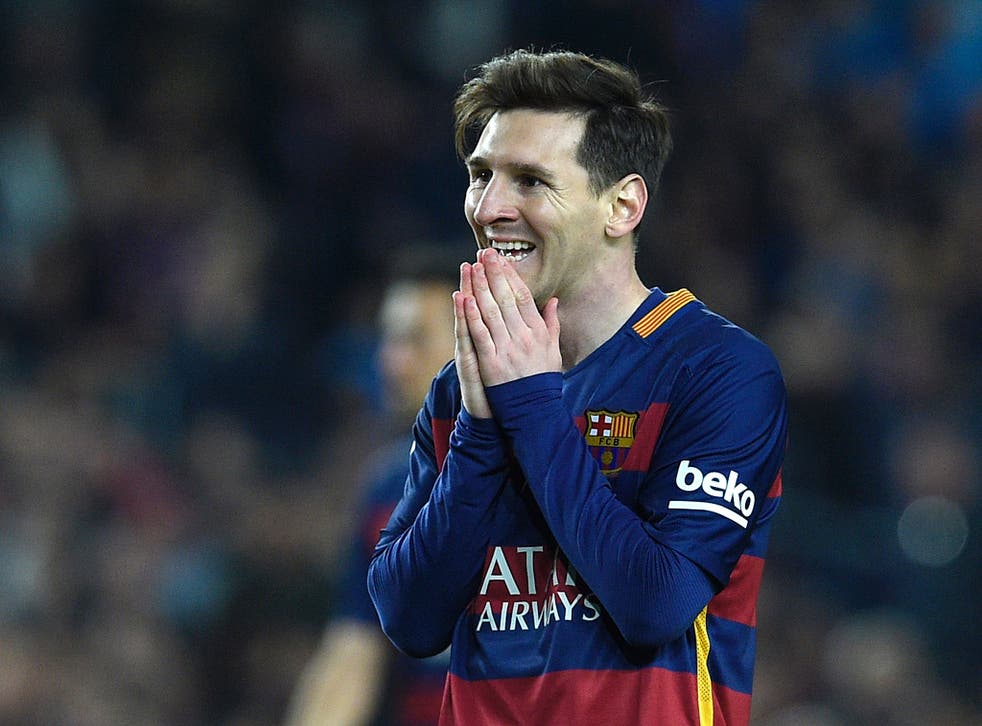 Lionel Messi's performances this season have not done enough to see him included among the three most exciting players to watch in the 2015/16 Champions League, according to research.
The Ballon d'Or holder was a part of the Barcelona side knocked out of the competition by Atletico Madrid at the quarter-final stage.
Messi came out fourth in the research conducted on behalf of Nissan, the Official Global Automotive Sponsor of the Uefa Champions League. The top 10 list of most exciting players according to Opta statistics is headed by Cristiano Ronaldo who will be lining up in the final at San Siro this weekend. That the Real Madrid tops the list is perhaps unsurprising considering his 16 goals in the competition this season. Messi's Barcelona team-mate Neymar was second with fellow Brazilian Hulk, of Zenit St Petersburg coming third.
Two Premier League players made the list, with Arsenal forward Alexis Sanchez considered the fifth most exciting player and Chelsea midfielder Willian coming eighth.
The stand-out player from Atletico Madrid, who will contest Saturday's final in Milan, was Antoine Griezman.
10 MOST EXCITING PLAYERS OF THE 2015/16 CHAMPIONS LEAGUE
1. Cristiano Ronaldo (Real Madrid)
2. Neymar Jr (Barcelona)
3. Hulk (Zenit Saint Petersburg)
4. Lionel Messi (Barcelona)
5. Alexis Sanchez (Arsenal)
6. Luis Suarez (Barcelona)
7. Antoine Griezmann (Atletico Madrid)
8. Willian (Chelsea)
9. Javier Hernandez (Bayer 04 Leverkusen)
10. Nicolas Gaitan (Benfica)
Research by Nissan also revealed the five most exciting moments of the tournament so far. In partnership with sports science experts at Loughborough University the Nissan Excitement Index was created. Data analysis of fans' physiological responses to matches, such as percentage increase in heart rate, breathing rate and electro-dermal activity, revealed that Thomas Muller's equaliser against Juventus to tie the game at 2-2 and take it to extra-time has been the stand-out moment. Among the other top five moments are three from Chelsea's Round of 16 exit at the hands of PSG. The other was Ronaldo's second and equalising goal against Wolfsburg as Real Madrid came back from a 2-0 first-leg defeat to advance to the semi-final stage of the tournament.
FIVE MOST EXCITING MOMENTS OF THE 2015/16 CHAMPIONS LEAGUE
1. Bayern Munich's second and equalising goal (vs. Juventus)
2. Paris Saint-Germain's first goal (vs. Chelsea)
3. Real Madrid's second and equalising goal (vs. Wolfsburg)
4. Chelsea's first and equalising goal (vs. Paris Saint-Germain @ Parc des Princes)
5. Paris Saint-Germain's winning goal (vs. Chelsea)
"As soon as our survey revealed that Europeans saw football as more exciting than sex, we knew we had to explore why, and that's where the Excitement Index was born," explained Jean-Pierre Diernaz, vice president for marketing at Nissan Europe. "Now the programme will culminate in Milan, with two of the most exciting teams in world football going head to head."
The final between Real Madrid and Atletico Madrid kicks off on Saturday at 7.45pm BST with football fans hoping the game at San Siro can add to the excitement factor of this season's Champions League. The above graphic shows an 'exciting XI' drawn from the finalists based on Opta statistics from the season so far.
Join our new commenting forum
Join thought-provoking conversations, follow other Independent readers and see their replies