Arjen Robben flips at Mario Gotze as Bayern Munich ignore political pressures to go on money-spinning trip to Qatar
The German champions are spending their winter break in the 2022 World Cup host country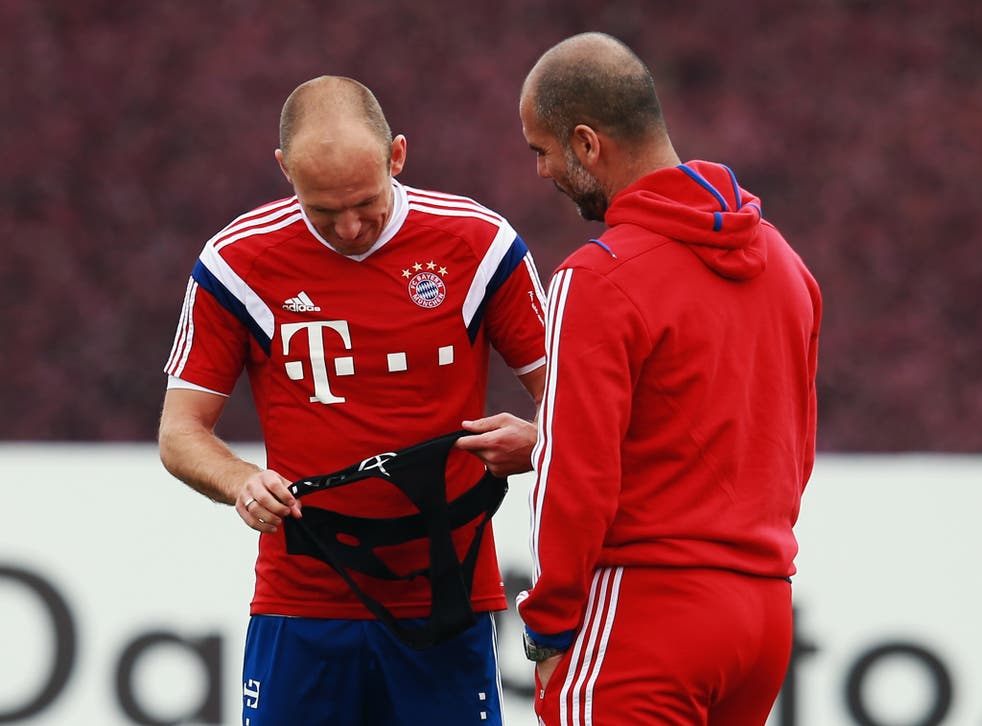 Arjen Robben was visibly annoyed. During a shooting drill at Bayern's training camp in Doha on Monday, Robben just couldn't put the ball in the net. The crosses he was receiving from Mario Götze either flew over his head or landed two yards in front of him. Eventually, he flipped. "That's it. I'm going inside. Bye. See you tomorrow" he moaned at Götze.
The Dutchman was persuaded to stay, and Götze quickly improved the quality of his assists. The balls started hitting the net, and Robben's little tantrum was forgotten. But it remained notable: not only because the Bayern winger is usually so laid back, but also because the training camp in Doha is usually such a Utopian environment.
This is the fifth year in a row that Bayern have spent their winter break in Qatar, and every time they travel, the club falls over itself in a bid to tell the world just how wonderful the Gulf state really is. This time, it was Matthias Sammer and Karl-Heinz Rummenigge who led the line: "the conditions in Doha are simply fantastic", they both crowed.
Everything is laid out for the German champions when they travel to Doha. The heat is – in the winter months – agreeable, the accomodation more than five-star, and the training facilities almost fantastically extensive. Birdsong is even pumped through the speakers in order to make the atmosphere more pleasant.
"We've been to Qatar for the last few years, and the last few years have seen quite a bit of success, haven't they", remarked Sammer, "why would we change a winning formula?".
The question is to be answered with another. How can people like Rummenigge, who have spoken out to some degree against a World Cup in Qatar in 2022, defend Bayern's endorsement of the country when they are fully aware of the human rights issues for which it is perpetually attacked?
The answer to that question lies in football's tendency to indulge in willful ignorance when it comes to political controversy. Bayern's honorary President Franz Beckenbauer once even went so far as to snark, "People shouldn't make judgments about a country they've never visited. I've been to Qatar many times and I've never seen a single slave".
If Beckenbauer's defence of the country is the most crass, he is certainly not alone in his cynicism. Chief-executive Rummenigge was fined €250.000 in 2013 for failing to declare to customs two gold Rolex watches he had brought back as gifts from Qatar. Presumably these trinkets from Bayern's wealthy hosts were all part of the "fantastic conditions for football".
And then there is Pep Guardiola. Dapper, reserved, charming Pep Guardiola. Football's answer to Obama. A man who not only towers intellectually above his footballing counterparts, but is also moral and caring enough to be engaged in Catalonia's fight for independence. That same Pep Guardiola has retained the links to Qatar which he established while playing there at the end of his career. Those links led him to be an ambassador for the country's World Cup bid, and allegedly played a huge role in Barcelona's controversial and tragic decision to finally put commercial sponsorship on their shirts a few years ago.
It was Guardiola who cast the crucial vote at Bayern on whether to go to Qatar again this winter. His opinion was never in doubt. The friction between Guardiola's public image and the millions of pounds he has earned from his Qatar links is for many increasingly difficult to overlook. In an interview with Die Zeit last year, Bayern fan and German philosopher Wolfram Eilenberger referred to the Catalan as an "ethical bottler", and called him "morally unbelievable". For Eilenberger, Guardiola is betraying his intelligence by wilfully ignoring the issues around the Gulf state.
To truly damn Guardiola's morality would require more knowledge of the exact contracts he has with the Emirate. But many fans of both Bayern and Guardiola would at least welcome a more open, discursive approach to the topic of Qatar. Guardiola's main defence is that he "is not informed enough". It is, in Eilenberger's words, "a laughable excuse".
Equally irritating is the fact that Guardiola has complained before about his team having to embark on tours of the USA or China for marketing reasons. And yet the trips to Qatar are hardly different. Bayern are there on the invitation of Volkswagen, who indirectly sponsor the club through subsidiary company Audi. They invariably set up heart warming PR moments with local fans, thus extending their fanbase ever more, and selling ever more shirts. However good the conditions may be for football, the Qatar trips are still ostensibly about money.
Money, after all, controls top level football. But is there no way out? No way even to soften the blow of having Germany's biggest club – and their third biggest, for Schalke are also in Qatar this month – endorse one of the most controversial countries in the world?
Amnesty International's Regina Spöttl thinks so. Speaking about Bayern and Qatar to Die Welt this time last year, she argued that a boycott would, in any case, be useless. "If the clubs want to use the training facilities, that's fine," she said, "we'd ask only that the players and staff don't walk around blindly, that they try and inform themselves about the country. The clubs can be very powerful in this regard".
Spöttl's argument certainly seems more reasonable than simply pointing the finger and damning Bayern and their sponsors to hell. The likes of Thomas Müller, Manuel Neuer and co. are intelligent enough to make their own judgements about Qatar, and to then contribute to a constructive discourse. Pep Guardiola is certainly intelligent enough.
But they won't. Because, like Beckenbauer, the Bayern players won't be shown any of the appalling working conditions. They won't see any slaves. They will carry on training for the next week, fly to Saudi Arabia for a friendly, and then make their way back to Munich. Then, it will be goodbye to Qatar for another twelve months, and the controversy will blow over once more. It will be back to football, a form of escapism so brilliant it can distract from even the worst of crimes. Particularly from those in which it has its own role to play.
Join our new commenting forum
Join thought-provoking conversations, follow other Independent readers and see their replies