Arsene Wenger should leave Arsenal this summer, but in practical terms that is impossible
It feels like the Frenchman can't take the club forward on the field but his role is so structurally important to the club that a proper transition of power will be needed when he walks away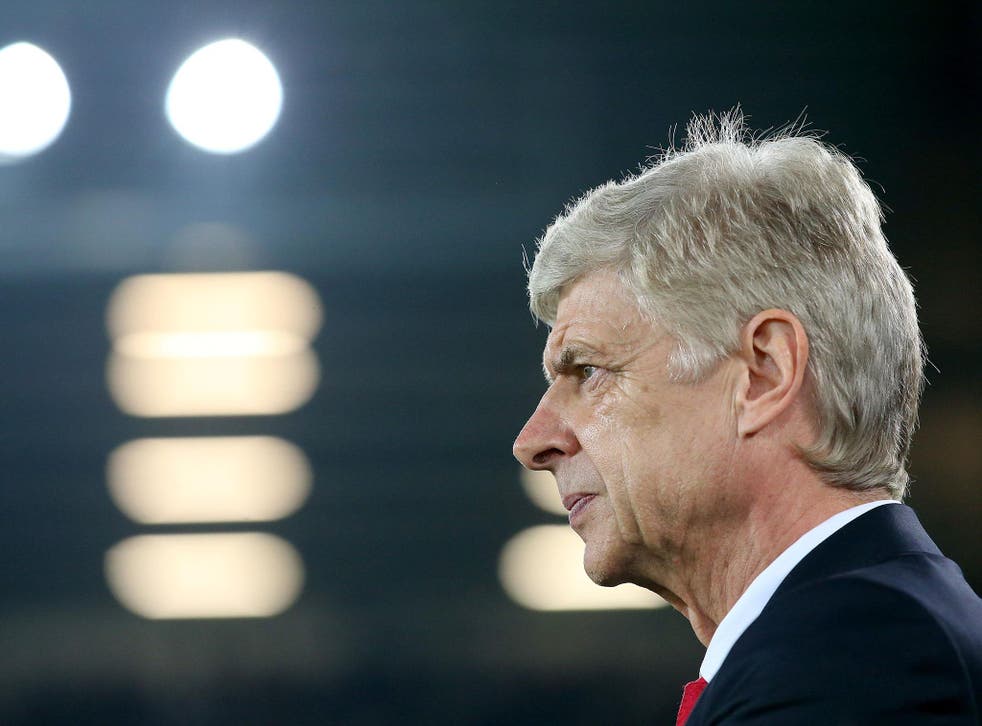 It appears clear now, on the back of another failure to sustain a Premier League title challenge and staring yet another meek Champions League exit blankly in the face, that Arsene Wenger's time at Arsenal is on its last legs. Or, at least, it should be.
There could have been no more typically Wenger defeat than this capitulation against Bayern Munich, at least not since Sir Alex Ferguson walked away into the sunset.
How Arsene must dream of retiring in the same fashion as his old adversary, afforded warmth and tribute as he is paraded out of the front door with a stand or a statue bearing his name. Perhaps an FA Cup win might give enough ceremony to make it a fitting farewell. Maybe a recovery from this season-ending dip will improve Arsenal enough to see him applauded out at the end of the campaign.
But now that all seems so impossible to imagine, and yet Wenger can't leave Arsenal - not now, not this summer.
Speak to people at Arsenal and it becomes abundantly clear how omnipotent and omniscient Wenger is. The Frenchman's role is more akin to a founding partner and CEO, signing off the most minute of details and knowing every aspect of operations simply because it was he who put them into place in the first instance. Replacing that can't simply happen overnight.
Arsenal, on an institutional level, need time to manage the devolution of power from one 67-year-old man to a number of successors in different roles. The ideal scenario would surely see Wenger stay in a senior post to lend a helping hand but he would need to tread a very delicate line with the new head coach replacing him on the touchline. Yes, Wenger could be the man to oversee recruitment and the philosophy of the club but then you are limiting the sort of coaches you can bring in. Not every potential candidate will want his predecessor lurking in the offices of the Emirates Stadium or stalking the touchline at training.
Bayern 5 Arsenal 1 player ratings

Show all 22
In theory there is a perfect marriage somewhere with Wenger moving upstairs and a young coach underneath him. Human emotions and egos, however, have put paid to the very best of theories in football.
Whispers emerged from the club with great haste on Thursday - the morning after the night before - and the conclusion was that there is no conclusion. Wenger and Arsenal will wait until the end of the season to decide. He reportedly told German broadcaster ZDF that he will decide sooner than that.
Both remain too late to take the club forward in a cohesive fashion. Plans would need to be in place already and the heirs to the multiple thrones would already need to be assimilating facets of Wenger's role. As of last week, those close to Wenger said not even the man himself knew if he'd be staying or going, so how can the process of moving forward begin?
Because that is where this all ends.
Arsenal are no longer moving forward, they are stuck in a rut. Finishing in the top four every year and progressing to the Champions League knockout rounds every year is a rut that many teams would kill for but it is a rut no less. A stalling of progress.
For the sixth season in a row, the Gunners enter the second leg with a 0% chance of qualifying - based on historic results in the competition. For all Wenger's many talents, he is clearly and obviously unable to take this team forward in continental competition. A new coach is needed to make this happen.
The result in Munich hurt everyone involved with the club for so many reasons; because it feels like the end, because it was against a familiar foe that they just can't crack but also because each of the four goals conceded in their second-half capitulation all seemed to showcase a different element of Arsenal's fundamental, ingrained flaws.
First the sloppiness defending down the flank, allowing Bayern to double up on Kieran Gibbs and set up an overlap. For the next goal it was Shkodran Mustafi's lapse in concentration. Then a pitiful lack of authority from Arsenal's central defence in their inability to clear their lines before they lost the ball insisting on playing out from the back, conceding a fifth goal that, in completing the rout, summed up their softness. It felt like Arsenal and any semblance of resistance or pride had melted.
Indeed, the closest Alex Oxlade-Chamberlain will ever get to replicating Alexis Sanchez's contributions for Arsenal came when he had a second-half hissy fit as Bayern Munich rounded him with a couple of simple passes. He was likely expecting his teammates to join him in pressing Bayern but the team showed little sign of following orders or reason after half-time. It was such a tragicomic display that Wenger's demise had to be the talking point, as it will be for the rest of this campaign.
And yet, as discussed, the practicalities of Wenger's departure appear too complicated, too impossible to enact this summer.
Maybe Wenger has better luck next season, breaking his round-of-16 curse in his final season at the helm. For if this was his final European tie as Arsenal manager then it leaves us in the curious place where many questions were answered about Wenger's capacity to continue improving this team but many more were posed about how this great football club can move on institutionally.
Register for free to continue reading
Registration is a free and easy way to support our truly independent journalism
By registering, you will also enjoy limited access to Premium articles, exclusive newsletters, commenting, and virtual events with our leading journalists
Already have an account? sign in
Register for free to continue reading
Registration is a free and easy way to support our truly independent journalism
By registering, you will also enjoy limited access to Premium articles, exclusive newsletters, commenting, and virtual events with our leading journalists
Already have an account? sign in
Join our new commenting forum
Join thought-provoking conversations, follow other Independent readers and see their replies