Atletico Madrid v Chelsea: Fernando Torres receives warm welcome back to Vicente Calderon ahead of Champions League semi-final
Sam Wallace
Tuesday 22 April 2014 18:36 Comments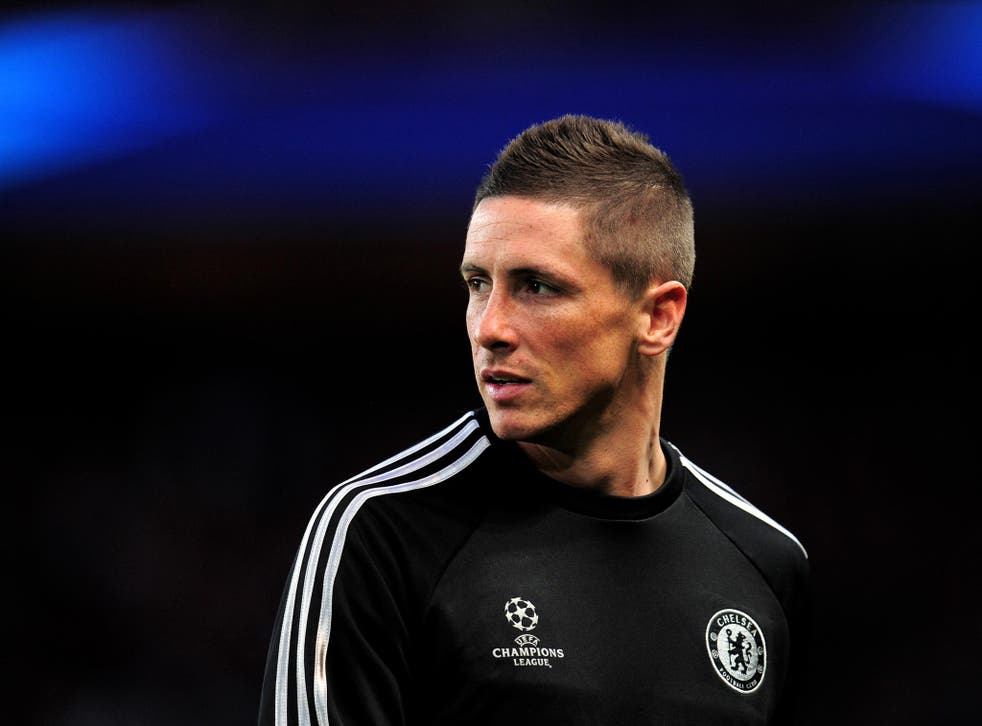 If he was in any doubt about his popularity back in his hometown then it took just a few moments after his arrival at Barajas airport today to put Fernando Torres' mind at rest. He was mobbed by around 100 Atletico fans who were delighted that, even as an opponent, the prodigy who left almost seven years ago was back at the Vicente Calderon.
Of course, Atletico have come a long way since Torres departed for Liverpool with a reputation as one of the most lethal strikers in European football. As for the man himself, he too has gone on to bigger and better: a World Cup winner, twice a European champion with Spain, a Champions League and Europa League winner as well as an FA Cup with Chelsea. Although there is no denying that things have been harder for him in recent years.
Torres can always be assured of a warm welcome at the club he made his debut aged 16, and was captain by 21. He stayed longer than most expected and even the uncompromising Diego Simeone, with a new haircut that makes him look like an escapee from a Mexican prison gang, and a countenance to match, could not be anything but generous about Torres.
"Fernando is a lad who loves his club a lot and loves the people of the club too," the Atletico manager said. "He has great memories and always follows closely what is going on at this club. He knows perfectly well that if he plays it's normal that our fans will not be with him when the game starts ... which is logical as we will be competing.
A guide to the Champions League semi-finalists

Show all 4
"But before kick-off and after the final whistle he will have the ovation he deserves. Because this is his home and he is one of us. I hope fans will welcome him as they did in Monte Carlo [for the European SuperCup last season] before and after the match – in the best way possible. He is a lad who will always belong to Atletico Madrid wherever he may be playing."
All very pleasant, but it was the attitude from the other manager on parade that was more unexpected and has a bearing on whether Torres will feature on his return to the Vicente Calderon on Tuesday. Mourinho is never anything but lukewarm about the £50m man but without the injured Samuel Eto'o for the game, there was a perceptible change in attitude from the Chelsea manager towards his Spanish striker.
Mourinho said: "I'm not saying Fernando Torres will start. I'm saying that he never hides and he is a real Atletico supporter. We speak every day about Spanish football. But he is a professional. I have no doubts that the minutes he is on the pitch [on Tuesday] he will try to do everything for Chelsea as the fantastic professional that he is."
As far as Torres is concerned, that is a departure for Mourinho and the strongest hint yet that he is considering picking the man in whom he has all but lost faith at times this season, certainly in the first leg against Paris Saint Germain in the previous round. In fact, his enthusing about Torres was the only bit of enthusiasm the Chelsea manager demonstrated in a frankly embarrassing press conference which would have shamed Harry Enfield's comic creation "Kevin the teenager" for levels of sulkiness.
Mourinho would not talk about anything outside the Champions League, such as the fallout from defeat to Sunderland on Saturday. Fair enough, but to compound that he then refused to discuss Atletico Madrid too. He stoked up the old animosity with the Spanish media by answering their questions in English. When finally he claimed that he did not discuss referees before games – it is Jonas Eriksson, Manuel Pellegrini's bête noire in charge – there was incredulous laughter from the Spanish in the room.
It would have been fitting if Torres had been called upon to hold the press conference alongside his manager in a room in the Vicente Calderon that he probably knows well, festooned as it is with pictures of greats from the club's past. But life is rarely so straightforward for Mourinho who has demonstrated over the last few days that as ever, he approaches the proverbial fire with a jerry-can of petrol.
What had changed to make him so subdued, Mourinho was asked. "Nothing changed ... [just] the weather," he responded in reference to the rain in Spain. It was hard to see who this performance was designed to motivate. Although one could argue that for Torres, no motivation is required at this stadium and this club.
Register for free to continue reading
Registration is a free and easy way to support our truly independent journalism
By registering, you will also enjoy limited access to Premium articles, exclusive newsletters, commenting, and virtual events with our leading journalists
Already have an account? sign in
Join our new commenting forum
Join thought-provoking conversations, follow other Independent readers and see their replies