Manchester United vs Liverpool: Bastian Schweinsteiger a metaphor for how far United have fallen
The Red Devils are out of another competition following a 1-1 draw with Liverpool in the Europa League and the German World Cup winner had little influence from the bench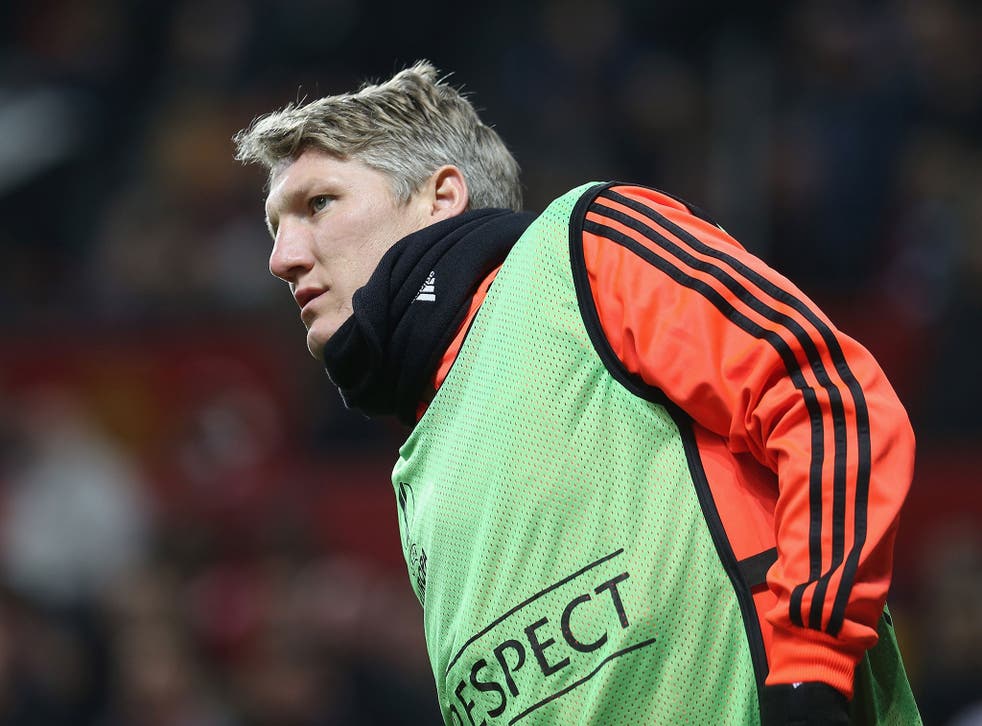 The entrancing red lights of Old Trafford continue to display greatness, indicating it remains a theatre of dreams and yet on nights like these, it is reduced to an old creaking stage by the presence of fading stars and those too green yet to meet the enormity of the surroundings.
Concealed behind the imaginary curtain that separates pitch from technical area sat Bastian Schweinsteiger, the legendary midfielder who may have only been a substitute, but is someone nevertheless that represents a curious metaphor for Manchester United's problems.
Less than two years ago, he was arguably Germany's most influential player in a victorious World Cup campaign. Months before, his previous European knockout game on this ground came for Bayern Munich in the Champions League and his dynamism was an outstanding feature of the encounter, enabling him to score the Bavarians' away goal. He was later sent off in a 1-1 draw.
Schweinsteiger's subsequent decline since has been spectacular and now, judging by his weight, he is paid in Eccles cakes. Although the United executive vice-chairman, Ed Woodward, was keen to advertise shirt sale figures with Kitbag when it was revealed he had supposedly risen from 33rd to the fourth most popular player on the planet by moving to United, it has proven to be Bayern who were wisest to what was happening with their icon.
In sporting terms, the ruthlessness of Bayern and the misguidedness of United illustrate the difference between the clubs and how far one of them has fallen. Sir Alex Ferguson used to be able to sniff a player's deterioration not by what he could no longer do going forward but by his inability to track back and regain a defensive position before damage was done. Mike Phelan, Ferguson's assistant, remembers the day Roy Keane's time as United's captain was terminated when Ferguson leaned over to him during a training session after Keane surrendered possession, whispering, "He's finished, Mike." With that, Keane was gone.
Paddy Crerand, the 1968 European Cup winner, told United Review that Schweinsteiger had "changed the game in our favour" after his introduction in Sunday's FA Cup draw with West Ham United, and yet Michael Carrick was still considered a better option than him from the start here, even though his contract is up in the summer.
Schweinsteiger's struggles at United are not isolated. There is a wider recruitment issue. Had Morgan Schneiderlin or Memphis Depay been capable of justifying their huge fees by demonstrating any amount of inspiration, Schweinsteiger's demise may have lay concealed for longer. It was significant that Schneiderlin and Depay were perched beside Schweinsteiger on the bench and so was Matteo Darmian. Of last summer's signings, only Anthony Martial has the swagger of someone who is able to deal with the size of the club. He took on responsibility for the opening goal, striking confidently from the penalty spot.
In the end, Schweinsteiger was sent on, stomping about the midfield; being at the pitch of the ball but usually too late before the release. He was soon booked for fouling Adam Lallana after simple skill left him trailing. The sorry sight acted as another reminder of the era where it went so wrong for Liverpool, when one fanzine dubbed less decorated figures like Neil Ruddock, Julian Dicks and Paul Stewart, the "team of fatties."
Manchester United 1 Liverpool 1 player ratings

Show all 24
Graeme Souness realised his time was up as Liverpool's manager back then when Bristol City came to Anfield in the FA Cup in 1994 and as he ate his routine pre-match snack of tea and toast in the old Moat House Hotel, a team talk by Russell Osman in the next room revealed the desperate view of his team by employees of a club from the Second Division.
Had Van Gaal planted listening devices at the Marriott Hotel on Wednesday night as Jürgen Klopp discussed prospects for the following day, surely he would have heard damning repeated warnings about Liverpool's greatest threat being complacency rather than anything the opponent in front of them had to offer.
The way United play, indeed, you'd believe Roy Hodgson was in Old Trafford's home dugout and though the year could be 2010, when Hodgson was at Liverpool, the football is antediluvian. When Liverpool's supporters chanted about Paul Scholes being right, "Your team is shite," the lack of response from the home stands perhaps reflected some form of agreement.
The last time United appeared as desperate as this, a three-day week was called and the lights went out across Britain. It proved to be a relegation season and though they will not go down this campaign, they stagger on a precipice that relatively is as grave as it was in 1974.
United have ignored history's warnings. From here, Liverpool already have already shown it is a long journey back to the top.
Join our new commenting forum
Join thought-provoking conversations, follow other Independent readers and see their replies