Bayern Munich v Arsenal: Gunners in disarray as Wojciech Szczesny's mental state is questioned ahead of Champions League tie
Goalkeeper rested and Jack Wilshere out for four weeks with 3-1 deficit to overturn in Munich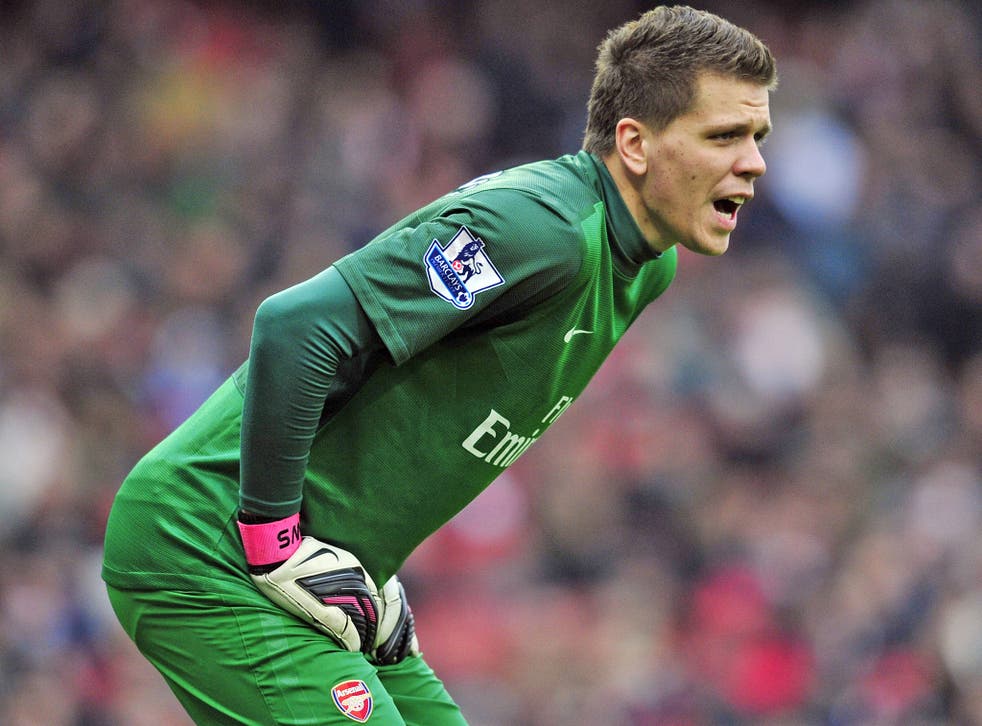 Arsène Wenger's Arsenal squad was last night in a state of disarray ahead of tonight's Champions League last-16 tie against Bayern Munich, which his team trail 3-1 from the first leg, with goalkeeper Wojciech Szczesny rested and midfielder Jack Wilshere one of a number of key players missing through injury.
The England midfielder is out for as long as four weeks, Wenger said, with an injury to his left foot that the club fear could develop into the kind of stress fracture on his right ankle that meant he missed 17 months up to October. Lukas Podolski and Bacary Sagna, who have ankle injuries, were also not in the travelling party.
As for Szczesny, Wenger said that the Poland goalkeeper was "mentally" affected by having played so many games this season. It pointed towards Wenger signing a more experienced goalkeeper this summer with Szczesny having tested the faith of his manager a number of times this season. Lukasz Fabianski, who may well start tonight, was a surprise inclusion in the squad, as was Andrei Arshavin.
On Szczesny, Wenger said the decision was "to rest him". He added: "He has played many games since the start of the season and recently I felt that mentally it affected him. That is why I have rested him".
Asked why he was leaving his first-choice goalkeeper out of such a high-profile game, Wenger said that it was not an unusual move. "It is his second season only in the Premier League and he has played many games," he said. "Some of our players have played many, many games since the start of the season. That is why you have a big squad and you sometimes rotate the players."
Despite the weakened squad, Wenger denied that he had already given up on Arsenal's chances of turning the tie around. Bayern have lost only two games all season and have conceded three goals just once in their entire campaign.
Wenger said: "It is a difficult task, we know that. We think it is not impossible. The only way to make it possible is to have a real go and play at our best; that is what we will do. I am confident we will be completely focused and up for it, and give it our best shot. Football is football – everything is possible."
Asked whether he was facing an impossible task, Wenger said: "Impossible, no, difficult, yes. It is difficult to say what percentage chance you have, but what is important is that we have big experience in the Champions League, and in Europe we have won everywhere.
"That means we have the right to believe because we have the quality and to turn up just accepting we go out would be absolutely unacceptable, so we want to show we can use our experience and our quality, and have the right belief to do it."
Wilshere has been recuperating in Dubai and the player is now out of contention for England's World Cup qualifiers against San Marino and Montenegro later this month. He sustained the injury against Tottenham, Arsenal's previous game on 3 March. As things stand he is certain to miss the trip to play Swansea at the Liberty Stadium on Saturday and potentially the home game against Reading on 30 March.
Wenger said: "I am convinced that if this team can find a big game, with a big win, you will see a completely different animal. This season we have fought to find that in the big games and we have another opportunity [against Bayern] and I hope the team takes this chance.
"I have a great respect for this team and its attitude and they have not been rewarded yet," he added. "It is important for the end to our season that we do it."
Follow all the action from tonight's match LIVE by clicking here
Join our new commenting forum
Join thought-provoking conversations, follow other Independent readers and see their replies