Romelu Lukaku: We need more diversity in media
Italian newspaper Corriere dello Sport denies racism and claims 'lynching' over 'Black Friday' front page
The Italian outlet promoted a story about Romelu Lukaku and Chris Smalling with the controversial headline
Italian newspaper Corriere dello Sport has defended the "Black Friday" headline that led to the outlet being accused of racism.
The paper used the headline to promote a story about Romelu Lukaku and Chris Smalling ahead of the meeting between Inter Milan and Roma, with the former Manchester United teammates on opposite sides of the fixture.
Corriere dello Sport used Friday morning's front page to claim they have been victims of a "lynching" by the media, and pointed to their historical record of campaigning against racism.
This morning's headline reads: "Who are you calling racist? Lynching of a newspaper that for a century has defended liberty and equality."
"Black Friday, for those who want to and can understand it, was just a way of praising difference, the magnificent richness of difference,' editor Ivan Zazzaroni wrote.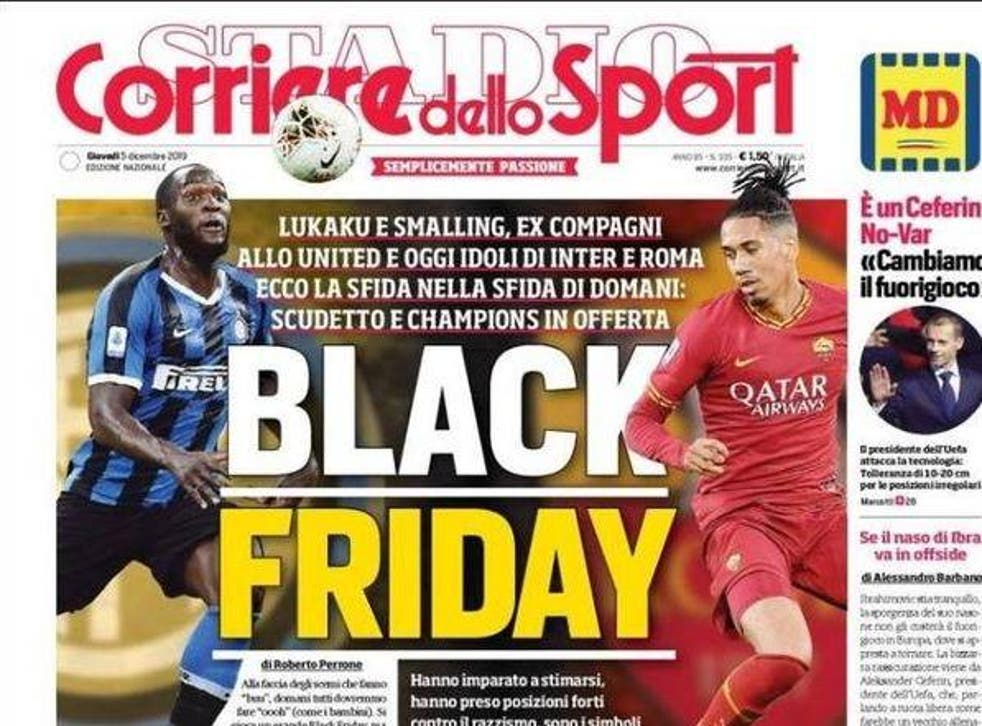 "If you don't understand that, it's because either you can't or are putting it on. Black Friday is the innocent headline of a newspaper, ours, that for almost a century has been passionately and obstinately defending the values of sport.
"And yet it has been transformed into poison by those who have poison within them," he concluded.
Lukaku and Smalling have both criticised the headline, while Roma and fellow Italian club AC Milan have both banned reporters from Corriere dello Sport attending their training ground and interviewing their players until January.
In a statement posted on social media, Lukaku wrote: "Instead of focusing on a battle between two teams... Corriere dello Sport comes with the most dumbest of headlines I have ever seen in my career.
"You guys keep fuelling the negativity and the racism issue. Instead of talking about the beautiful game that's going to be played at San Siro between two great clubs... education is key. You guys of Corriere dello Sport should do a better job at that.
"Thanks to all the fans and other journalists to highlight for the support and let's all look forward to tomorrow's game. Forza Inter."
Join our new commenting forum
Join thought-provoking conversations, follow other Independent readers and see their replies