Borussia Dortmund v Arsenal: Jürgen Klopp compares himself to Arsene Wenger and explains why Gunners are better to watch than Barcelona
Klopp explains that Wenger is 'like an orchestra' while he is more a fan of heavy metal, resembling his fiery approach to management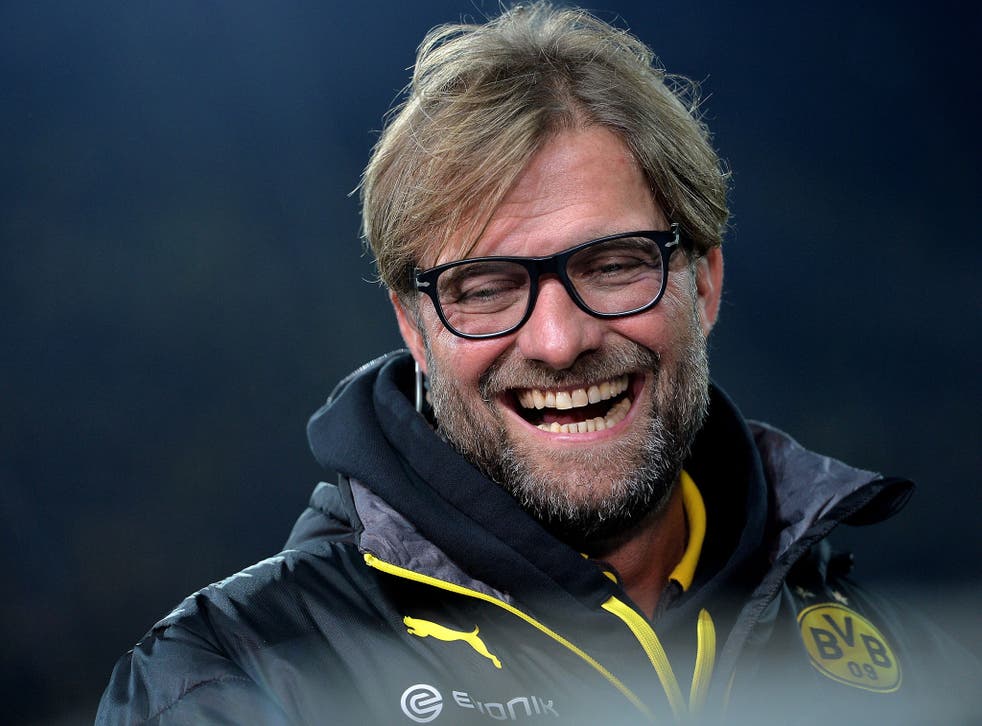 Borussia Dortmund manager Jürgen Klopp has compared the similarities between himself and his opposite number on Wednesday night Arsene Wenger, claiming that the Frenchman is "like an orchestra" whereas he prefers "heavy metal".
The fiery 46-year-old has received widespread praise for his accomplishments with this Dortmund side, who play in front of 80,645 livewire fans at the Westfalenstadion for home matches – 25,000 of which stand behind one of the goals forming the famous Yellow Wall.
This energy that they create transfers onto the pitch, with Dortmund playing an exciting and attacking style of football that has become a joy to watch. However, speaking in an in-depth interview with The Guardian, Klopp has admitted that he prefers watching Wenger's Arsenal side to that of Barcelona's, although he cannot implement the same style due their differences.
"For me, he is Sir Arsène Wenger, he is really something, I love him," says Klopp. "But I'm this guy, with high fives. I always want it loud. I want to have this … " Klopp makes the sound of an exploding bomb.
"If Barcelona's team of the last four years were the first one that I saw play when I was four years of age ... with their serenity, winning 5-0, 6-0 … I would have played tennis. Sorry, that is not enough for me. What I love is that there are some things you can do in football to allow each team to win most of the matches.
"It is not serenity football, it is fighting football – that is what I like. What we call in German – English [football] … rainy day, heavy pitch, everybody is dirty in the face and they go home and can't play football for the next four weeks. This is Borussia.
"When I watch Arsenal in the last 10 years, it is nearly perfect football, but we all know they didn't win a title. In Britain they say that they like Arsenal but they have to win something. Who wins the title? Chelsea, but with different football, I would say. This is the philosophy of Arsène Wenger. I love this but I cannot coach this because I am a different guy. You think many things are similar? I hope so in some moments, but there are big differences, too."
Klopp oversaw a 2-1 victory against the Gunners a fortnight ago, with Polish striker Robert Lewandowski hitting a second-half winner while Arsenal were on the ascendancy. The win gives Dortmund the advantage in Group F, with the Gunners facing the tricky prospect of travelling to the North Rhine-Westphalia.
The German has been scouted out as a potential Premier league manager of the future, although any talk of seeing Klopp at one of the top English club's in the near-future was dismissed when he signed a new four-year deal to remain in charge of the Champions League runners-up.
He has been singled out as a possible replacement for Wenger when the Frenchman eventually ends his reign with Arsenal, and his philosophies in both his approach on-field and off it have been likened to the 64-year-old. Klopp explains that he has developed a mentality that a player remains with a club for the duration of their contract unless the manager decides to sell – a prospect he is facing with Lewandowski at the end of this season as he looks certain to join their Bundesliga rivals Bayern Munich.
It is also something that Arsenal have had difficulty with in recent years – the transfer of Robin van Persie to Manchester United a particularly prominent one – and something that could potentially arise again should their trophy drought continue.
"Borussia Dortmund is the only club in the world where if I speak to a young player, he knows that I am his coach for the next four-and-a-half years," Klopp explains. "We want to have this situation. The players are similar to the journalists. They always think: 'Ah, he says this and then Real Madrid call and he is away.' But this is the message: Everybody can call but nothing will happen. This is for sure and then we will see what's with the players.
"It makes me proud to hear that some Arsenal fans might want me, but it's not important for me to be proud. My mother is proud. It's a better feeling than if nobody knows me but it doesn't help me in the morning, it doesn't help me in the evening and it doesn't help me through the day."
Join our new commenting forum
Join thought-provoking conversations, follow other Independent readers and see their replies