Can Rafael Benitez get the best out of Gareth Bale at Real Madrid?
Back at the club he watched as a boy, the pressure is on Benitez to find a winning blend from Real's multiple talents. As La Liga begins, Pete Jenson asks if it will be enough to stop Barcelona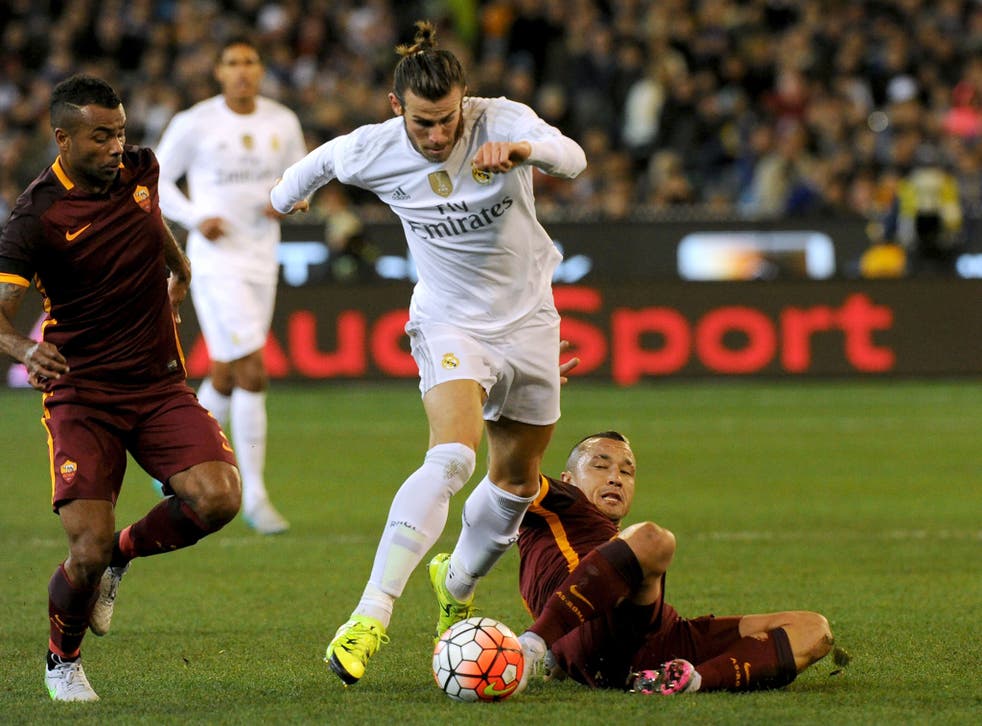 Q. Will Rafa Benitez be more than just an interim coach at Real Madrid?
A. He has the easiest, and yet also the toughest, job in football. Benitez has never had it so good in terms of top players in his squad. But as a lifelong Madridista who used to stand in the third tier of the Bernabeu as a kid and watch the team play, he knows that he has to win things, play attractive football, and keep everyone happy.
The summer has not gone well. An energy-sapping pre-season tour of Australia and China made the club over €20m (£14m) but allowed for very few training sessions between travelling and recovery time. Back in Spain Benitez watched patiently as the club took until this week to bring in Mateo Kovacic, a 21-year-old Croatia midfielder who was not a regular starter at Internazionale and does not really fit the Xabi Alonso-shaped hole left from the start of last season.
As well as the absence of a defensively-strong midfield organiser, Benitez faces an over-abundance in attack where Gareth Bale, Isco and James Rodriguez all want to play centrally behind Karim Benzema. Benitez has started Bale as the No 10 at the Welsh player's request but it hasn't worked in pre-season with Real scoring just eight goals in 11 games. His solution will be to let his attacking players sort themselves out on the pitch – not the usual Benitez approach and often one that leads to failure.
Carlo Ancelotti, his predecessor, recently posted on social media a picture of himself deep-sea fishing during what looks like a relaxing sabbatical. Benitez could be in the same boat come May if things don't work out.
Q. Can Cristiano Ronaldo carry the team regardless?
A. He is due to break the club's all-time scoring record by the start of November. He needs 10 more goals to top Raul's record haul of 323 in 741 games and if he keeps scoring at his current rate he will have reached the milestone in a little over 310 matches. But in six years at the club he has only won one La Liga, proving that frequently his goals have not been enough. The challenge is for him to click with Bale the way that Lionel Messi has clicked with Neymar at Barcelona.
Q. Are there any records left for Messi to break?
A. He should pick up his fifth Balon d'Or next January and then it's on to the challenge of helping Barcelona become the first team to retain the Champions League. He will also wear the captain's armband this season whenever Andres Iniesta is not on the pitch. With Luis Suarez and Neymar, the trio managed 122 goals last season. It might be tough to repeat that but their understanding is only going to get better.
Q. Can Luis Enrique lead Barça to more trophies?
A. Their summer acquisitions look sensible enough but neither Arda Turan nor Aleix Vidal can be registered before January when the club's Fifa ban ends so they could be light in key areas until then, especially as they have lost Pedro to Chelsea and sold Adama Traoré to Aston Villa. Players such as Ivan Rakitic, Neymar, Iniesta and Dani Alves do not really have replacements and it will be a difficult first four months unless they all have a clean bill of health.
Gerard Pique starts the season with a four-game ban, so former Arsenal defender Thomas Vermaelen must also step up. And the World Club Cup looms. Last season Real Madrid won 22 games on the bounce but when they came back from that tournament just before Christmas their season unravelled. Barça's coach is hoping that the unity in his squad will see them through.
Q. Will Diego Simeone work another title miracle with Atletico Madrid?
A. They certainly won the transfer market in Spain, adding Jackson Martinez and Luciano Vietto in attack, keeping their best player, Antoine Griezmann, and bringing back Filipe Luis from Chelsea. There's more flair in their side this season with Oilver Torres returning from his loan spell at Porto and if they retain the steely discipline that has typified Simeone's side up until now, Atletico could go the distance again.
Q. Can Phil Neville's first season be better than David Moyes' second?
A. Moyes has had the advantage of a pre-season this time around so his Real Sociedad squad will be fitter and the signing of striker Jonathas from Elche gives him a boost. The 26-year-old Brazilian, a sort of poor man's Diego Costa, scored goals in a struggling side last season so under Moyes' management, and alongside Carlos Vela and 20-year-old Portuguese winger Bruma who has arrived on loan from Galatasaray, he should thrive. It will still be tough for Sociedad to break into the top six though.
For Neville, Valencia will be a steep learning curve, with politics off the pitch and Champions League football on it. He will have already noted how first-team coach Nuno Espirito Santo was whistled by some supporters in a pre-season friendly because they believe he won a power struggle that led to sporting director Francisco Rufete's departure. Of more pressing concern is the late sale of Nicolas Otamendi to Manchester City. He will be difficult to replace even with club owner Peter Lim's business associate Jorge Mendes on hand to provide the options.
Q. Will Bale's third season be as good as his first?
A. He scored 17 goals last season but so high are the demands, more is expected. His desire to play in the most congested part of the pitch, where his powerful running with the ball is hindered by a lack of space, is puzzling. How will we see a repeat of his incredible goal against Barcelona in the Spanish Cup final in 2014, that seemed to take everyone's breath away but his, if he is boxed in through the middle where most Spanish sides play two defensive midfielders? It seems to work for Wales but will it be effective in La Liga. Benitez may well come up with the answer, and help his own chances of being a success at the Bernabeu in the process.
Join our new commenting forum
Join thought-provoking conversations, follow other Independent readers and see their replies