Champions League final 2014 - Real Madrid v Atletico Madrid analysis: Where the match will be won and lost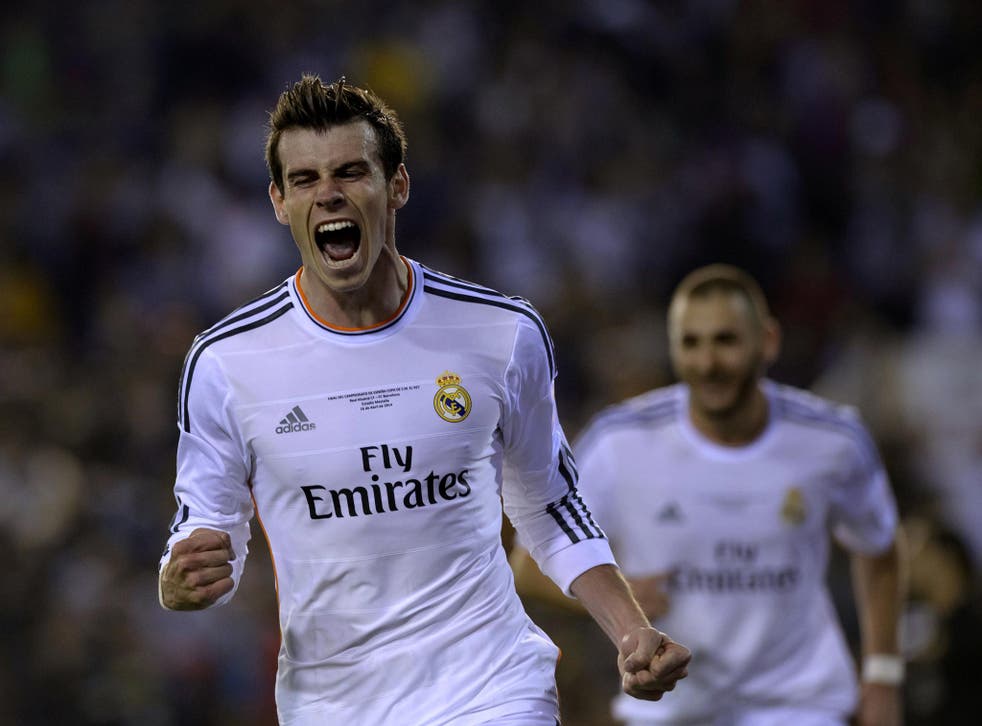 City rivals Atletico Madrid and Real Madrid will meet for the fifth time this season when they run out at Benfica's Estádio da Luz in the Champions League final on Saturday night.
The Spanish capital clubs met twice in La Liga, with Atleti securing the bragging rights with four points from six, while Los Blancos cruised to a 5-0 aggregate win in the semi-final of the Copa del Rey. The regular meetings, recently reserved only for El Clasico contests between Real and Barcelona, mean both clubs will have the lowdown on one another and there should be few surprises in store for managers Diego Simeone and Carlo Ancelotti.
There will, however, be areas in which one team will be stronger than the other. Some have been showcased in the quartet of head-to-heads already this season while some could well rear their heads in Lisbon come 7.45pm on Saturday.
Big games call for big players
There will be no shortage of star names on display in the Portuguese capital but some could be in better shape than others.
Real may have watched on with envious eyes as their noisy neighbours claimed a first Liga title in 18 years on Saturday night but Atleti's success was tainted slightly by injuries to top-scorer Diego Costa and midfield danger man Arda Turan. Costa suffered a hamstring injury and was in tears on the bench as his side clinched a 1-1 draw against Barcelona at the Camp Nou. The Spain international will be given until the last minute to prove his fitness but is rated as doubtful to take part and Los Rojiblancos will miss the powerhouse forward's presence, not to mention the 35 goals he's contributed to their cause this term.
Los Blancos also suffered a scare when star man Cristiano Ronaldo limped out of the warm-up before Saturday's Liga finale against Espanyol at the Bernabeu. The Ballon d'Or winner has struggled with a series of niggling injuries of late but his departure at the weekend was only a precaution and he is expected to line-up in Madrid's starting line-up.
The Portuguese international claimed he would be "100 per cent" ready for the final as he trained separately from his teammates on Tuesday but whether or not that will be the case, his presence will be a big boost for Ancelotti. Even below his peak, the former Manchester United man has been lethal this season. One example came in the Champions League semi-final first-leg clash against holders Bayern Munich when he played a pin-point crucial pass for countryman Fabio Coentrao to cross the ball and give Karim Benzema a simple tap in to decide the match. Another came in the league match against Osasuna, when many expected him to be rested before the return leg in Munich, as he produced two wonder goals in a 4-0 victory.
Costa has not been ruled out of the final completely but Ronaldo is expected to be in better shape should both run out in Lisbon and that will give Los Blancos an edge.
Battle of the goalkeepers
While Ronaldo and Costa will be crucial in helping their sides win the match at one end, Atleti goalkeeper Thibaut Courtois and Real shot-stopper Iker Casillas will be crucial at the other.
You'd be forgiven for forgetting Courtois is still only 22. Although still young, the Chelsea loan man is preparing for a World Cup, a Champions League final and has just won La Liga. Add to that last season's Copa del Rey, the UEFA Super Cup and the Europa League in his first season at the Vicente Calderon. He also won the 'Zamora' award, for conceding the fewest goals in La Liga, for the second year running with just 24 getting past him in 37 matches.
The Belgium international has enjoyed the luxury of a water-tight defence in front of him but he's produced some crucial saves along the way, notably in the big domestic matches against Barca and Real as well as the Champions League semi-final second leg against his parent club at Stamford Bridge. His three years at Atleti have brought big games in abundance so a lack of experience, despite his relatively tender age, will not be a problem. Real's front line will need something special to get paste the former Genk man.
At the other end Iker Casillas, 'Saint Iker', as he's affectionately known, will be looking to secure a hat-trick of Champions League triumphs after lifting the trophy in 2000 and 2002. The Mostoles-born goalkeeper celebrated his 33rd birthday this week and experience is definitely not in short supply with the stopper also able to add European Championships and a World Cup, as well as five La Liga triumphs amongst others to his ever-growing trophy cabinet.
Casillas has not been Ancelotti's goalkeeper of late in the league, with Diego Lopez taking that honour, but he has been involved in Madrid's last two league matches to get up-to-speed for Saturday's final, ensuring match fitness will not be a problem. The Spain international has continued to show why he's rated as one of the best goalkeepers in the world with a string of fine saves this season and more may well be required this weekend.
Discipline
Matches between the two capital clubs have been feisty to say the least this season and both managers will be calling for their players to keep their heads. Although a red card has yet to be shown in the four matches that have been competed, no fewer than 18 yellow cards have been hauled out of the referee's pocket.
Los Blancos played on it and played on it successfully in the first-leg of their Copa del Rey semi-final clash. Both centre-backs Sergio Ramos and Pepe targeted Diego Costa and although sometimes brutal and perhaps crossing the line, the plan foiled Atleti's main man and Ancelotti's side eventually cruised to a 3-0 win.
Atleti have tried to use it in their game plan, too, knowing full well that both of their rival's regular centre-backs are susceptible to the odd foul and off-the-ball incident or two. Ramos's sole red card this term took his tally to 19 career red cards and he also collected 11 bookings this term while Pepe, if fit, is also a good bet to go into the referee's notebook.
In total Atleti have received 95 bookings this season and two red cards while Real have received 75 yellow cards and seen two men sent-off. No love has been lost between the warring neighbours and that relationship is expected to continue in the much tenser environment of a Champions League final.
The midfield battle
In Atleti's 1-0 victory over Real at the Bernabeu in September Simeone's men won the midfield battle with ease and that paved the way for a memorable victory. It was the same story for Real in their defeat at Camp Nou and to a lesser extent in the 2-2 draw against Atleti at the Calderon.
It is an area Ancelotti has been keen to fix and for the most part he has, with Angel Di Maria providing the vital cog in a line-up switched from 4-2-3-1 earlier in the campaign to a more successful 4-3-3. Xabi Alonso, however, has also been crucial in that and the former Liverpool man will be absent on Saturday night through suspension. Asier Illarramendi will be his likely replacement in the middle but although promising, he's yet to get to the level of his fellow Basque midfielder.
Los Rojiblancos are expected to line-up with four in the middle as they again look to swamp their rivals in midfield. Tiago and Gabi will provide the bite in the middle and the possible absence of Diego Costa could mean Raul Garcia will come into the fold and provide some extra cover in the middle, too.
In Illarramendi, Luka Modric and Di Maria Real will have the legs in midfield but whether they have the numbers remains to be seen. Ancelotti will be hoping Ronaldo, Gareth Bale and Karim Benzema all line-up in a front three but those three are known for their attacking qualities rather than their tracking back. If Los Merengues are to compete on Saturday night at least one of their attacking trio will have to put in a real shift to help out in defence.
Set-pieces
Both teams may have enviable options in attack but throughout the campaign they've enjoyed their fair share of goals from set-pieces, too, proving they have a good variety of goalscoring threats at their disposal.
There is no better example than Saturday's league decider at the Camp Nou when Diego Godin saw his name etched into the Atleti history books with a header from Koke's corner that flew past Barcelona goalkeeper José Manuel Pinto and proved decisive in winning La Liga. The goal was Godin's fourth of the season and with a player of the calibre of Koke providing the crosses, Atleti will be a big threat from the set-piece in Lisbon.
Real's threat will be just as dangerous thanks to the aerial qualities of Sergio Ramos and Pepe amongst others. Ramos has been in exceptional form in attack, as well as at the back in recent matches, with his two quick fire goals from set-pieces against Bayern Munich in the second leg of their Champions League semi-final justifying his goalscoring ability. Ramos has scored four this season, as has Pepe, while Dani Carvajal, a likely starter at right-back, has also chipped in with a brace of goals. That's not mentioning the salmon-like leap Ronaldo offers, too.
Whether both can cancel each other out with their abilities to defend remains to be seen. Atleti have the best defence in La Liga while Real's defending of set-pieces has improved dramatically, first under Jose Mourinho last season and continued under Ancelotti this term. The presence of Courtois and Casillas will only make their respective defences more difficult to breach.
Join our new commenting forum
Join thought-provoking conversations, follow other Independent readers and see their replies